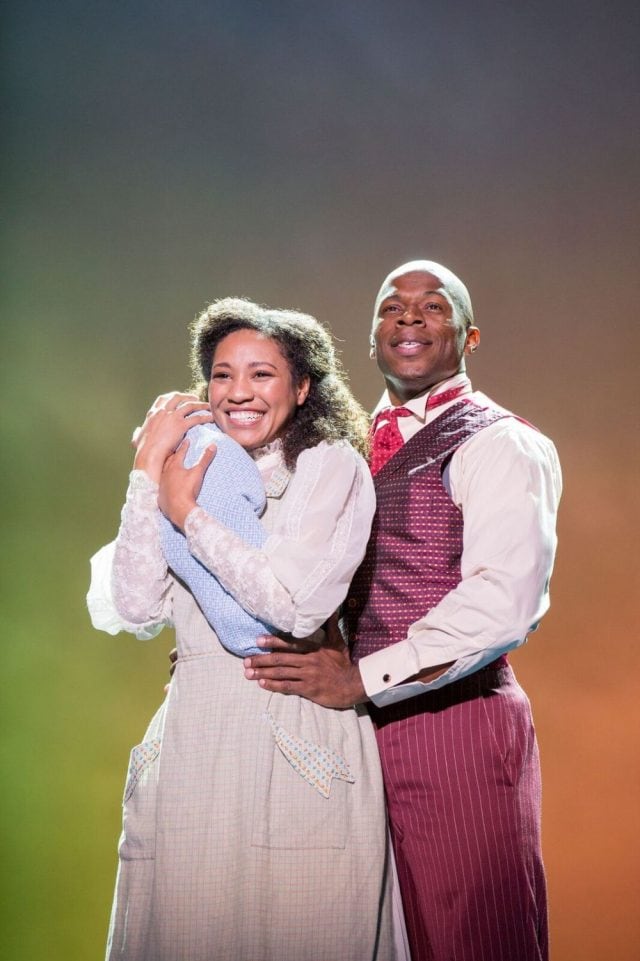 RAGTIME is coming to the Music Hall at Fair Park, presented by Dallas Summer Musicals May 24-June 5. The all-new touring production of the 13-time Tony Award-nominated musical has been called "explosive, thrilling and nothing short of a masterpiece" by Bloomberg News.
Winning Tony Awards for Best Book and Best Musical Score, RAGTIME has such classic songs as "Wheels of a Dream," "Back to Before" and the title song. It also has a book by Terrence McNally, music by Stephen Flaherty, lyrics by Lynn Ahrens, based on E.L. Doctorow's best-selling 1975 novel. Tony-nominated Director & Choreographer Marcia Milgrom Dodge helms the production, with Scenic Design by Kevin Depinet, Lighting Design by Mike Baldassari and Sound Design by Craig Cassidy.
The stories of an upper-class wife, a determined Jewish immigrant and a daring young Harlem musician unfold in turn-of-the-century New York. All three are united by their desire and belief in a brighter tomorrow.
RAGTIME, E.L. Doctorow's 1975 novel, won the National Book Critics Circle award and sold 4.5 million copies. It became a film in 1981 and a Broadway musical in 1998. The original 1998 production ran on Broadway for 834 performances. A 2009 Broadway revival received rapturous reviews and is now on tour throughout North America.
Single tickets for RAGTIME, from $20-$99 (pricing subject to change), are now on sale at DallasSummerMusicals.org, by phone at 1.800.514.ETIX (3849) and at The Box Office, 5959 Royal Lane, Suite 542 in Dallas, TX.
Groups of 10 or more receive a 15% discount, priority seating, and many more benefits. Please call 214.426.GROUP (4768) or email Groups@DallasSummerMusicals.org.
Dallas Summer Musicals' 2016 Season will continue with BULLETS OVER BROADWAY, June 14-26; and closing the season will be 42ND STREET, June 28 – July 10. DSM's highly awaited 2016–17 Season Announcement 'Broadways Most Wanted' will be revealed soon. A season teaser campaign is now online and throughout DSM's social media platforms.
Choose Your Own packages for the last three Dallas Summer Musicals 2016 season shows, are now on sale online at DallasSummerMusicals.org and by phone at 1.800.514.ETIX (3849). They can also be purchased at The Box Office, 5959 Royal Lane Suite 542 Preston Royal.
***
TIGERS BE STILL will run May 26-June 19 at Theatre Too. The comedy follows the misadventures of Sherry Wickman, a young woman who recently earned an advanced degree in art therapy. After being forced to move back home with her family, she sends out countless résumés.
Unemployed and overwhelmed, Sherry retreats to her childhood bed and remains there until an unexpected employment opportunity gives her a renewed sense of purpose and hope. The plot escalates as her family members are having problems of their own. Then a tiger escapes from the local zoo.
This witty production is written by New Girl writer and producer Kim Rosenstock, who also conceived and co-wrote Fly By Night for Dallas Theater Center. TIGERS BE STILL stars Emily Davenport as Sherry, Samantha Padilla as Grace, Doug Atkins as Zack and Chris Messersmith as Joseph. TIGERS BE STILL is directed by T3 Company Manager Kat Edwards.
Tickets are priced from $35-$40, available online at Theatre3Dallas.com or by calling 14-871-3300.