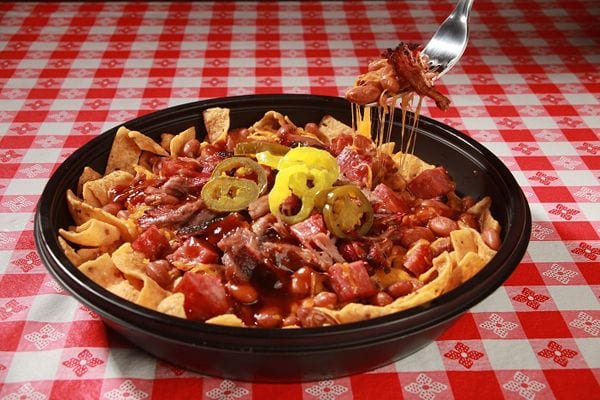 Something big is happening at Soulman's Bar-B-Que. For the first time in 17 years, Soulman's is introducing a new item to their menu – The Soul Bowl. The Soul Bowl is made with a base of FRITOS® Corn Chips and topped with homemade pinto beans, cheddar cheese, Pulled pork, smoked sausage and BBQ sauce." Guests can even add more Soul to their Bowl by adding Jalapeno peppers, Banana peppers or Soulman's version of Pico de Gallo.
"We are excited to offer our guests another great option when they dine with us!" says Soulman's Bar-B-Que CEO Brett Randle. "Our motto is that 'we're not stingy with our meat'…and this is no exception. Layers and layers of deliciousness embody the Soulman's take on Frito Pie. All of our meats are cooked 'low and slow' over hickory wood, giving The Soul Bowl it's own unique characteristics and taste that we expect North Texans are craving."
He continues, "With hundreds of mouthwatering and delicious current meal combinations already, this menu evolution is part of Soulman's commitment to offering our guests a variety of food choices."
Priced at just $8.99, this large serving corn chip concoction is available at all 15 Soulman's locations.
For more than 40 years, Soulman's Bar-B-Que has satisfied the hardest to please barbecue lovers…Texans! Their selections of meats are cooked "low and slow" over hickory in a time-honored tradition. Choose from beef brisket, ham, hot links, sausage, turkey, chicken, pulled pork and, the crowd favorite, ribs. Ranch House Beans and Spicy Cream Corn are among the delicious homemade sides.
Soulman's currently owns and operates 15 North and East Texas locations in Cedar Hill, Dallas, Forney, Garland, Greenville, Lancaster, Mesquite, Quinlan, Richardson, Rockwall (2), Royse City, Terrell, Van and Allen – the newest location.