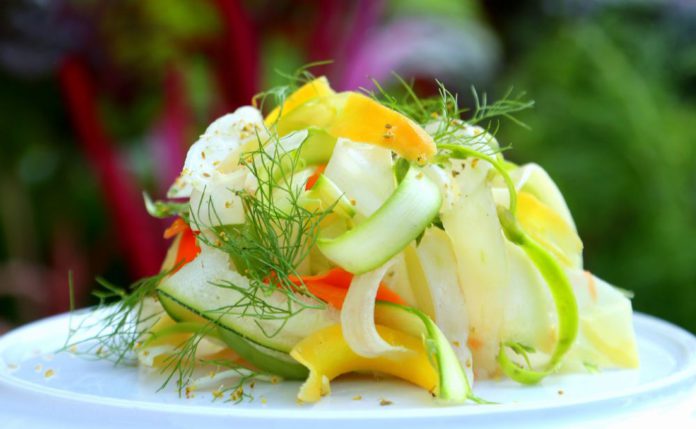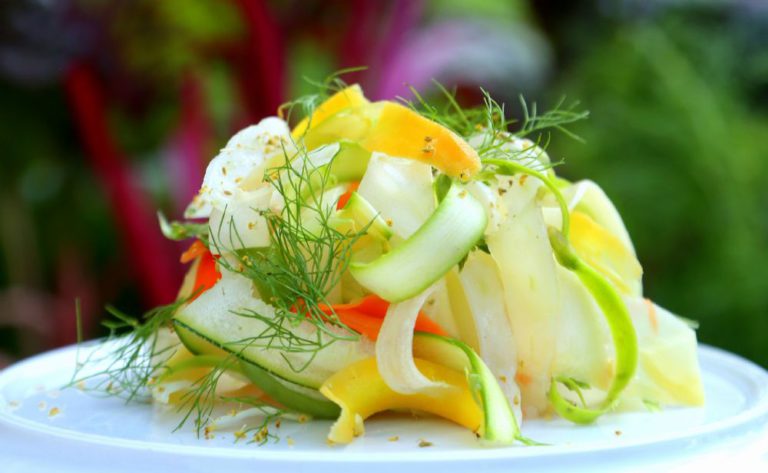 As the Texas heat index rises, so does the excitement at Dallas Fairmont Hotel. New Chef de Cuisine Brandon Drew brings talent and enthusiasm to energize the Pyramid Restaurant and Bar. The elegant restaurant formerly known as the Pyramid Room used to be one of my favorites, but it had been a while since we visited. My husband and I enjoyed a six-course dinner at the Pyramid on my recent birthday—best present ever! Not only is the new American Cuisine worthy of awards and applause, the service is impeccable. The wines paired with the meal were also perfectly suited to each course.
Rooftop Terrace, More Than Views
We started the evening with pecan-crusted Brie that could be drizzled with honey fresh from the hotel's rooftop aviary. Also on the rooftop terrace Chef Drew has a 3,000 square foot herb and vegetable garden, so his seasonings and sides are often straight from the soil. You can't get any fresher than that!
Our starter was a delicate Cantaloupe Gazpacho shooter followed by a picturesque Raw Garden. The salad featured asparagus, carrots, spring squash and fennel in preserved lemon vinaigrette. It was accompanied by a Cloudy Bay Sauvignon Blanc. The next course, shareable plates of Pork and Apples, with candied pecan apples on Pyramid greens with burnt honey mustard. This succulent dish was accompanied by Bishop Cider Company's High & Dry cider. While I don't usually like cider, this local product worked very well with the pork dish.
Entrees included tasty shrimp & grits with charred okra and tomatoes, crisp pork and celery leaf. Big Eye Tuna served Vera Cruz style was also served, along with Duchman Vermentino from the Hill Country vineyard.
The main course was a New York Striploin from the grill, served with incredibly tiny but tasty micro vegetables and roasted garlic mashed potatoes. The sides were all worthy of praise as well. They included a Crème Corn Brulee with Fresno chili; crispy Brussels Sprouts with lime salt; and roasted mushrooms with egg yolk. My favorite–truffle cheese and lobster mac.This decadent dish was so addictive I wanted to hide the bowl from my companions. The accompanying Flat Creek Super Texan Sangiovese was another spot-on choice that complemented the flavors of the main entrée.
While you might think we couldn't possibly enjoy dessert after so much rich food, you would be wrong. When they brought out the ribbon-wrapped Ice Cream Sandwich with lavender scented ice cream and Blueberry Compote encased in Egyptian Tea Cookies, it would be rude to say no thank you. The dessert was accompanied by a lovely Albert Bichot Brut Rose.
At The Top of Their Game
Everyone on the Fairmont Dallas staff is at the top of their game. This attitude starts at the top with General Manager Dan McGowan, and includes Director of Operations David Sher; Director of Food & Beverage Alison Matis; and Pyramid Restaurant & Bar Manager Jonathan Bona. Chef Brandon's culinary team includes Pastry Chef Eric Burrell, who created the deliciously different ice cream sandwich.
Pyramid Restaurant & Bar Manager Bona had previously worked with Chef Drew at the Four Seasons Resort and Club in Las Colinas. He brought the chef over from the Four Seasons Café on the Green, where he was sous chef. It's a no-brainer to predict more good things for the Dallas Fairmont and for all of us. With the talented Chef Drew (who grew up in Grapevine) planning fresh from the garden, market to table meals like the one we're still reminiscing about, the Pyramid Restaurant is on the rise. It should once again become a favorite dining destination for Dallas locals as well as hotel guests.
The Pyramid Restaurant and Bar has over 7,000 square feet and a contemporary vibe. There's seating for 110 plus a private dining room that seats up to 44 and Chef's Tasting Room that seats 10-16. They serve breakfast, lunch and dinner (except for Sunday and Monday nights). For reservations call 214-720-5321 or log on to http://www.fairmont.com/dallas/.