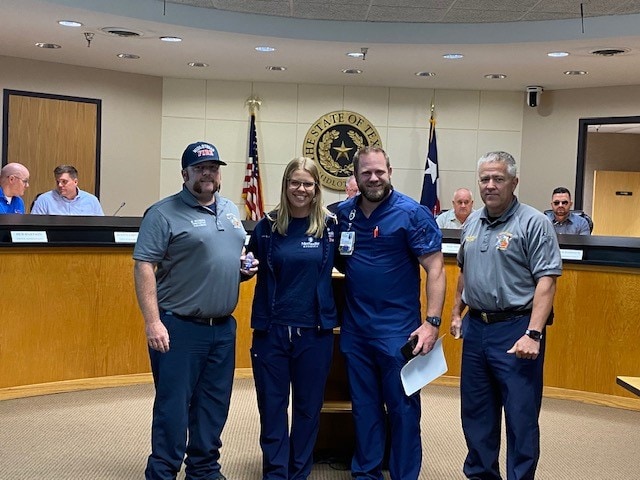 Brandon Rogers Honored For Bravery In Saving Suicidal Woman
At Tuesday night's Midlothian City Council meeting, Midlothian firefighter/paramedic Brandon Rogers received the Community Health Hero Award from the Community Health and Wellness Council at Methodist Mansfield Medical Center (MMMC).
Chair of the Council Lauren Strickland, RN, Emergency Department, presented the award saying, "It is given to individuals and businesses who share our values and perform extraordinary acts in the community." Rogers' extraordinary act was described in the nomination made by MMMC's Nursing Clinical Coordinator Karen Yates, MSN, RN, RN-BC, CEM, EMT Program Liaison, who wrote, "Firefighter Rogers was off duty in July 2019 when he was driving through Waxahachie and saw a woman sitting on a bridge who appeared ready to jump. Brandon immediately stopped his truck and slowly approached the woman.
Using his training as a firefighter and EMT, he engaged her in conversation intended to help people in crisis. Brandon helped keep her stay calm until more help could arrive. At some time, the woman became more desperate and appeared ready to jump. Putting aside his own well-being, Brandon lunged forward, pulled her to safety, and with the assistance of bystanders, the woman was subdued until police arrived on the scene. Brandon placed himself in danger that day to help a fellow human being.
If it had not been for Brandon's heroic actions, this story could have had a really tragic outcome." Rogers received a standing ovation from the audience that included fellow firefighters, family, friends, and members of the community.
The award presentation had been delayed since 2019 because of COVID-19 precautions.