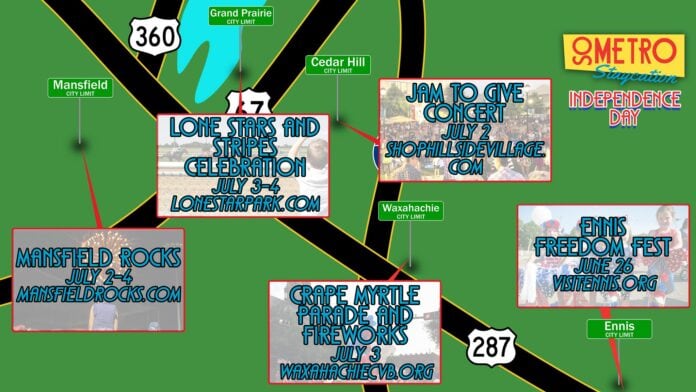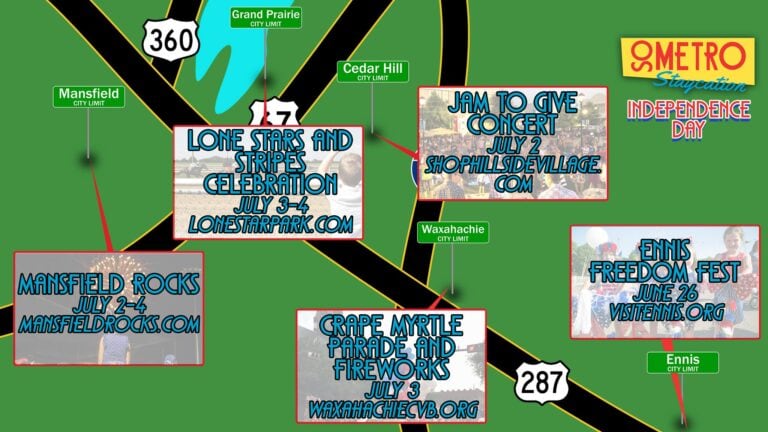 4th of July Celebrations Across DFW Area
Last year COVID-19 literally rained on our parade canceling 4th of July celebrations across the country. So, this year many cities and businesses are striving to make their celebrations even bigger. Here's a roundup of what's happening locally for the 4th of July:
Arlington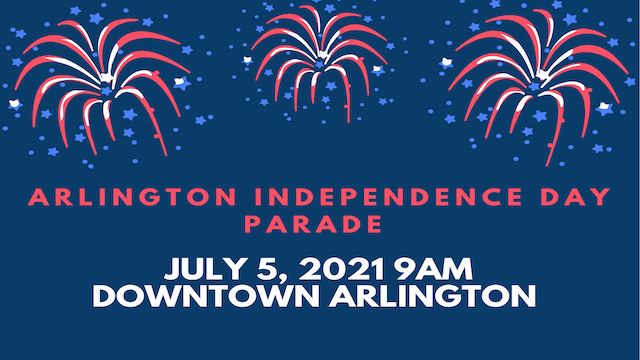 Arlington Independence Day Parade "biggest and best" Independence Day Parade in Texas: Monday, July 5th at 9:00 am
On Saturday, July 3, the City of Arlington, TX – City Hall will light up the skies over the Entertainment District with their FREE fireworks display at 9:30pm.
Six Flags Over Texas will also have nightly fireworks shows July 2, 3, and 4 at 10pm as part of their "July 4th Fest" celebration.
Dallas
Celebrate Independence Day at Klyde Warren Park on June 26 6:00 pm – 10:00 pm with live music and fun family activities. Wrap up the evening with a spectacular pyrotechnic display on the Park's East Lawn.
DeSoto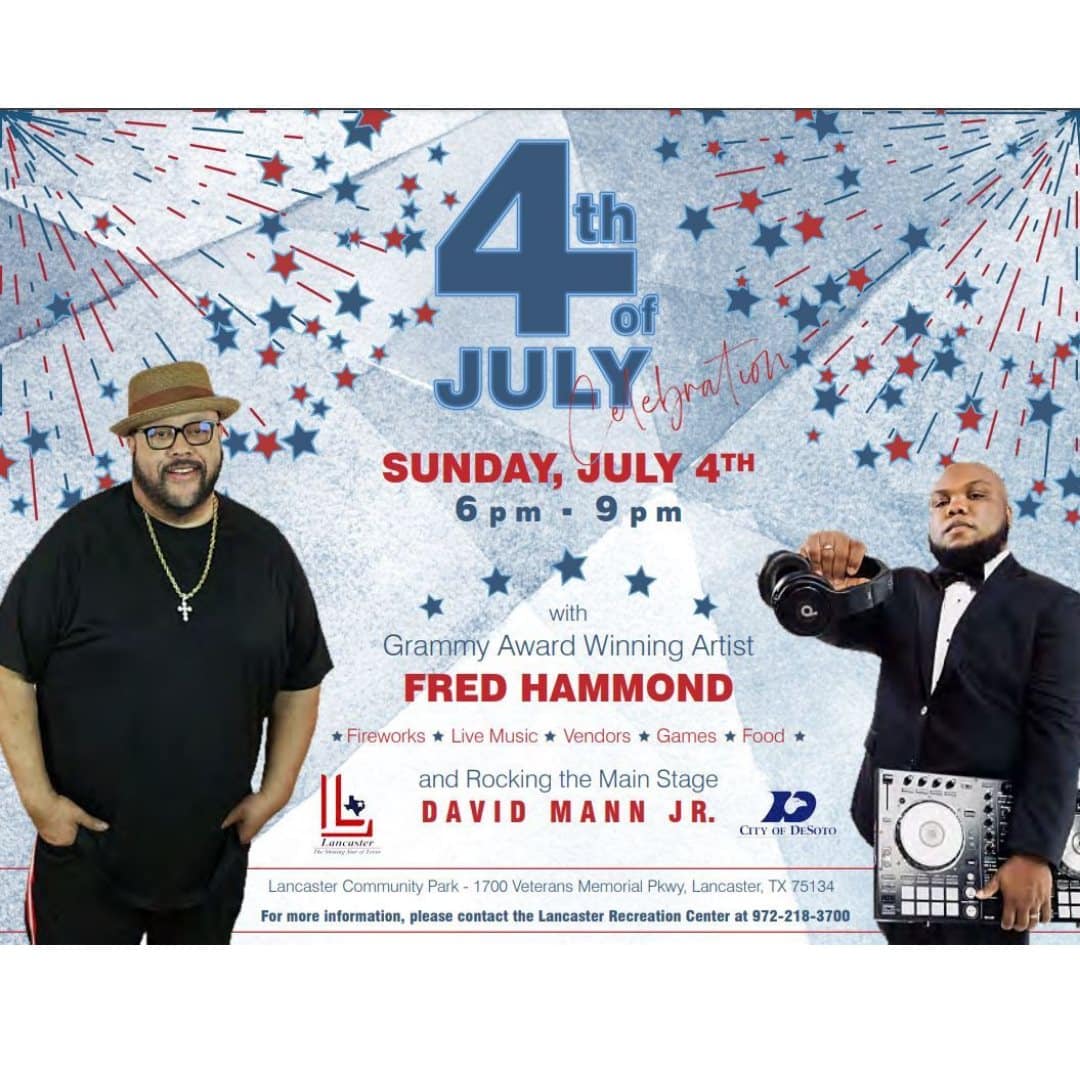 July 4th 6pm-9pm Come and join us to Celebrate the 4th of July with Grammy Award Winner Fred Hammond, and David Mann Jr! Food, Fireworks, Vendors, Games, and Live Music will be provided. 1700 Veterans Memorial Pkwy, Lancaster, TX 75134
Duncanville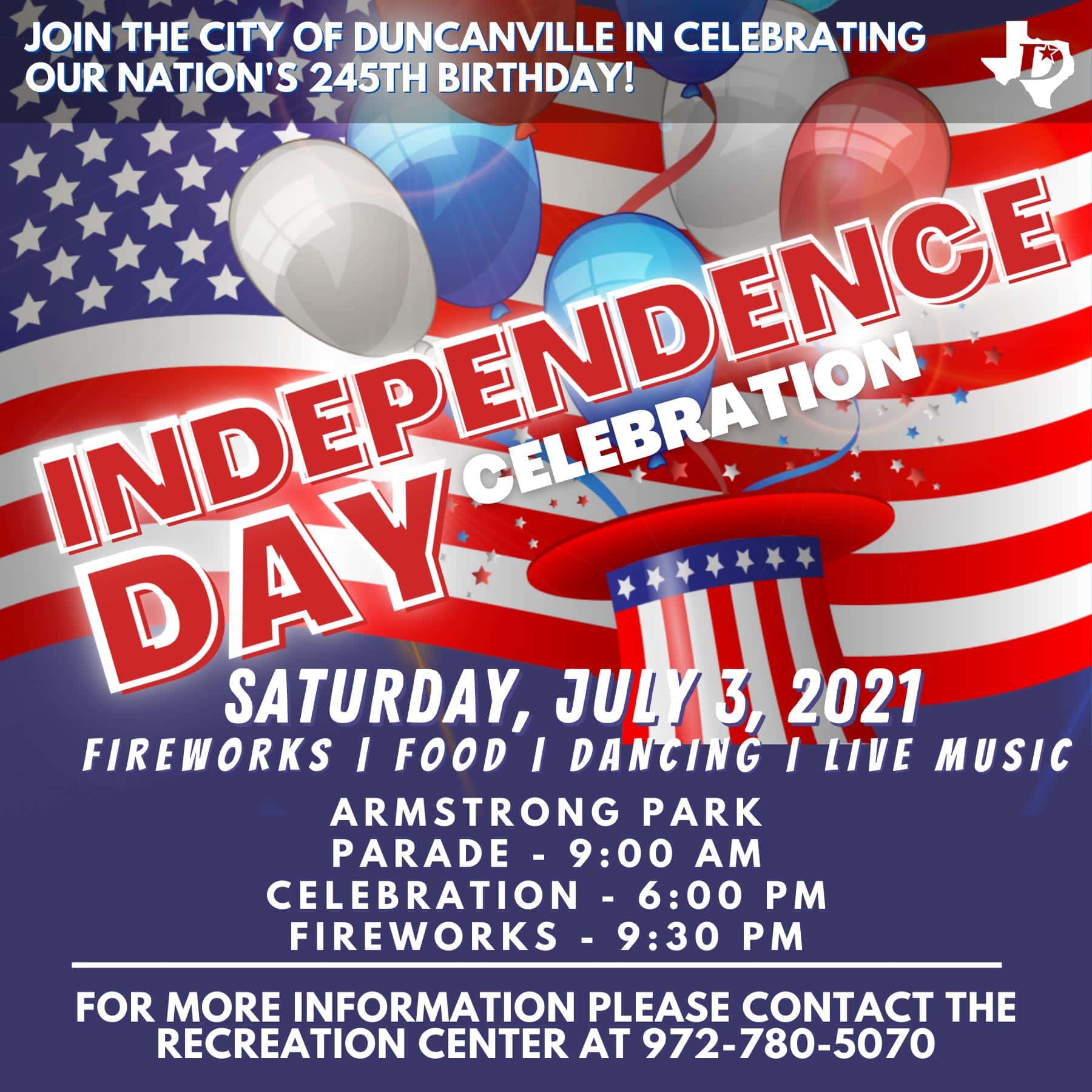 Duncanville Parade is on Saturday July 3 at 9am starting at Armstrong Park, the Independence Day Celebration kicks off at 6pm with fireworks at 9:30 pm.
The event is FREE but a wristband is REQUIRED to join the festivities. Limit 5 wristbands per person. Must be 18 years or older to pick up.
The Independence Day Parade is facilitated by the Duncanville Lion's Club and begins at 9:00 am on Saturday, July 3, 2021. The Parade route starts on Wheatland Road at Freeman Street, heads west and turns right on North Main Street then ends at North Main Street and Freeman Street.
Residents are welcome to set up blankets and chairs along the parade route to enjoy the fun and creative float entries.
Independence Day Celebration
Saturday, July 3, 2021
6:00 pm
Armstrong Park | 100 James Collins Blvd
Celebrate our country's Independence at a family-friendly event featuring live music, delicious food, bounce houses, face painters & more! Guests under 18 must be accompanied by an adult. Wristbands are required for entry – pick up wristbands at the Recreation Center starting June 14; limit 5 per person and must be 18 years old or older. Bags and coolers subject to inspection. No alcohol, glass containers, tents, canopies, large umbrellas, non-service animals, personal drones or fireworks allowed.
The fireworks show will begin around 9:30 pm.
Ennis
June 26th Get ready for the best small-town, patriotic experience in Texas!
Deck out your bike, scooter, wagon etc. and join us for the Red White and Bike Parade through downtown Ennis and historic tree-lined neighborhoods. This year we will have butterflies and an eagle from the Austin Bike Zoo riding in the parade with us along with an Uncle Sam Stilt Walker.
Enjoy Big & Rich BBQ, snocones and Romeros Mini Donuts and do some shopping at the Downtown Ennis Bluebonnet Market then get ready to head over to Veterans Park in the evening for a spectacular fireworks display. Tell everyone you know that if they want a true Independence Day experience this event is the most charming display of patriotism and community pride you will ever see!
8:00am:12:00pm: Downtown Ennis Bluebonnet Market
9:30am: line up for bike parade judging
10:00am: Red White and Bike Parade Begins
Free activities at Ennis Freedom Fest-Party in the Park include:
Paddle boats, Rock Climbing, Slide, Bounce House & Obstacle Course
2pm-10pm: Downtown Ennis Carnival opens!
5pm: Ennis Freedom Fest-Party in the Park begins! LIVE MUSIC: The Garth Guy (amazing Garth Brooks Tribute Show) and The Three Amigos Fireworks show at dark
Fort Worth's Fourth
Sunday July 4th: Celebrate Independence Day with the largest fireworks show in North Texas at Fort Worth's Fourth. Space out along the banks of the Trinity River at Panther Island Pavilion and enjoy an evening of festival food, drinks, live music and a fireworks show. Gates open at 6 PM and the fireworks show will start at 9:30 PM. Admission is free!
Grand Prairie
Lone Stars & Stripes Fireworks Festival at Lone Star Park July 3 & 4
Gates Open: 3:00 p.m.
First Live Race: 5:00 p.m.
General Admission is just $5
ALL PARKING IS $20
Fireworks: After the last race, stay to enjoy our spectacular 20-minutes Fireworks Show, choreographed to music.
Lancaster
Celebrate the 4th of July with Grammy Award Winner Fred Hammond, and David Mann Jr! Food, Fireworks, Vendors, Games, and Live Music will be provided. 1700 Veterans Memorial Pkwy, Lancaster, TX 75134
Mansfield Rocks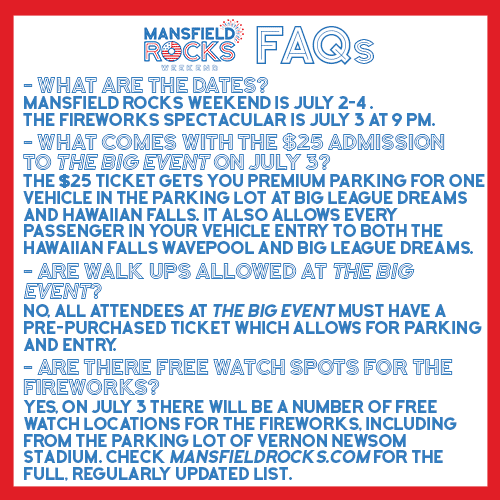 Mansfield is celebrating Independence Day with events from July 2-4. Fireworks spectacular is on July 3.
BIG LEAGUE DREAMS
The Big Event will be from 6 PM to 9 PM at Big League Dreams (500 Heritage Pkwy S.)
Cost is $25 per car.
Admission covers premium parking, entry into Big League Dreams for the viewing party (featuring music by The Grooveline Dallas) and entry into the Hawaiian Falls wave pool.
You can also view the fireworks from Vernon Newsom stadium, the parking lots of Vernon Newsom Stadium (3700 E. Broad St) opens in the afternoon.
The LOT Downtown Mansfield
Great American Picnic Jul 03, 2:00 PM – 11:00 PM Mansfield, 110 S Main St, Mansfield, TX 76063, USA
An official part of the citywide Mansfield Rocks! events, bring a blanket, picnic basket filled with food from your favorite Mansfield eateries, music from the Texas All Star Youth Jazz Orchestra, The Texas Bluesmen – The Ultimate Blues Brothers Experience, and the live simulcast of the legendary Mansfield Rocks! fireworks show!
Midlothian
July 3, 2021 Midlothian Independence Day Parade (10 a.m.) and Arts & Crafts Fest (8 a.m. to 12 noon). The "Celebrating America's Super Heroes" parade will step off at 10 a.m. at Avenue B and the 8th Street Bridge, follow North 8th Street south to Heritage Park, turn west on Avenue F and end at Overlook Drive. (Parade entries check in at 8 a.m. at the Midlothian Police Department, 1150 N. Hwy. 67. Dispersal is also at the Police Department parking lot.)
July 3 9:15 pm Free community fireworks show sponsored by Citizens National Bank of Texas, Methodist Midlothian Medical Center, and Midlothian Community Development Corporation. Show is staged on 14th Street near the MISD multipurpose stadium and can be viewed from the stadium parking lot, next door at the Sports Complex, or from surrounding streets. Stadium parking lot opens at 6 p.m. for viewing.
Waxahachie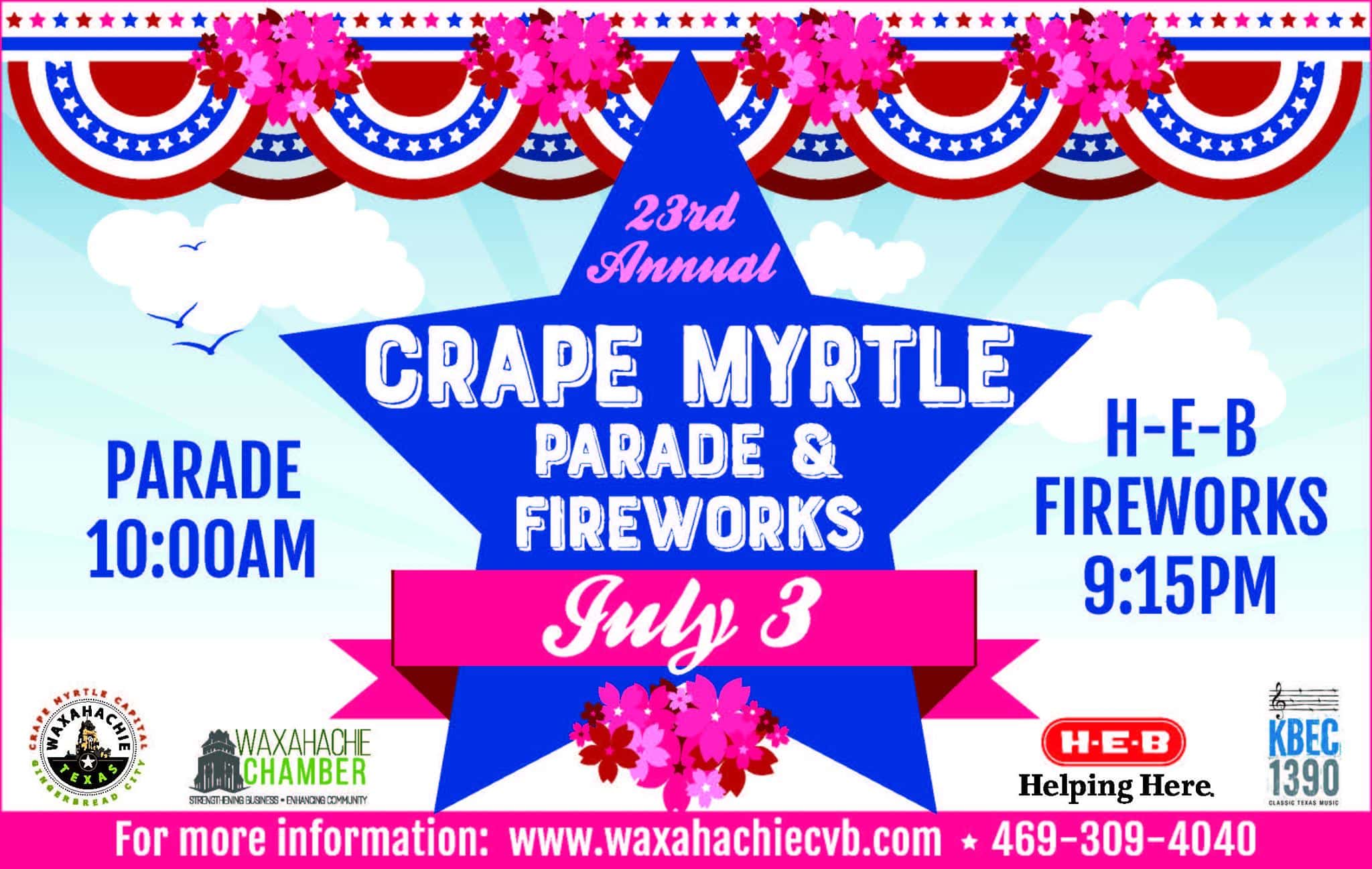 The Crape Myrtle Capital of Texas will be in full-bloom and ready to celebrate Independence Day with the 23rd Annual Crape Myrtle Parade & H-E-B Fireworks. The patriotic celebration will kick-off on Saturday, July 3, at 10 a.m. with a hometown parade.
The Crape Myrtle parade will start in the 400 block of North College Street and head north to Marvin Avenue, west on Marvin Avenue to Brown Street, then north on Brown Street ending at Lumpkins Stadium parking lot. The annual tradition of the Spectacular H-E-B Fireworks Show will also take place on July 3 at 9:15 pm. Fireworks will be launched from the same location as in the years past in the 1300 block of Brown Street. Lumpkins Stadium parking lot will be open for families to park and watch the show. Spectators are encouraged to tune their radio to KBEC 1390 during the fireworks show for a special broadcast of patriotic music.