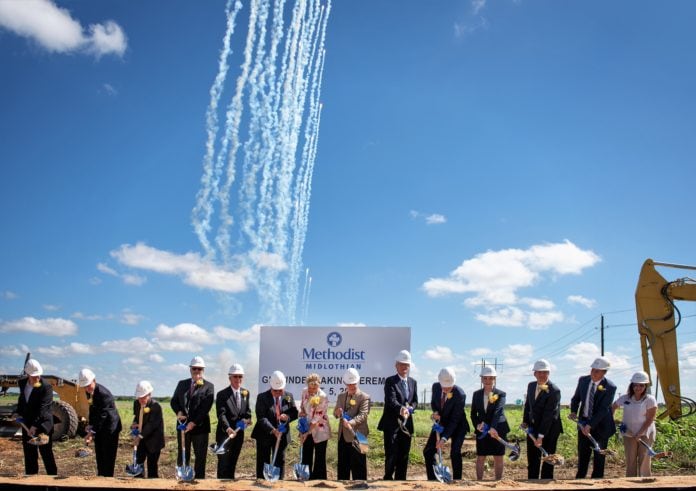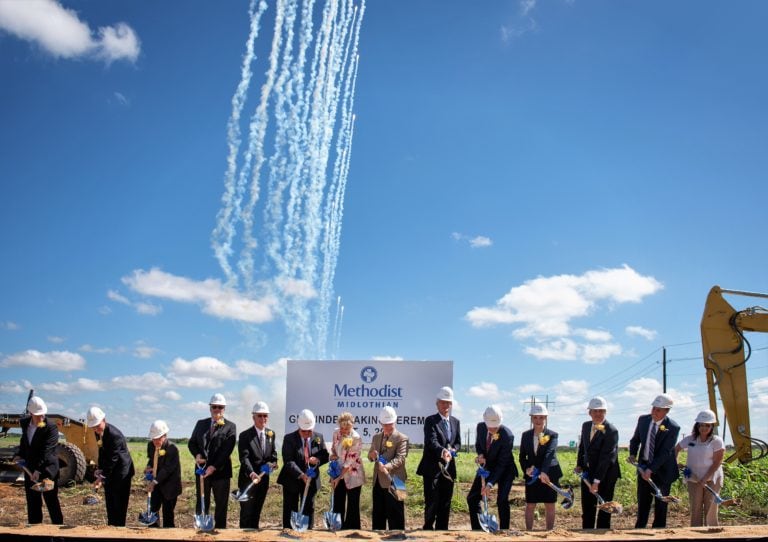 An enthusiastic crowd applauded the October 5th groundbreaking for a new Midlothian Methodist Medical Center. Mayor Bill Houston and other civic leaders joined hospital board members and officials onsite for the ceremony. Midlothian High School and Heritage High School bands and cheerleaders welcomed the crowds, and J. R. Irvin Elementary School student Ryleigh Morgan sang the National Anthem.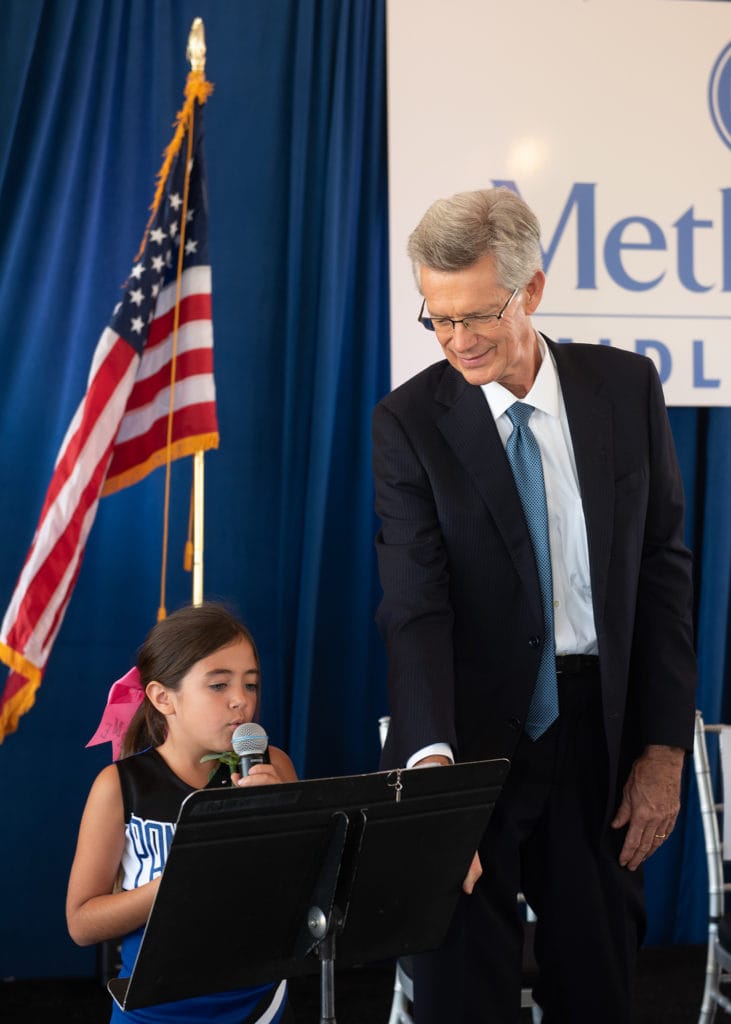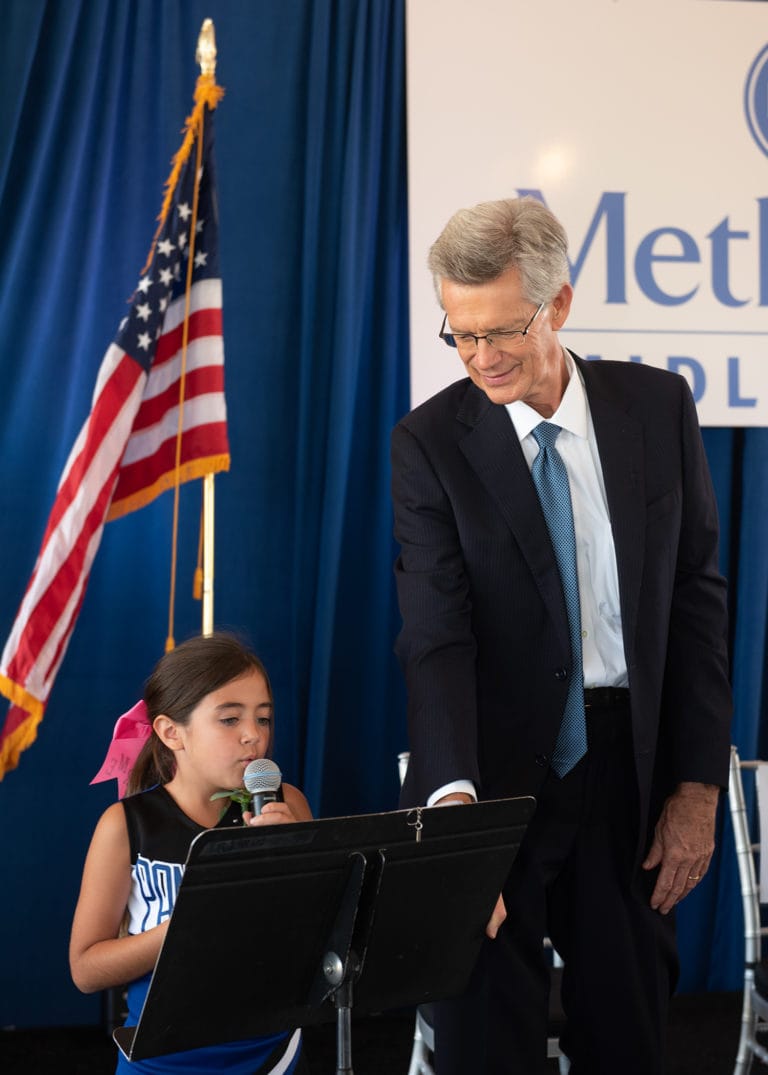 The five-story hospital and three-story medical office building will be constructed just west of U.S. 287, near Midlothian ISD stadium. Projected to open in 2020, the medical center will employ about 300 healthcare professionals and support staff during its first year.
"This is a day we have waited for, a day when we will now have a full-service, acute care medical facility in our growing city," Mayor Houston said. "We have a long working relationship with Methodist and are so proud to have the system expand its presence, talents and expertise into our community."
$175 Million Hospital Facility Planned For Methodist Midlothian Medical Center
A $175-million hospital facility will be the center piece of the campus and include a 44-bed acute care hospital with the capacity to expand to 80 beds, and a 45,000 square foot medical office building. The 67-acre site will allow for expansion of the Midlothian Medical Center Campus to meet the future needs of Midlothian and Northern Ellis County. Methodist Midlothian will feature some of the latest in digital technology, making the new facility a near-paperless hospital.
"We are proud to celebrate 90 years of providing healthcare to the people of North Texas. And as an extension of our rich history, Methodist Midlothian is the realization of part of the Vision 2020 Strategic Plan developed by the Board," said Julie Yarbrough, Chair of the Methodist Health System board of directors. "We are honored that community members have entrusted us with the well-being of their families, friends, and neighbors. We look forward to collaborating in the healthcare stewardship of the Midlothian community."
Also making remarks were Methodist Dallas Medical Center President John Phillips, FACHE, and Methodist Health Systems President and CEO Stephen L. Mansfield, Ph.D, FACHE.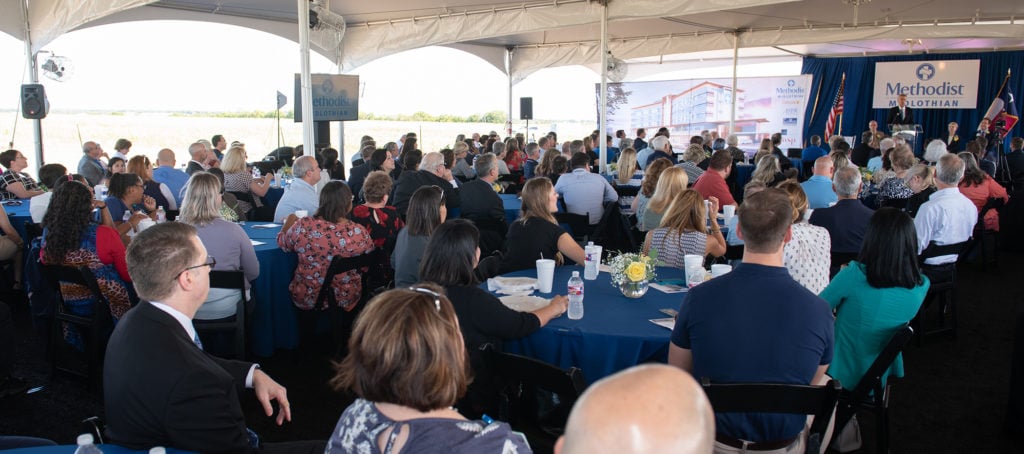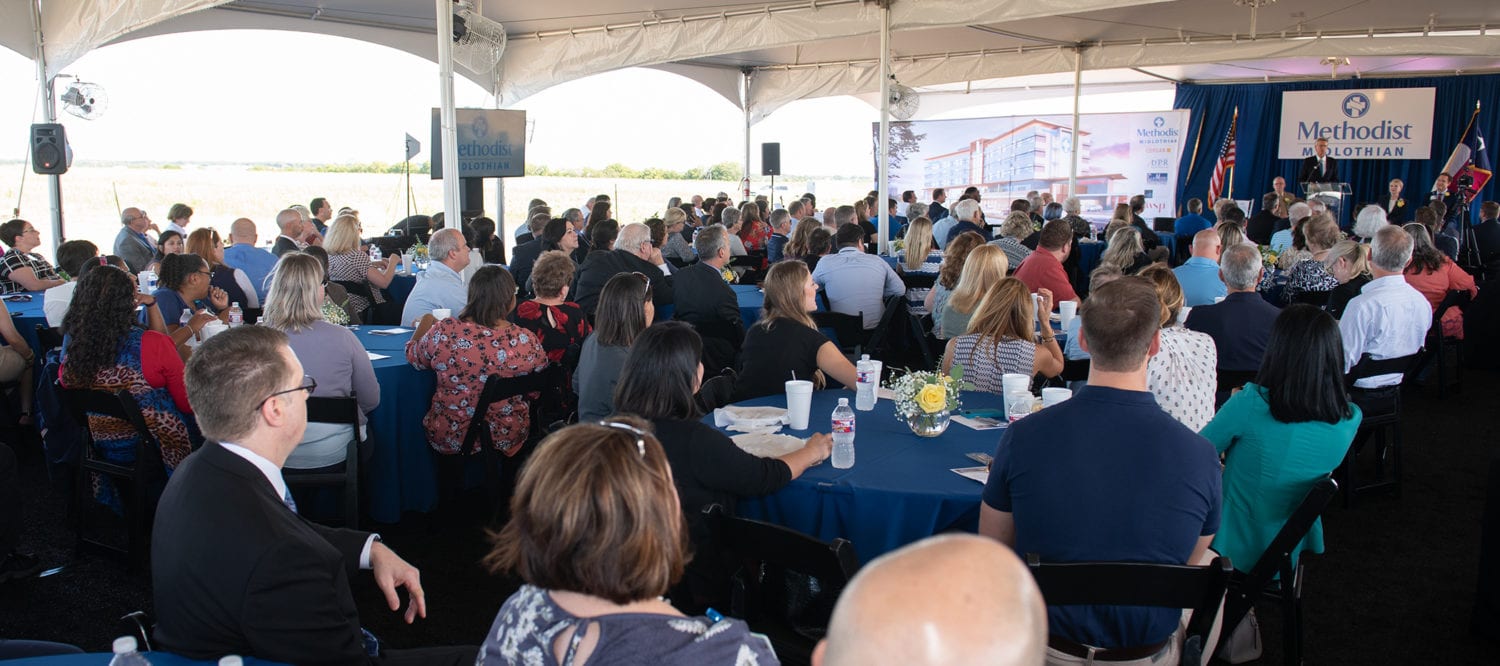 "Many people came together to make this hospital a reality," Dr. Mansfield said. "The city and the Midlothian Economic Development Corporation were both key catalysts in bringing Methodist into the community. We appreciate the residents of Midlothian and want them to know how much we value them and look forward to meeting their needs."
Midlothian is one of the most rapidly growing areas in the DFW Region. Methodist has been a longtime leader in healthcare in the Midlothian region, providing high quality healthcare services to the residents of Midlothian and its surrounding communities. This facility will be the 11th hospital to carry the Methodist brand.
Corgan will be project architect, with DPR Construction as the general contractor for Methodist Midlothian Medical Center.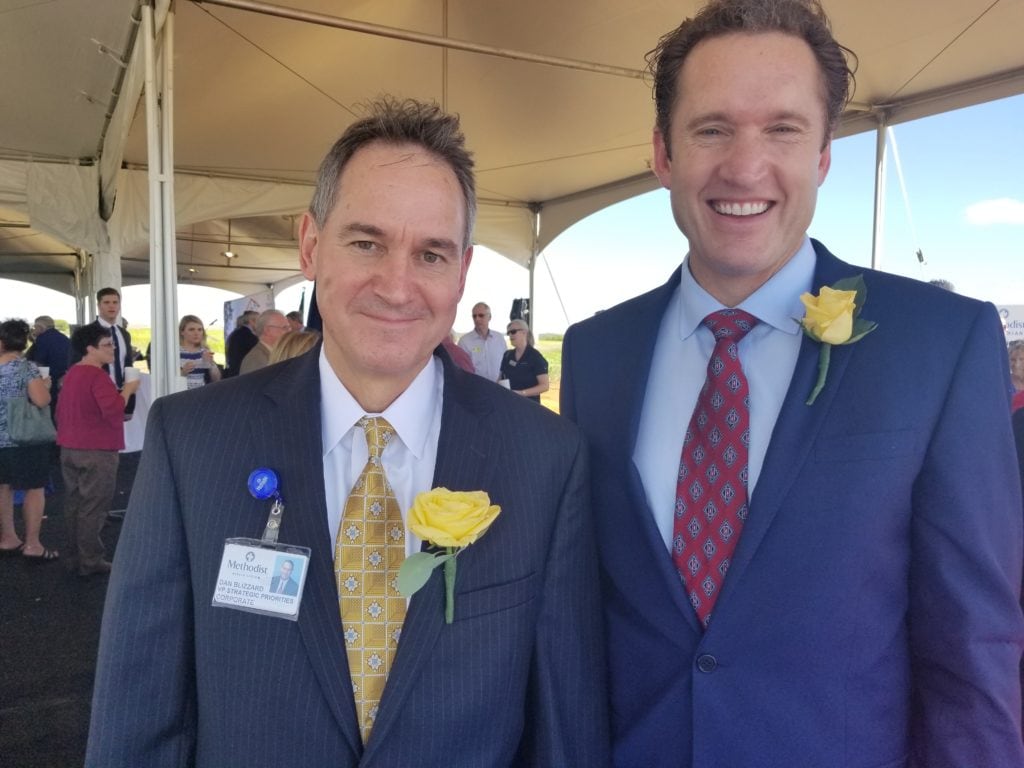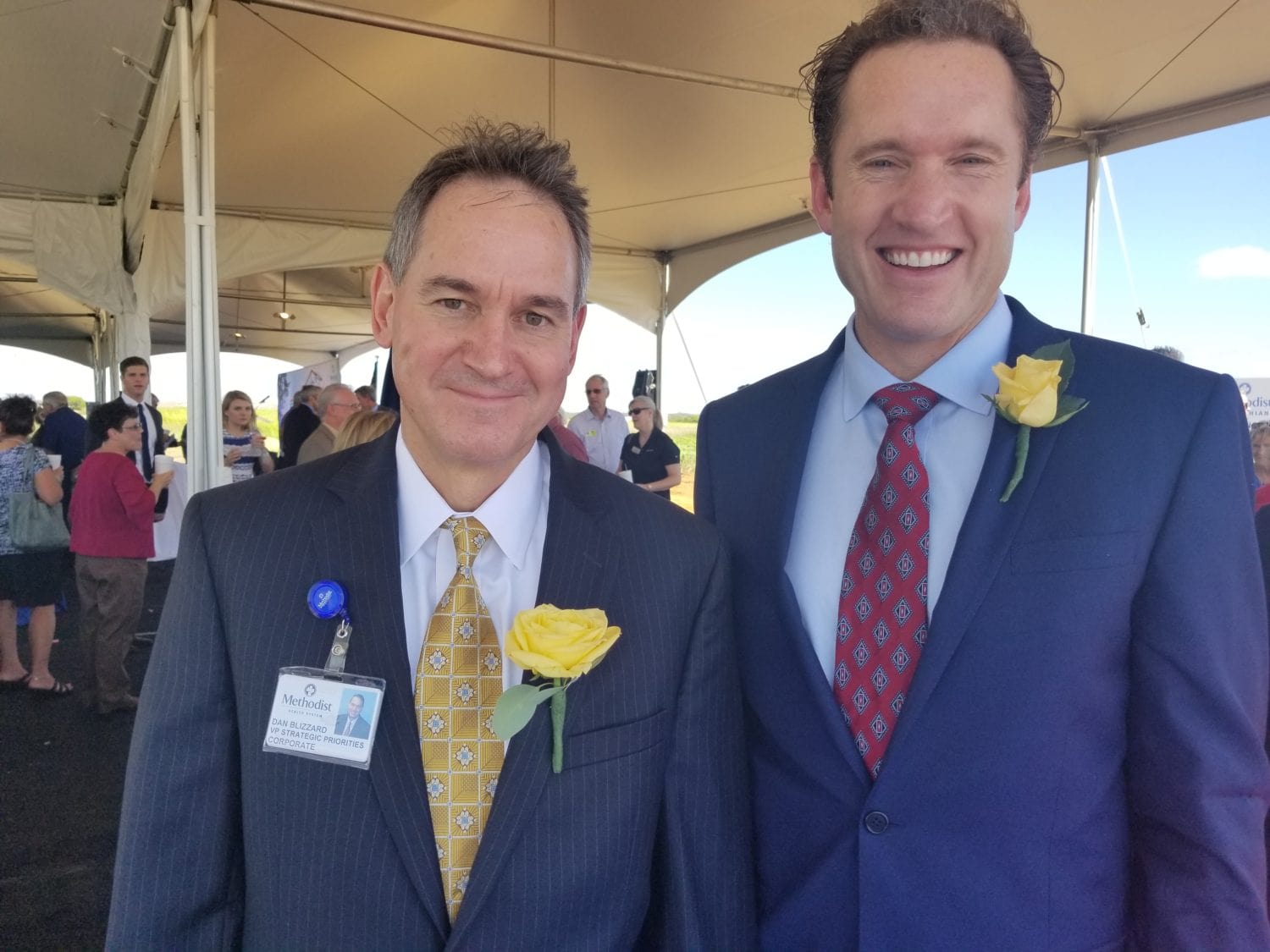 After the groundbreaking, John Phillips said he was "thrilled about the new medical center for Midlothian, and especially what it will mean for the community." Having spent the past seven years as President of Mansfield Methodist Medical Center, he was closely involved in helping to plan for the new facility. Phillips and his family (wife Marcie, daughter Molly and son Mac) will move to Oak Cliff to be closer to Methodist Dallas next summer. But not, he said, until after his daughter's high school graduation.
John Phillips Praises Dedicated Team Behind Hospital Plans
Phillips said George Schrader, of economic development firm Schrader and Cline, LLC, had been "a tremendous help during the entire process. George was Dallas City Manager (1972-1981) during a period of growth that included building a new city hall. So he was able to give our development team great advice on how to cut through red tape and get things done."
Several others, Phillips said, deserved extra praise for their contributions to the project. These included Midlothian's City Manager Chris Dick and Midlothian Economic Development President and CEO Larry Barnett. He said another invaluable team member, Methodist Health System's Vice President of Strategic Priorities Corporate Dan Blizzard, "was the fireplug who kept us all on track and working together."
From the excitement of the throngs of Midlothian citizens overflowing the large tent erected for the program, it appears their city is moving in the right direction.
"This is something we've been needing for a long time, so we're all very happy that it's finally happening," said Midlothian residents Joyce and Joe Jessing.