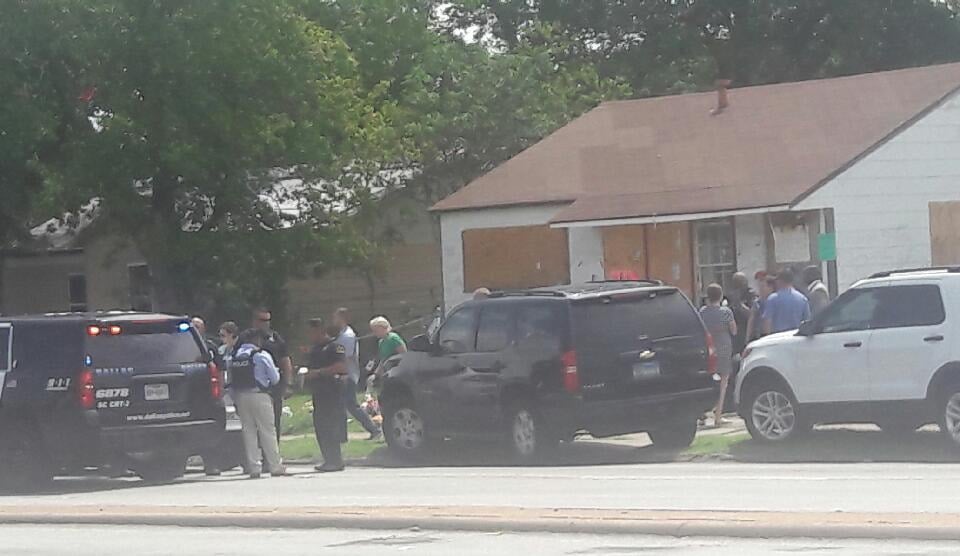 Dozens Gather Outside Oak Cliff Home To Watch Law Enforcement Efforts
DALLAS—The FBI and Dallas County Medical Examiner Office officials were back out at the scene of a 'heinous' murder on Tuesday morning. It was a little over a month ago when Dallas Office Federal Bureau of Investigations Agents discovered the body of a missing Lancaster teen.
Dozens of East Oak Cliff residents gathered near the house located at 2208 Kiest Boulevard in Dallas as police, FBI and medical examiners re-entered the home in search of additional evidence.
June 28, 13-year-old Shavon Le'Faye Randle of Lancaster was taken from a relative's home in the 1300 block of Southridge Drive. Family members said they received a call from an unknown male who said he was holding Shavon Le'Faye Randle against her will. Police said the family member told them the man threatened to harm the teen.
A day later, more information surrounding the incident came to light. What at first looked to be a random act may have had more sinister motivations. According to the victim's mother, Shaquna Persley, there was no visible forced entry into the home, but the inside of the home was ransacked, before Randle's abduction.
Persley added that because her daughter opened the door for her abductor, she suspects that it had to be someone she knew. She continued that it was possible the suspect said the name of a person Randle knew and trusted, which would cause her to let him in.
It was later revealed that Randle had been held for ransom and then killed in a scheme involving drugs, robbery and money.
Routine Evidence Gathering
August 11, the Federal Bureau of Investigation advised the Lancaster Police Department that an evidentiary search warrant would be conducted at the address in Dallas.
The Federal Bureau of Investigation "Evidence Response Team" is conducting a search of the residence for any further evidence that will assist in this case.
Social media was abuzz Tuesday as law enforcement entered the condemned home. Several members of the Oak Cliff community spread word of another body being found in the home.
Dallas County Medical Examiner's Office vehemently denies these rumors. By Tuesday afternoon they had been inundated with called from local media seeking answers.
"Today prosecutors and investigators from my office were at 2208 East Kiest Boulevard collecting additional evidence for our ongoing investigation in to the deaths of Shavon Randle and Michael Titus," said Dallas County District Attorney Faith Johnson.
To date there have been five arrests in connection with the murders, but no charges have been levied. Titus was one of four people originally identified by police as people of interest in Randles disappearance. His death has been ruled a homicide.
Devontae Owens, 24, Darius Fields, 26, Laquon Wilkerson, 30, LaPorschya Polley, 25, and Desmond Jones, 21, have been arrested for their alleged involvement.
"Collecting additional evidence throughout the course of an investigation is routine," said Johnson. "We remain committed to vigorously and thoroughly fighting for justice on behalf of our victims. As this case is pending, we will not be releasing any further details at this time."
It is unknown whether any new evidence discovered at the home would carry much weight in court. Since the July 2 discovery many friends and area residents have been on the property.
Facebook and Twitter posts have been showing people dismissing police barricades to lay flowers in memory of Randle. Some even make videos and posts voicing their theories on the murders.