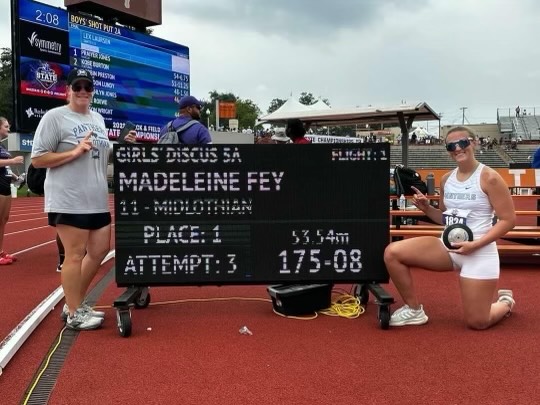 The third time was a charm for Madeleine Fey of Midlothian.
Well, so was the first and second time as she continued her annual tradition of going to Austin and coming home with a state championship in throwing the discus. The Midlothian High School Junior won the title for a third consecutive season, demolishing the competition en route to the crown.
Fey had a Class 5A state-record throw of 175 feet, 8 inches. It was a whopping 27 feet ahead of second place – that's almost a first down in a game of football.
"It feels great. I have to admit, not as exciting as the first year, but still pretty exciting," Fey said. "It was really just getting in my groove."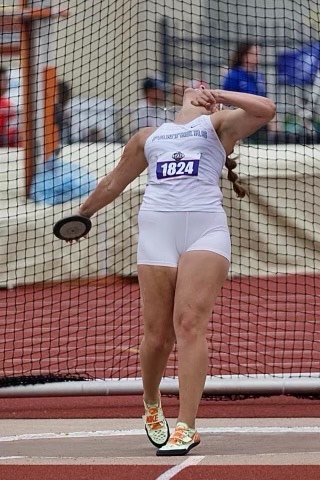 Fey has dominated the competition all season long and state was no different. She admitted she sometimes feels as if she's competing against herself.
"I really have to focus hard on myself," she said. "Sometimes I'll imagine someone's beating me."
Given her success in the event, it takes quite a bit of imagination. While her throw Friday was a record for the 5A state meet, she has thrown farther, 182-4 at the Region 1 Meet in Lubbock a couple of weeks earlier.
Fey also captured a silver medal in the shot put with a career-best throw of 47-10.
"I'm 100 percent pleased. All season I've been getting within inches of PR and to get it here is fantastic."
Fey has committed to compete for the University of Kansas after high school.
"Maddie has thrown her best when it counted most," Midlothian Athletic Director Todd York said. "The only thing that can match her talent is her competitiveness. She is a model of a student athlete – and she comes back again to attempt the rare feat of being a state champion four years in a row!!"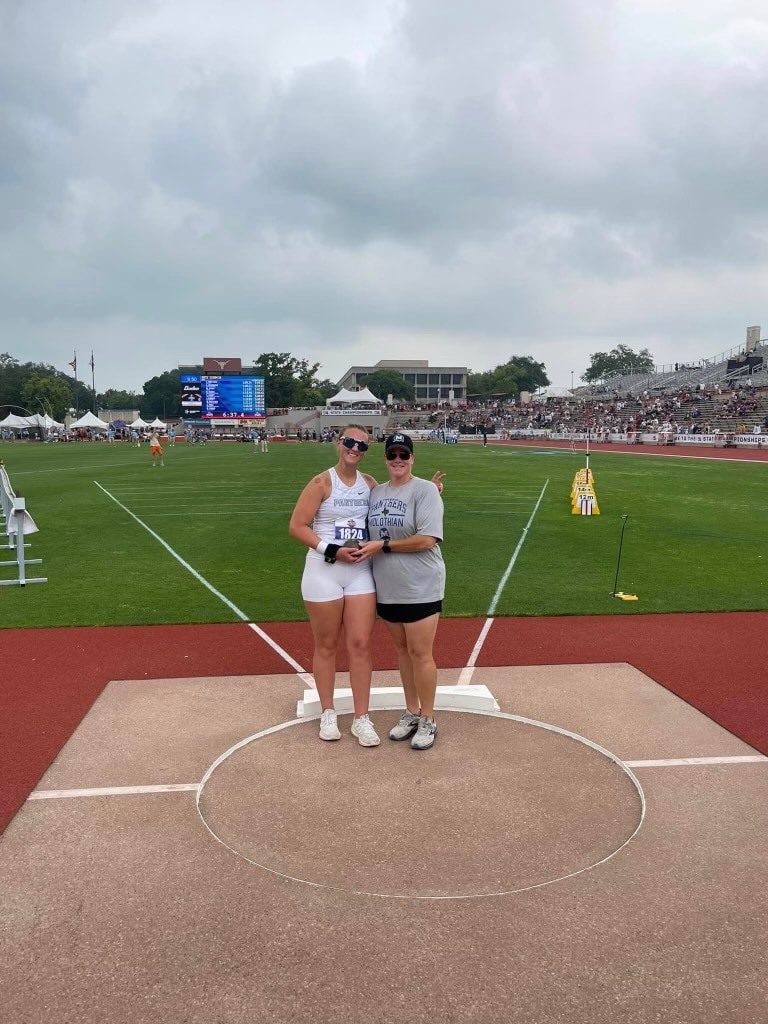 Fey wasn't the only medalist from Midlothian on Friday. Sophomore Kyen Purser placed second in the discus with a throw of 170-3.
From across town, Angel Brefo finished second in the girls 400-meter dash with a time of 54.37.
Joining Fey in winning gold medals on the weekend were the Lancaster girls 400 relay; Taylor Fingers, Mansfield Timberview, girls long jump; Red Oak boys 400 relay; and the Duncanville boys 800 relay.
Fingers had trailed the entire competition. Then, she ended her high school career with the best jump of her high school career. She also narrowly missed a second gold medal, taking second in the triple jump.
The Duncanville Pantherettes also won the 6A girls team championship.
In wheelchair competition, Nathan Bresee of Mansfield won three medals. He was second in the 100 and 400 dashes and third in the shot put.
University Interscholastic League State Track and Field Meet Area competitors/places
Running distances in meters, field events in feet
Class 6A Girls
Top team scores
Duncanville, 50, first place; DeSoto, 34, fourth.
Individual finishes
400 relay: 2. Duncanville, 45.55; 5. DeSoto, 45.80.
800: 3. Taryn Bailey, DeSoto, 2:10.63.
100 hurdles: 4. Indyia Walton, Duncanville, 14.13.
800 relay: 2. Duncanville, 1:36.03.
300 hurdles: 3. Walton, 42.44; 4. Amelliah Birdow, DeSoto, 42.76.
200: 2. Nasya Williams, DeSoto, 23.94.
1600 relay: 3. DeSoto, 3:45.13; 4. Duncanville, 3:45.60.
Boys
Top team score
Duncanville, 44, second place.
Individual finishes
400 relay: 2. Duncanville, 40.26.
100: 3. Caden Durham, Duncanville, 10.53; 5. Jaylen Washington, Duncanville, 10.64.
800 relay: 1. Duncanville, 1:23.95; 4. Cedar Hill, 1:24.26.
200: 6. Mike Jones, Mansfield Lake Ridge, 21.79.
Class 5A Girls
Top team scores
Lancaster, 46, third; Mansfield Timberview, 34, fourth.
Individual finishes
400 relay: 1. Lancaster, 46.08; 3. Timberview, 46.42.
800 relay: 2. Lancaster, 1:38.19; 7. Timberview, 1:40.00.
400: 2. Angel Brefo, Midlothian Heritage, 54.37; 4. Kelaiah Daniyan, Lancaster, 54.88.
300 hurdles: 4. Kialia Claiborne, Lancaster, 43.70.
200: Norah Nwonumah, Timberview, 24.06; 8. Esther Shaba, Mansfield Summit, 24.74.
1600 relay: 6. Lancaster, 3:52.40; 7. Red Oak, 3:58.70.
Discus: 1. Madeleine Fey, Midlothian, 175-8; 4. Arrianna Allen, Summit, 139-0.
Long jump: 1. Taylor Fingers, Timberview, 20-1.
Shot put: 2. Fey, 47-10; 5. Allen, 42-1.25; 8. Kayla Roberts-Day, Red Oak, 39-3.5.
Triple jump: 2. Fingers, 41-1.
Boys
Top team scores
Red Oak, 31, third; Timberview, 26, seventh.
Individual finishes
400 relay: 1. Red Oak, 40.29; 4. Timberview, 40.76.
110 hurdles: 3. Alex Moore, Timberview, 14.10; 7. Cameron Bates, Timberview, 14.30.
100: 6. Brayden Robinson, Red Oak, 10.45.
800 relay: 6. Red Oak, 1:26.65.
300 hurdles: 2. Bates, 36.79; 7. Moore, 38.45.
200: 3. Cameron Cleveland, Red Oak, 21.10.
1600 relay: 5. Timberview, 3:19.25.
Discus: 2. Kyen Purser, Midlothian, 170-3.
Shot put: 4. Brodrick Stewart, Summit, 56-11.5; Purser, 54-7.5.
Triple jump: 5. Bryant Wesco, Midlothian, 47-3.25.
Class 5A
Top local finish
Boys
Long jump: 3. Michael Blaylock, Wilmer-Hutchins, 22-0.5.