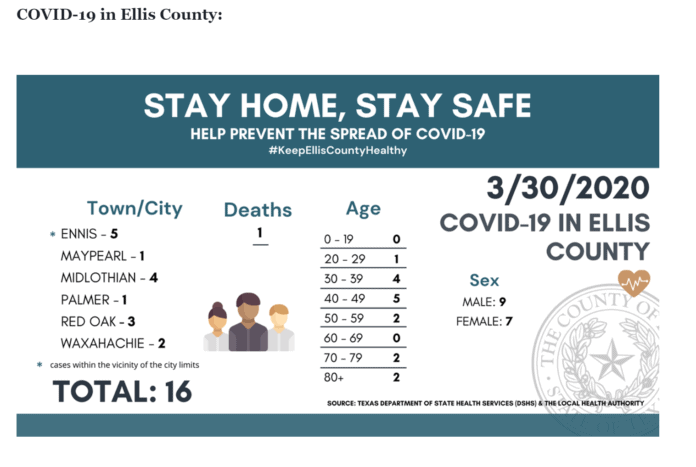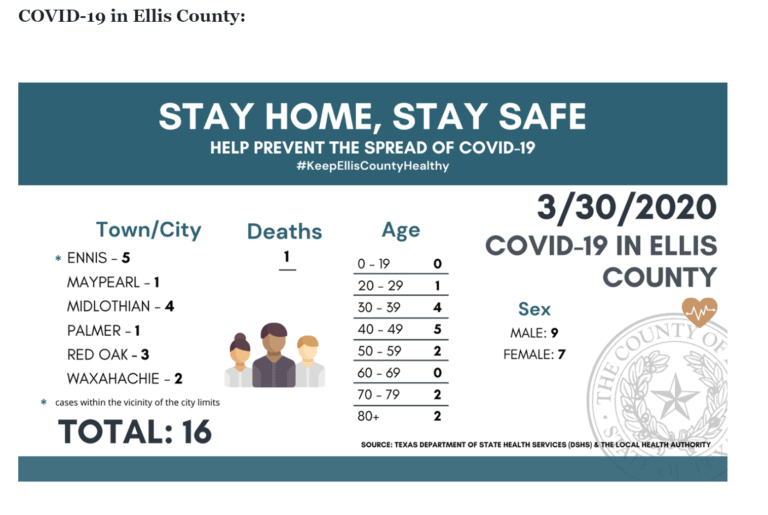 March 30, 2020 – It is with a heavy heart that the Office of the Ellis County Judge reports the first coronavirus (COVID-19) related death of a 90-year-old Midlothian resident. The Midlothian resident tested positive for COVID-19 on March, 21, 2020, and was immediately transferred to Methodist Mansfield Medical Center. To protect the family's privacy no further information will be released. Our thoughts and prayers go out to the family in these difficult times and we should all honor this loss of life by doing our part to stop the spread of COVID-19.
Additionally, the Ellis County Local Health Authority has confirmed one additional case of COVID-19 in Ellis County. The positive COVID-19 case identified today is a 47-year-old male located in Midlothian, Texas.
If our residents adhere to the Ellis County "Stay Home, Stay Safe" order and the guidelines provided by the Center for Disease Control and Prevention and the State of Texas then we can stop the spread of COVID-19.
Texas Executive Orders & Public Health Disaster Declaration
On March 26, 2020, Gov. Abbott issued a self-quarantine edict requiring air travelers from the tri-state area near New York City and from New Orleans to self-quarantine for 14 days after they arrive. Instructions for self-quarantined travelers can be found on the CDC COVID-19 Traveler Information Card.
On March 19, 2020, Dr. John Hellerstedt, commissioner of Texas DSHS, declared a public health disaster in Texas, because COVID-19 "has created an immediate threat, poses a high risk of death to a large number of people, and creates a substantial risk of public exposure because of the disease's method of transmission and evidence that there is community spread in Texas."