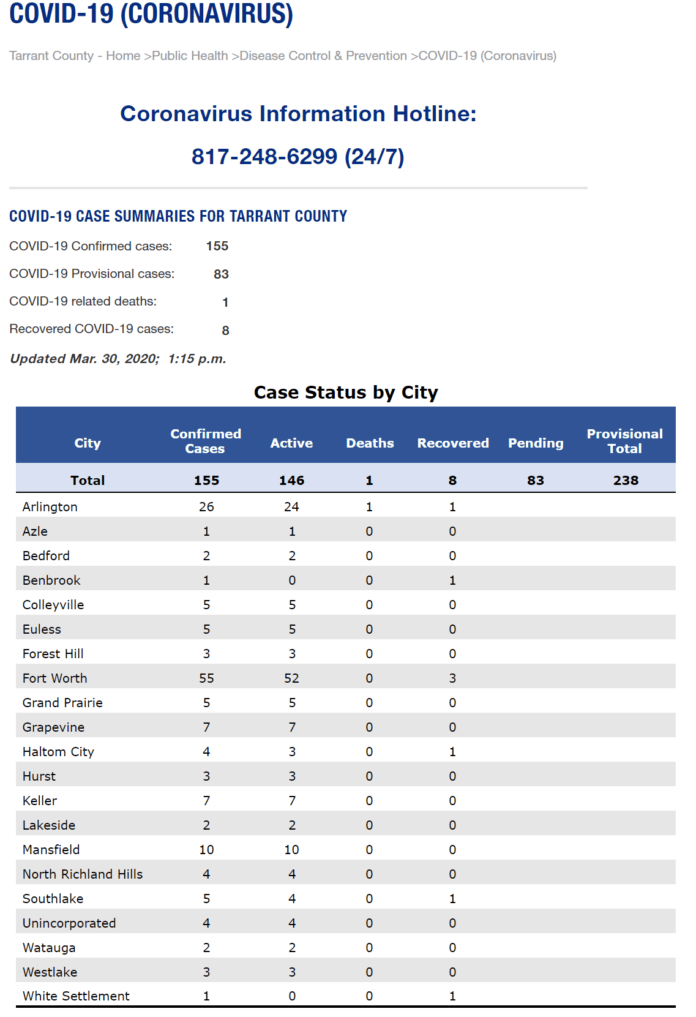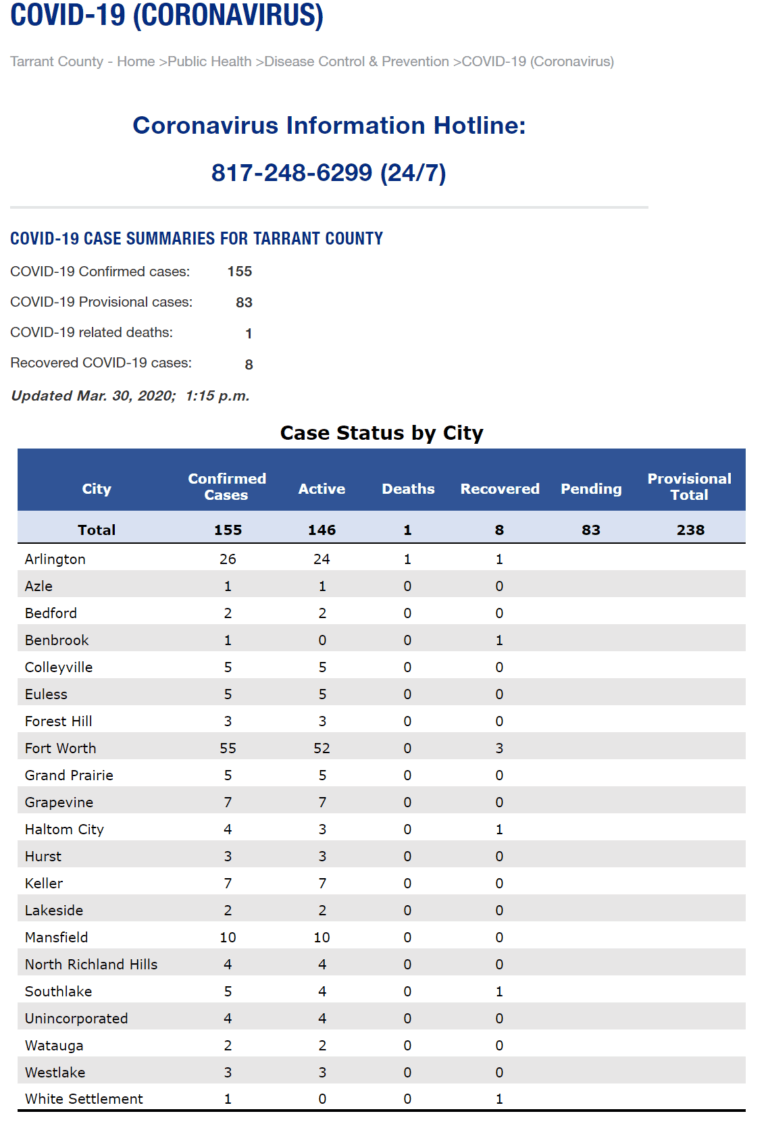 Tarrant County is reporting 16 new confirmed COVID-19 cases today. The breakdown is as follows: Arlington (1), Bedford (1), Euless (1), Fort Worth (8), Grapevine (2), Hurst (1), Mansfield (1) and Westlake (1). With today's cases Tarrant County now has a total of 155 confirmed COVID-19 cases.
"Until now, we have only been reporting confirmed cases, but as the numbers in Tarrant County continue to increase, we want to provide the public with as much information as possible about the spread of COVID-19 in our communities," said TCPH Director of Public Health Vinny Taneja. "So, effective immediately, we will begin sharing provisional case counts that have been confirmed by lab reports, but are pending on investigational data."
"In addition to that number an additional 83 provisional cases are lab confirmed, but pending due to missing investigational data," the county said.
Taneja also said, "The health and safety of all Tarrant County residents is our number one priority. We want to be as transparent and open as possible, while also protecting the privacy and health information of everyone involved."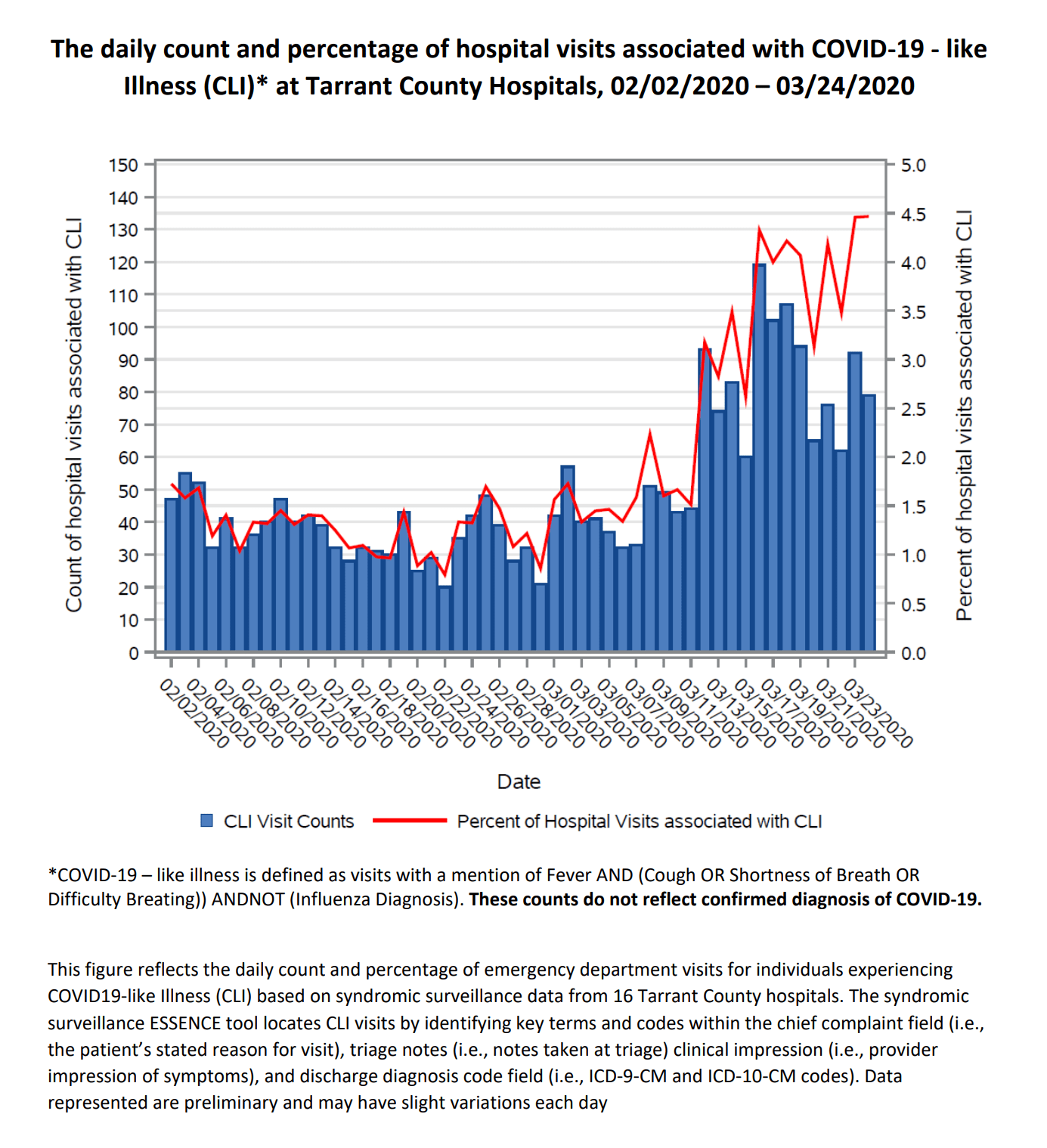 Baylor Scott & White Health has a screening questionnaire that can be taken online or through a mobile app. To install the app on your mobile device, simply text BETTER to 88408 to have it sent to your phone. NOTE: You have to sign up for a Baylor Scott & White Health account.
For those dealing with mental issues during the COVID-19 pandemic, call the MHMR (My Health My Resources) ICare call center at 817-335-3022 or for the hearing impaired use the TTY_TDD numbers at 817-569-4488. (MHMR)
For those in need of Community Resources call 211