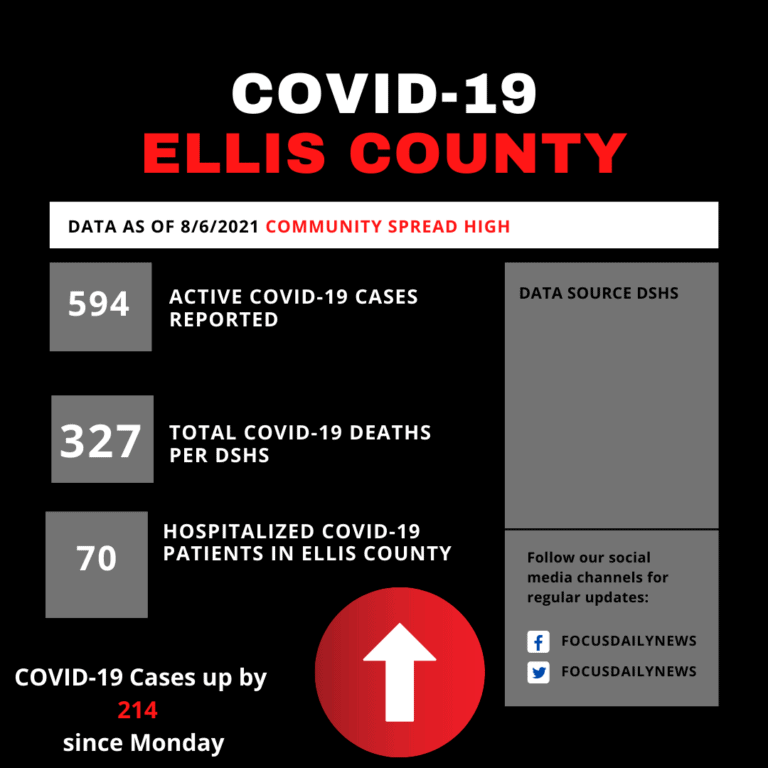 COVID-19 Cases In Ellis County Continue To Rise
The Delta variant is spreading across Texas like an out of control wildfire, and Ellis County cases are continuing to rise. As DSHS said, the 'Delta variant has erased much progress to end the pandemic in Texas.'
On Monday there were 380 active COVID cases in Ellis county, and by Friday DSHS  reported 594 active cases. There have also been two more deaths reported, bringing the total fatalities in Ellis County to 327. The last time active cases were as high as they are today in Ellis County was the second week in February of 2021. (earlier version stated February of 2020 which was incorrect)
According to the Ellis County website as of 8/6/2021 there are 70 COVID-19 patients currently hospitalized, with ten in the ICU and 60 on a MedSurg unit. Out of 235 beds in Ellis County, 198 beds are currently occupied. With 19 ICU beds in Ellis County, 10 of 19 are COVID-19 patients.
In Trauma Service Area E COVID-19 patients currently occupy 11.8% of the region's hospital capacity. Currently there are only 96 ICU beds available in TSA E.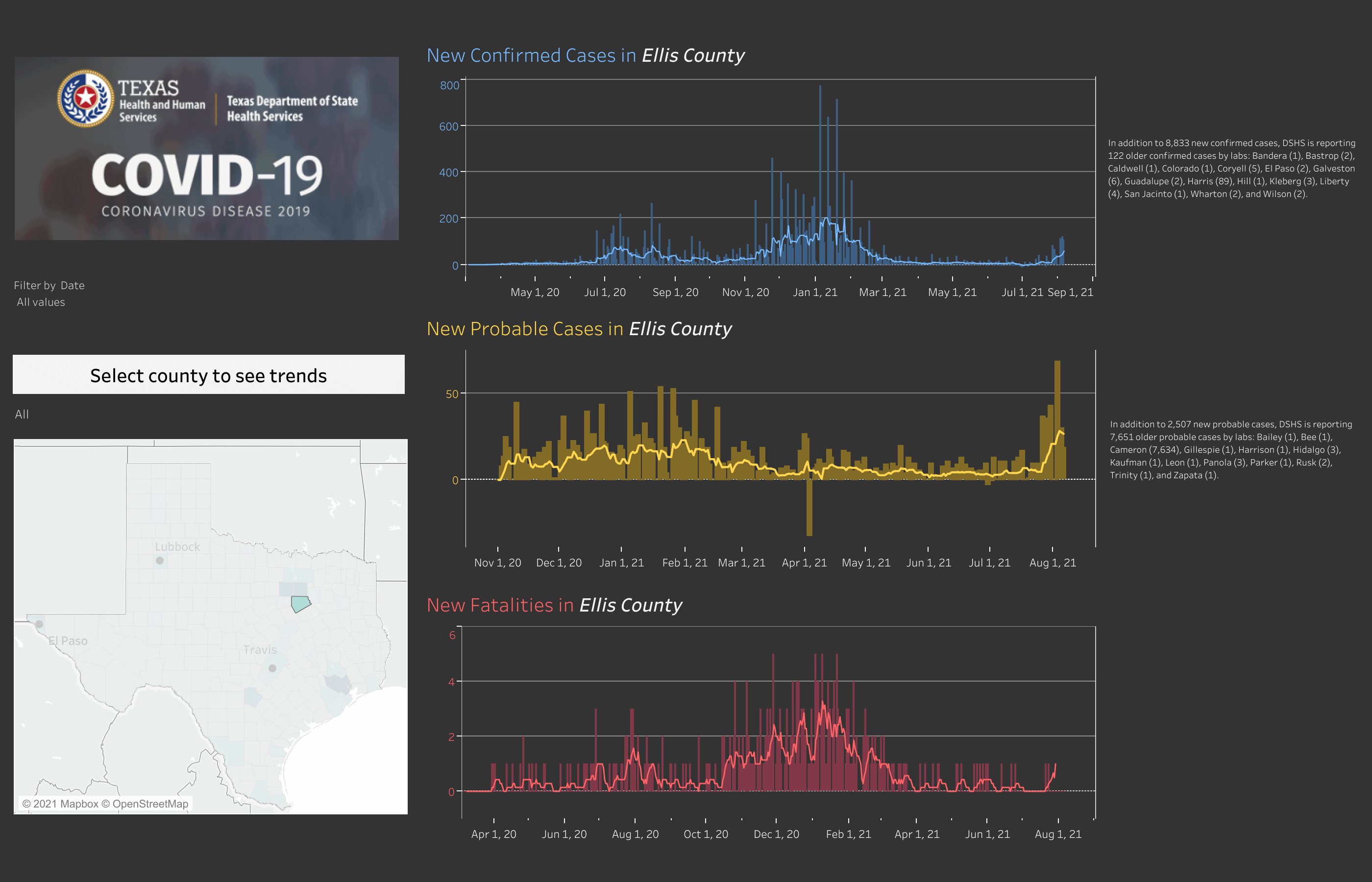 Delta is more transmissible than other COVID-19 strains and more children are becoming ill. New guidance from the CDC recommends everyone in schools and those living in areas with substantial or high COVID-19 disease transmission should wear a mask in public indoor settings regardless of their vaccination status.
Young children are at risk for severe #COVID19. COVID-NET data show that rates of COVID-19-associated hospitalizations in children under 5 tripled in the first half of July. Getting vaccinated can help prevent spreading COVID-19 to children. More: https://t.co/qpYN3dSJL8. pic.twitter.com/17hucGbdgi

— CDC (@CDCgov) August 6, 2021
COVID-19 Testing In Ellis County
Please note symptoms of Delta variant may differ from other strains: fever, headache, sore throat and runny nose are common, while cough and loss of smell are not. (data source: American Society for Microbiology)
Ellis County isn't currently offering free COVID-19 testing. For those needing a COVID-19 test you can check the DSHS free COVID-19 testing site, or your local Walgreens or CVS.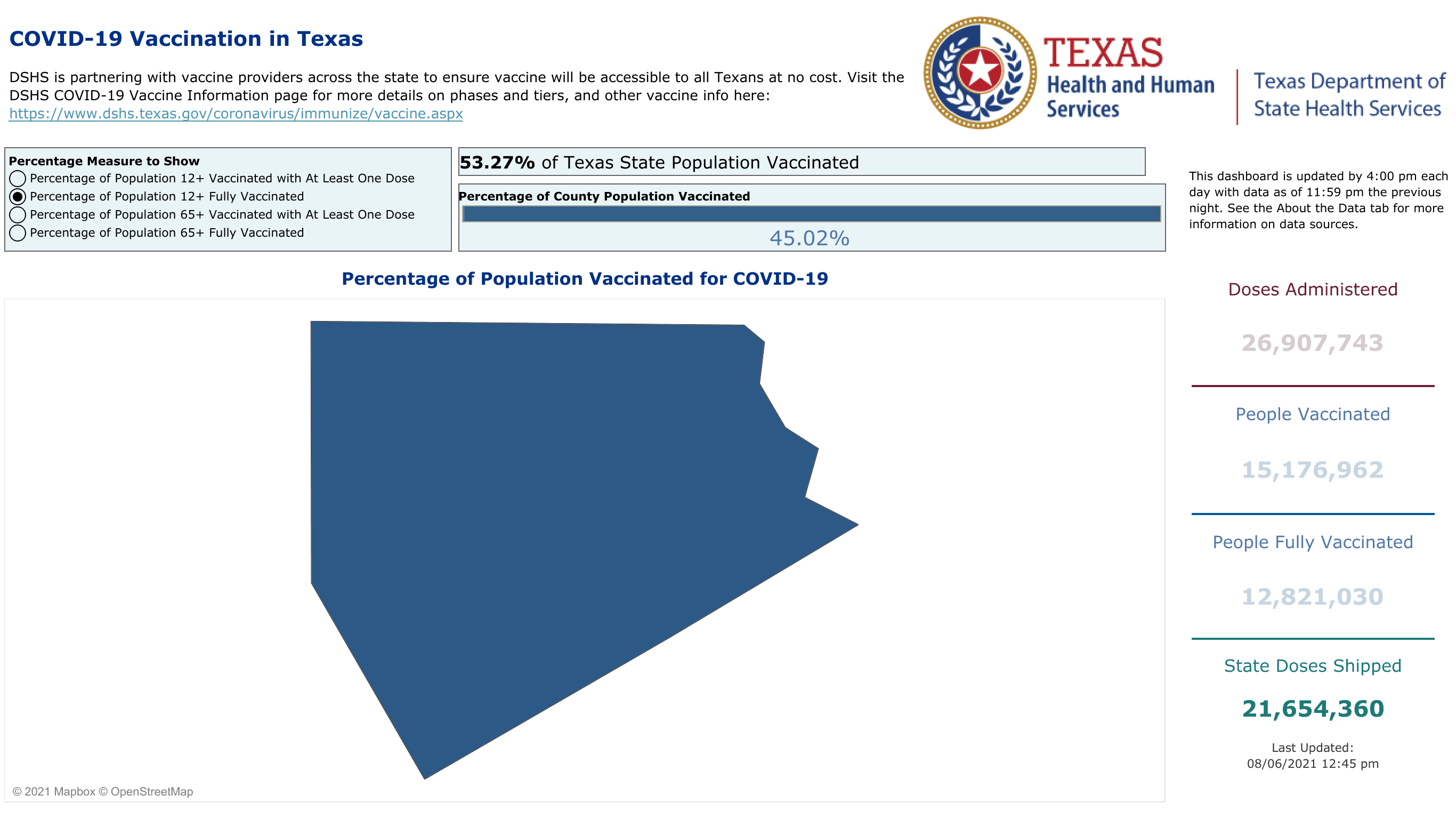 The best protection against COVID-19 is vaccination, most pharmacies are offering walk-in vaccinations, no appointment needed. Across the state DSHS reports daily vaccinations are up 15% from last week and 30% from two weeks ago. Free COVID-19 vaccinations will be offered at the Mayor's Back to School Bash in Midlothian next Saturday for those 12 and up.