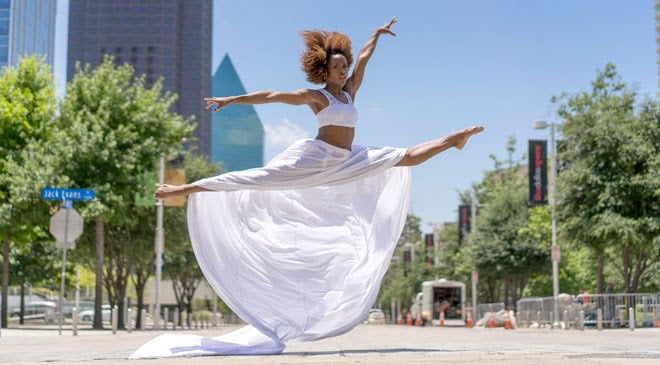 Dallas Black Dance Theatre 40th Anniversary Celebration
Dallas Black Dance Theatre (DBDT) celebrates 40 years during the 2016-2017 season, 40 Years Forward, from history to innovation.
The season's theme reflects the trajectory of the company that has maintained its excellence in artistry as it has developed into a world-renowned dance organization. This season includes three world premieres, including a commissioned work that reflects the legacy of the organization and another utilizing technology to create a unique audience experience. New this season, Dallas Black Dance Theatre is offering an innovative initiative, group season subscriptions.
DBDT celebrates its fourth decade with some nostalgic dance themes. Matthew Rushing, of Alvin Ailey American Dance Theater, is choreographing Tribute, a dance that chronicles 100 years of Black dance masters. It will be a world premiere during the Director's Choice series, November 4-6, 2016, at the Dee and Charles Wyly Theatre. Mr. Rushing's choreography has been selected as a recipient of a grant from the TACA Donna Wilhelm Family New Works Fund.
The 40-year evolution of Dallas Black Dance Theatre unfolds in the world premiere of Interpretations by DBDT company member Sean J. Smith. Interpretations makes its world premiere during the Cultural Awareness series, February 17-19, 2017, at the Dee and Charles Wyly Theatre. Interpretations is supported in part by an award from the Mid-America Arts Alliance, the National Endowment for the Arts, the Texas Commission on the Arts, and foundations, corporations and individuals throughout Arkansas, Missouri, Nebraska, Oklahoma and Texas.
"Dallas Black Dance Theatre is rich with history and we are excited to tell the story of our 40-year legacy through dance," said Ann Williams, founder of Dallas Black Dance Theatre. "We are grateful to all of our patrons and sponsors over the decades. We could not have reached this milestone without their support."
Dallas Black Dance Theatre is the largest minority arts organization in Dallas and the tenth largest in the country.
In addition to historical pieces, DBDT will be using innovation so members of the audience can create their own experience in Tiffany Rea-Fisher's, The B Side. Headphones will allow them to select from three original music scores as they view the dance. The world premiere of The B Side reinvents the concert dance experience during the Director's Choice series.
The season finale during the Spring Celebration series at the Dee and Charles Wyly Theatre includes both choreography and dancers from Ballet Austin. Ballet Austin's Artistic Director, Stephen Mills, will premiere a contemporary piece in Dallas with DBDT company members. In addition, the performance will also feature special guest artists from Ballet Austin.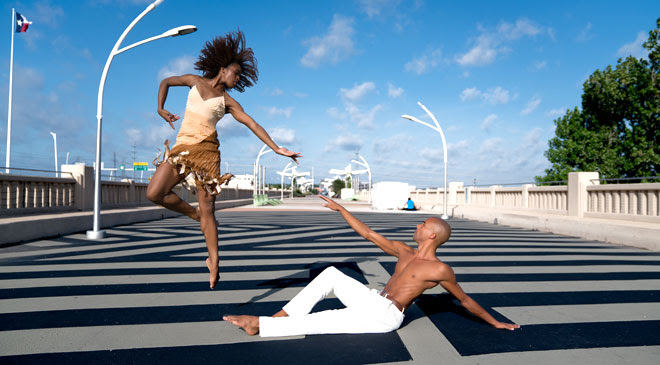 Other performances include the October season opener, DanceAfrica, during the tenth annual DanceAfrica festival at the Annette Strauss Square and performances October 7-8, 2016, at the Dallas City Performance Hall. Dancing Beyond Borders features both DBDT and DBDT: Encore! (formerly DBDT II) in Metroplex performances in Richardson and Fort Worth during March 2017. The Rising Excellence series showcases DBDT: Encore!, the next generation of professional dancers, April 7-8, 2017, at the Dallas City Performance Hall.
The 2016-2017 touring season of Dallas Black Dance Theatre includes international performances in Dance X BZ 2016 in Belize City, Belize in November 2016 and the Fintdaz Festival in Iquique, Chile in May 2017.
Dallas Black Dance Theatre has developed an innovative Group Season Subscription for the 2016-2017 season. The new process will allow groups of at least 10 people to book multiple performances, through a group season subscription, and receive a 30% discount on performance tickets.
"The group season subscriptions allow educational institutions, universities, and other groups to streamline their requisition and approval process for payment. This will make it easier for them to plan group activities over a year," said Zenetta Drew, Dallas Black Dance Theatre Executive Director. "This group subscription has a deep discount, the largest one that we offer."
Both group season and regular season subscriptions are on sale now. Not only are subscription ticket prices less but also do not include convenience fees. For group season subscriptions and group sales, call (214) 871-2390.