Dallas Arboretum Presents ZimSculpt: Contemporary Stone Sculptures From Zimbabwe
The Dallas Arboretum and Botanical Garden presents international blockbuster exhibit ZimSculpt April 15-July 31. The exhibition of contemporary stone sculptures appears for the first time in the southern U.S. More than 100 exquisite Zimbabwean modern sculptures are artfully displayed throughout the garden.
Known as Shona sculpture, these contemporary pieces are carved from various types of serpentine and semi-precious stone. Often weighing tons, the pieces can be as large as seven feet tall. As part of the exhibit, guests are welcome to watch artists and sculptors Passmore Mupindiko and Aron Kapembeza demonstrate their artistry. The artists carve statues daily in The Marketplace, located in Dallas Arboretum's Pecan Grove.
Visitors may purchase any of the sculptures on display in the garden, as well as the ones created by the onsite artists in The Marketplace. The Marketplace is open to guests seven days a week, and on Wednesday evenings. Commissioned pieces can be ordered and made onsite by the artists.
ZimSculpt is supported in part by Dave Perry-Miller, Dallas Tourism Public Improvement District and Neiman Marcus.
April Activities for ZimSculpt
April Activities in the Garden include Sat. April 15, 1-1:30 p.m. and Sunday, April 16, 10 a.m. and 1 p.m.–Meet artists and sculptors Passmore Mupindiko and Aron Kapembeza in Rosine Hall. See a presentation on life in Zimbabwe and their artistic processes.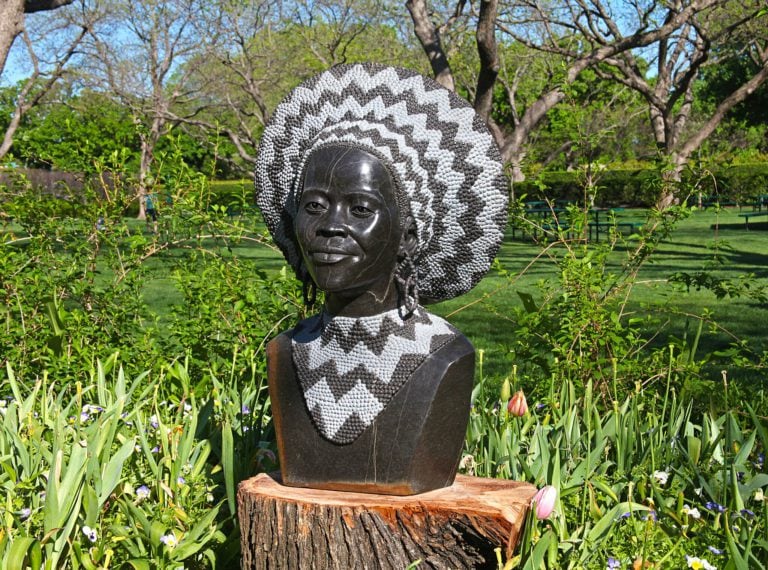 Saturday, April 15, 1:30 p.m.-2:15 p.m. and Sunday, April 16, 10:30 a.m. and 1:30 p.m.– A member of the ZimSculpt team will lead guided tour from the Entry Plaza at conclusion of artists' presentations in Rosine Hall.
Thursdays, April 20 – July 27, 10–11 a.m. and Saturday & Sunday, April 22 –July 30, 10 a.m. & 1 p.m. — ZimSculpt team member leads a guided tour of the sculptures throughout the gardens. Tours begin in the Entry Plaza and end in Pecan Grove.
ZimSculpt trivia boards can be found throughout the garden using the ZimSculpt garden map. The maps have questions regarding Shona, the native language of Zimbabwe. ZimSculpt artists are onsite sculpting new pieces available for purchase in The Marketplace, located in the Pecan Grove.
Also ongoing will be weekend picnic music, with African-inspired music played on the Martin Rutchik Concert Stage for visitors enjoying a picnic on the concert lawn. (Except 5/27, 5/28, 6/10, 6/24, 7/1 and 7/2).
For a complete schedule of ZimSculpt activities continuing through July 31, and ticket information, please visit www.dallasarboretum.org.
Continuing their celebration of April as Art Month, Dallas Arboretum presents Artscape Reimagined, with over 100 artists displaying their works in a variety of mediums April 29-30. This event is free with paid admission.