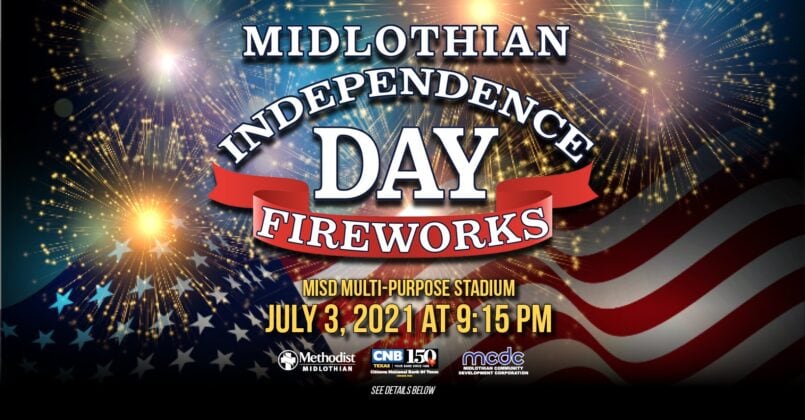 Midlothian Independence Day Parade Road Closures
The City of Midlothian will hold its annual Independence Day Parade on Saturday, July 3, 2021, at 10 a.m. This year's celebration will also include an Arts & Crafts Fest to be held at Heritage Park from 8 a.m. to noon.
Downtown will be affected by the parade and other activities as follows:
6 a.m. – Parking spaces will be blocked off for event vendors and parade spectators as indicated on map and below; however, the city parking lot on the corner of N. 8th Street and W. Avenue F will be open.
Street parking spaces on the south and east side of the city parking lot
Street parking spaces on the west side of Heritage Park
Street parking spaces on the north side of W. Avenue F, directly across from the city parking lot
8 a.m. – Closure of 8th Street bridge at Avenue B north to 9th Street intersection for parade staging (alternate routes, use Hwy. 67 or 9th Street)
9:30 a.m.-Parade route closed – N. 8th Street from Avenue B south to Avenue F, then West Ave. F to Overlook
12 Noon-Parade ends, barricades removed. N. 8th Street and W. Avenue F reopened for through traffic
Independence Day fireworks in Midlothian are on Saturday July 3 at 9:15pm at the MISD Multi-Purpose Stadium
Open Parking Lots For Viewing
Parking lots at the MISD Multi-Purpose Stadium (1800 S. 14th St.) will be open for viewing at 6 p.m.
The parking lot at the new Physician Office Building at 979 Don Floyd Dr. also will be open to the public.
DO NOT PARK
Parking lots at the hospital and the Sports Complex (1000 S. 14th Street) will be CLOSED to the public.
NO PARKING will be allowed in the grassy area between the Sports Complex and the Stadium as this is the fireworks staging area.
Midlothian Road Closures
Portions of Silken Crossing will be closed south from George Hopper Rd. from 6 p.m. till after the Fireworks Show.
Traffic along 14th St. will be routed to expedite the flow of vehicles coming to and going from the stadium. Please follow the instructions of law enforcement officers and do not cross taped or roped off areas or move barricades.
Please be respectful of any private parking lots and do not block streets or driveways.
In the event of rain, the Fireworks Show will be postponed till Monday, July 5, at 9:15 p.m.
Fireworks in City of Midlothian are Illegal
As a reminder, the possession, manufacture, storage, sale, handling, and use of fireworks are prohibited inside the City Limits of Midlothian by ordinance. Professional pyrotechnic displays must be issued a permit. More information is available here.
https://www.midlothian.tx.us/591/Fireworks