A Visit To Bentonville Arkansas
While the Walton family is celebrated for creating Walmart stores, making affordable merchandise available for everyone, it took a trip to Sam Walton's original store in Bentonville, Arkansas to realize how much they did for the folks back home. Thanks to the Walton family, and the grants and foundations they have established, the once sleepy, small town of Bentonville has become an arts and culture mecca.
My husband and I recently visited Bentonville for the first time. Our first stop was the Crystal Bridges Museum of American Art, located on beautiful grounds that include sculpture gardens, waterfalls and winding forest trails. A house designed by Frank Lloyd Wright has also been relocated to the grounds.
We were on a tight schedule that only allowed us to spend five hours there, and started with a gourmet salad lunch in Eleven, the museum's restaurant. The museum was founded by Walmart heir Alice Walton, and designed by internationally renowned architect Moshe Safdie. An Israeli/Canadian who found fame for designing Habitat 67 in Montreal, Safdie's architecture works with the geographic elements that define a place. In this case, he heeded Walton's love and concern for her family's heritage and the land where they grew up. They created a dam, bridges and buildings in a ravine that honored the nearby forest and fit into the setting like they had always been there.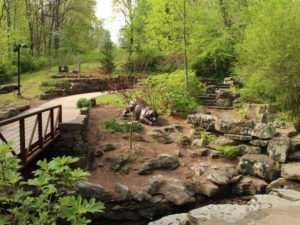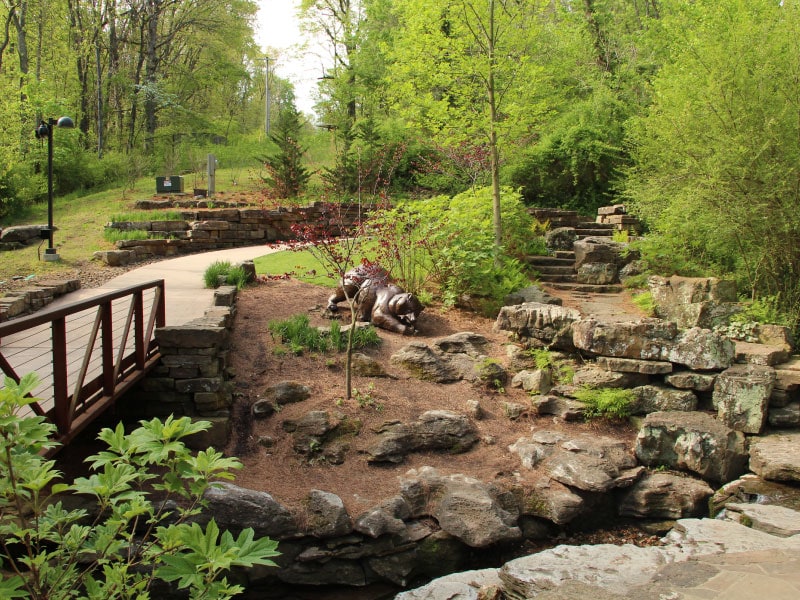 Since its opening in 2011, the museum has offered free admission to the public. It draws visitors from all over the world to enjoy its incomparable natural vistas along with their progressive exhibitions and collections. We caught the final days of an about-to-close exhibition, Soul of a Nation. It examined American history from a different viewpoint, one painted or sculpted by African American or other minority artists.
The only admission charge for Crystal Bridges Museum of American Art is for special exhibits, such as the Georgia O'Keefe exhibition "The Beyond: Georgia O'Keeffe and Contemporary Arts," scheduled for May 26-September 3. A $10 fee will be charged for admission to that exhibit, which will include giant flowers, colors, landscapes, and still life paintings from the legendary artist and others whose work is similar to hers. This exhibition promises to complement the gorgeous natural settings surrounding the museum perfectly.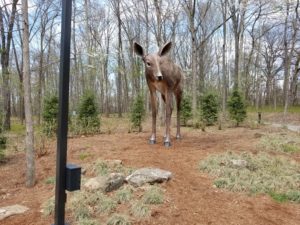 The next time we visit Crystal Bridges Museum, I want to hike the inviting trails that wind around the 120 acres of native Ozark forest. With natural springs, streams, and myriad native plants and animals, there are approximately 3.5 miles of well-maintained hiking/biking trails to explore. We were only able to do the art walk, where we stumbled upon a gigantic sculpture of a deer that gave us pause.
"And all this time we thought everything was bigger in Texas," my husband said.
We were only able to spend one night in Bentonville, but it was made more memorable by our stay at the funky 21C Museum Hotel. We were about to learn that Bentonville had a museum on almost every corner, and our hotel was no exception. Stray green penguins popped up everywhere in the 104-room boutique hotel, and some of the art pieces were quite thought-provoking.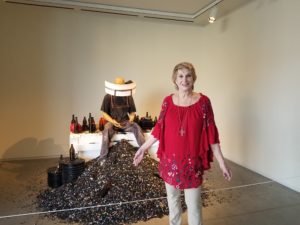 Walking into downtown Bentonville, we visited the original Walmart 5 & 10 cents store (formerly a Ben Franklin's), now a museum located in the spot where Sam opened his store. It was a real treat to tour the museum, like opening a time capsule to view all the family photos, Mrs. Walton's wedding gown, Sam's pickup truck, and a recreation of his office left just as it was when he was there.
But the biggest treat was discovering Spark Café (ice cream and soda shop) that paid tribute to Sam's love of ice cream. They serve Yarnell's ice cream (a family owned brand from Searcy Arkansas) at prices like customers paid back in Sam's era.
That night we dined on gourmet Southern comfort food at The Preacher's Son, a fine restaurant located in an old church building. We didn't tell the preacher, but we discovered a Speakeasy down in the basement (next to the restrooms). However, we opted to stroll back over to Spark Café for a banana split or ice cream cone instead.
The following morning we had a fine breakfast in The Hive, helmed by executive chef Matthew McClure. We were joined at breakfast by one of the ubiquitous green penguins, official mascots of the hotel.
We had spent less than 24 hours in Bentonville, but it already felt like home. Friendly people, lovely scenery, fine art and culture, good food, great prices, green penguins, and cheap ice cream….we will be back!
Bentonville Arkansas is 370 miles from Dallas, or about six hours by automobile.
Comments
comments