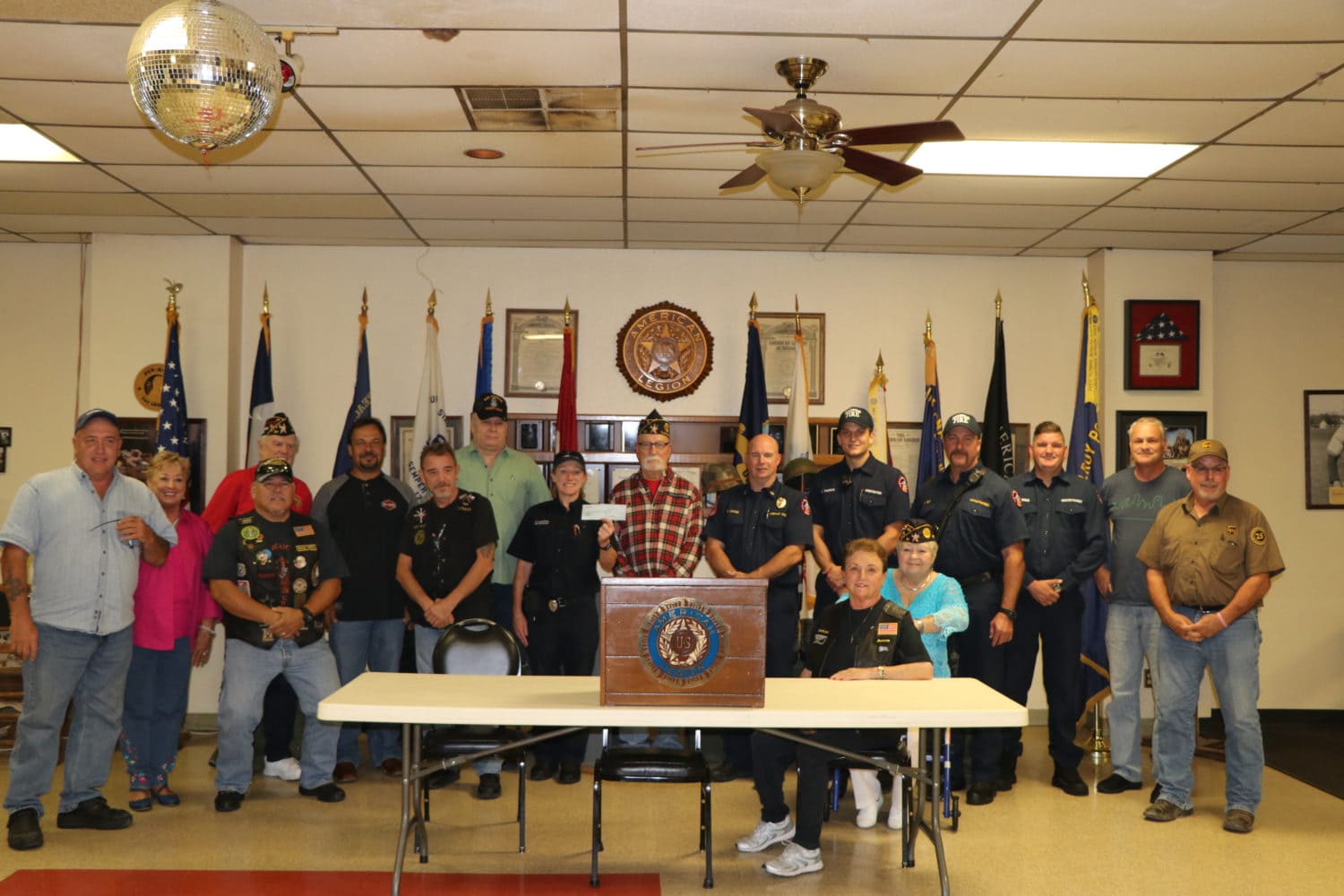 Duncanville Fire Department Received Generous Donation From Post 81
American Legion Post 81 Commander Don Bartlett presented the Duncanville Fire Department with a check for $2,150 August 29. Fire Inspector Pam McAllister, Assistant Fire Chief Greg Chase, and other members from the department attended the check presentation.
The donation will help defray costs to send four children to Parkland Burn Camp, I-Thonka-Chi. The rest of the donation will help offset printing costs for the Duncanville Fire Safety Calendar.
The camp enhances and brightens the lives of children who have been affected by the aftermath of fire and allows children hospitalized with burn injuries an opportunity to share time with others who face similar life-altering challenges. Camp I-Thonka-Chi was started in 1992 with an attendance of nine campers.
Inspector McAllister said she is excited about the program and appreciates the participation from the Duncanville Independent School District.
"Our Fire Prevention office began this program three years ago, and we are very excited to see the growth and interest it has created," McAllister said. "The Legion has played a very big role in supporting this program both financially, as well as physically, and we would not be where we are today without them. Seeing the smiles and excitement on the kid's faces who create the artwork for the calendar, as well as seeing how it benefits such a wonderful camp for children who have been affected by fire, makes all the hard work of putting this program together worth every bit of it."
The Duncanville Fire Safety Tip Calendar Contest is in its third year and offers an opportunity for Duncanville elementary students in grades third through fourth to learn, share and showcase their art skills all while being educated about fire safety. Local businesses and organizations help with calendar costs through sponsorship's. All proceeds from calendar sales are donated through the Duncanville Firefighters Association, and on June 6, 2017, the Duncanville Fire Department presented a check for $1,496 to Camp I-Thonka-Chi.
American Legion Post 81 Named For Soldier Killed In Vietnam
American Legion Post 81 Commander Bartlett said "The American Legion Ronald L. McElroy Post 81 was named after Private 1st Class Ronald L. McElroy. He was killed in Vietnam February, 1968 and received three purple hearts. His father was the first Duncanville Police Chief in 1961."
Duncanville, Texas lost more people per capita in Vietnam than any other city in the U.S. This is why the City of Duncanville installed the Eternal Flame and Monument located at the triangle intersection of Main, Center, and Santa Fe Streets.
Past Commander Bernard Aderholt said, "The eternal flame monument was started by our first Post Commander Bob O'Burke, who was also a Duncanville Fire Chief. He got the land donated by the city and Post 81 raised the funds to build it. It has since been remodeled several years ago by the city; they installed new landscape and moved the flag."
"The American Legion Post 81 was charted in 1968. We have 300 members currently. The post has supported the Duncanville Fire Department for years as well as the Fire Safety Calendar. This year we decided to sponsor four children to camp. This Is in keeping with our mission to support community, state and nation by our devotion to mutual helpfulness. Also in keeping with our mission to support veterans and their families. The American Legion Riders Chapter 81 and Post 81 is sponsoring a Patriot Paws motorcycle run on Oct. 21 to provide funds in training service dogs for veterans. We also support many other functions within the community," Aderholt said.