Members of the Duncanville Fire Department attended the Duncanville City Council meeting May 16 to hear Mayor David Green proclaim the week of May 21-27 as Emergency Medical Services Week. May 24 was proclaimed as Emergency Medical Services of Children Day.
Several awards and positive recognition have recently come to the Duncanville Fire Department, including the $128,746 FEMA grant just announced by U. S. Congresswoman Eddie Bernice Johnson.
Congresswoman Johnson said, "This award is great news for the Duncanville Fire Department. Our firefighters are on the front line every day by risking their lives to keep us all safe, and it is important that we make every effort to support the important work and service they provide to our communities. I am pleased that the department won this competitive grant that will be used to enhance their ability to perform their jobs safely and effectively. I am very proud of the men and women who serve at the Duncanville Fire Department and the many firefighters throughout District 30 for their selfless service they provide. I will continue to fight for the resources and support they need as a senior member of Congress from Texas."
The Assistance to Firefighters Grant funding from the U. S. Department of Homeland Security's Federal Emergency Management Agency (FEMA) will provide funds to improve the city's response capabilities.
Duncanville Fire Departments Invests In Future
Mike Ryan, EMS Division Chief for Duncanville Fire Department, said the funds will be used to purchase four Lucas devices to be used on their fire trucks. The Lucas chest compression system machines perform automatic CPR with greater suction and much better results, pulling blood to the heart faster than possible for anyone performing manual CPR on a heart attack victim. Ryan said the grant will also be used for two additional cardiac monitors (Life Pak 15), making a total of four for the department.
"This is an exciting time to be in EMS." Ryan said, "Thanks to all the medical advances that have been made we are able to help more people and to save more lives. We serve a front line population of about 40,000 people in the 11-square miles of Duncanville, but serve an additional 125,000 in DeSoto, Cedar Hill and parts of Dallas. The automatic aid agreement with neighbor cities brings the total response area to over 85 square miles."
CareFlite Awards First Responders at Arlington Conference Center
Ryan said five paramedics from his department were recognized May 21 with plaques during a CareFlite award ceremony for First Responders at Arlington Conference Center. They were honored for reviving a teenaged boy who was pronounced dead last August after collapsing at basketball practice at a local stadium. Ryan said the boy and his mother recently stopped by the Fire Department to thank them, and the boy is doing fine.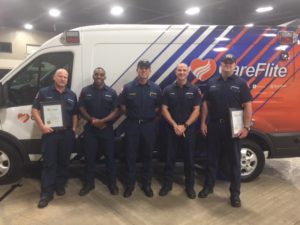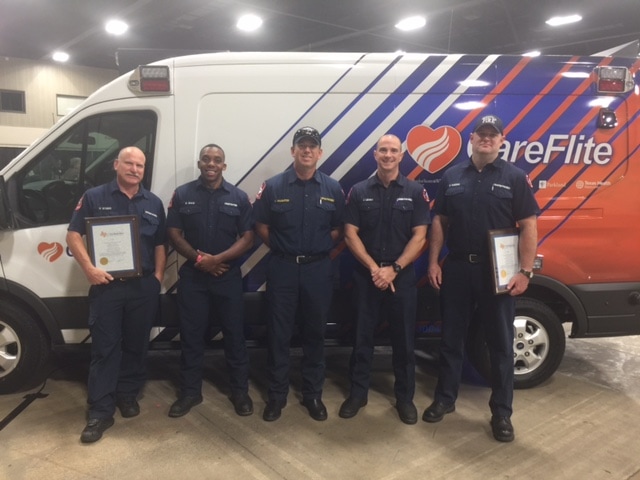 Community outreach is important to the department, Ryan said. "We've put banners like 'Don't Die of Doubt' everywhere stressing the importance of calling an ambulance if you think you're having a heart attack. It has been a surprise to learn that more affluent, well-educated citizens are often the most reluctant to call an ambulance, instead they try to drive themselves to the hospital. EMS teams have the equipment and the training to help save lives if they will just call us."
Ryan said that Martin Garcia and Steven Pogue of the EMS Division recently graduated from an Advanced Paramedic course. This course teaches community involvement for paramedics, where they learn how to help people with other problems besides the immediate emergency. These might include how to get Medicare or Medicaid, or sign up for Meals on Wheels or other programs.
"Next year," Ryan said, "we plan to enroll three more EMS team members in the program."
The Duncanville Fire Department was also named a Mission: Lifeline® Emergency Medical System (EMS) Recognition recipient. The department was honored with a Bronze Award by the American Heart Association on May 15.
The Mission: Lifeline® EMS Recognition acknowledges the work, training and commitment of EMS agencies and Medical First Responders to ensure rapid treatment for ST Elevation Myocardial Infarction (STEMI) patients by directly influencing the STEMI system of care.
"The quality of care our patients receive has been and always will be a top priority for the Duncanville Fire Department," said Assistant Fire Chief, Greg Chase. "This award is a reflection of the hard work and dedication displayed by our paramedics."