2019 Volkswagen Jetta Wins Auto Judge Sedan Of The Year
For nearly 40 years, the Volkswagen Jetta has been a part of the automotive landscape in the United States. There aren't a lot of vehicles that can make that claim. Thanks to the Jetta's good value, solid driving dynamics, and German heritage, it's done well with compact sedan buyers. For 2019, Jetta still understands what it is supposed to be, and delivers more of that than ever before.
Over the decades, the Jetta (like every other sedan) has gotten larger, with more features, more technologies, and more fun-to-drive capabilities, yet retains the same great value that brought in customers for years, judging by the three million-plus Jettas sold in the U.S. alone since 1980. As a matter of fact, the Jetta is the most successful European nameplate in America; that's impressive.
You don't notice the size difference until you put the newest version against the older version, where you can see the difference. The early boxy shape has evolved into an aerodynamic (0.27 Cd), sporty, and modern sedan. The Jetta plays in a highly competitive segment that includes the Toyota Corolla, Honda Civic, Hyundai Elantra, Nissan Sentra, and Ford Focus, to name just a few. While sales of compact sedans haven't dropped as much as midsize sedans, the almost seven percent loss from 2016 to 2017 continues to show the waning popularity of four-door vehicles without a liftgate. Will the all-new Jetta be able to remain competitive in the face of this reality?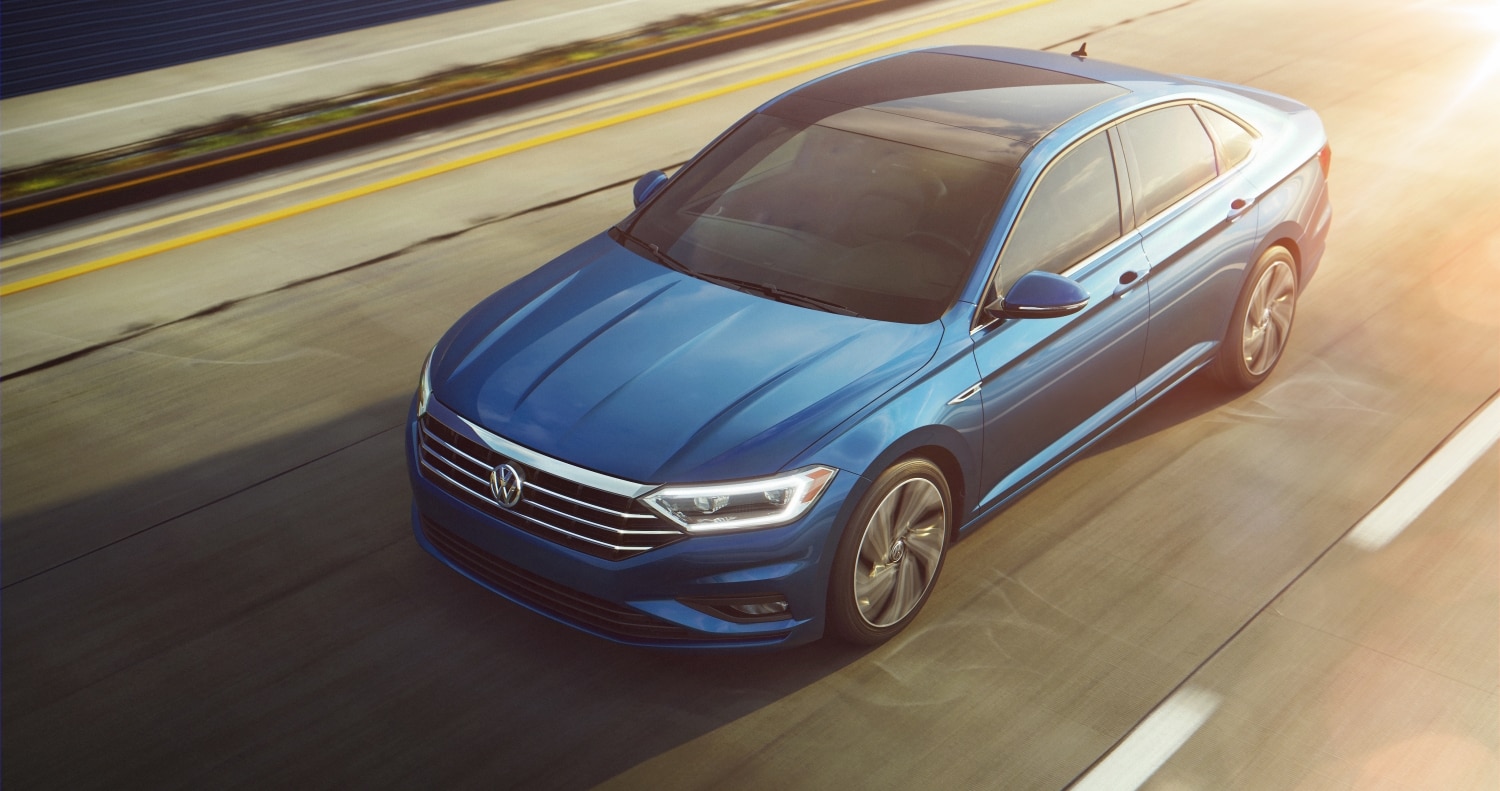 If you start with the exterior design, that would be yes. The Jetta sits on the same MQB platform that resides under the Golf lineup, as well as the new Tiguan and Atlas SUVs. The design is clean, and definitely influenced by aerodynamics, as seen by the active grille shutters, underbody sculpting, air curtains in the lower facia, and strakes on the hood to help the wind cleanly move up and over. A new grille, shorter overhangs, a strong character line, and a fast roofline help the Jetta maintain a pleasant look not only today, but years down the line. We will always prefer a vehicle with classic lines over one that's overly trendy. For example, the all-new Nissan Altima, which in our humble opinion looks busy, with lines, and bulges, and a mixture of shapes that may not stand the test of time like the Jetta.
As we mentioned earlier, the 2019 Volkswagen Jetta is bigger than ever before, but only slightly bigger than the outgoing Mk6 version it replaces. Wheelbase is over an inch longer, overall length is just under two inches more, and overall height and width are also slightly more. Inside dimensions are relatively the same. For a compact car, the Jetta is packed with value, offering standard LED headlights, taillights, and Daytime Running Lights (DRL). Projector LED headlights are offered on the SEL trim. Speaking of trims, the Jetta offers five levels, starting with the S model, based at $19,395 including $850 destination for the six-speed manual transmission, and $20,195 for the S with an eight-speed automatic.
The S comes with a nice list of standard features, such as 16-inch alloy wheels, multi-function steering wheel, cloth seats, 6.5-in color display Car-Net App-Connect, USB port, rearview camera (mandatory for 2018), and automatic post-collision braking. The SE is next step, at $23,005 (with destination). It adds black wheels, a panoramic sunroof, dual-zone climate control, smart key entry with pushbutton start, leather-wrapped steering wheel and shift knob, faux leather seating surfaces, heated front seats, Front Assist (forward collision warning with braking), and blind spot monitoring with rear traffic alert.
The R-Line sits in the middle of the lineup at $23,845, and adds the sportiest look to the Jetta, with 17-inch wheels, gloss-black grille with R-Line badge, fog lamps, R-line rear bumper, black roof line, R-Line branded multifunction steering wheel with contrast stitching, two tone seats with branded stitching, and an XDS electronic differential. The top two trims are the SEL and SEL premium, sitting at price points of $25,265 and $27,795 respectively. The SEL is where you get the LED projector headlights, a Driving Mode selector (we'll talk about that later), multicolor ambient lighting, 10.25-inch VW digital cockpit, 8-inch media display, satellite radio, Car-Net Telematics, BeatsAudio, adaptive cruise control with follow to stop, lane assist, and light assist.
The SEL is loaded with all that came before it, plus fog lamps, side mirrors with signals, leather seating surfaces, the R-Line bumper, ventilated front seats, Sport Comfort seats, Power driver's seat with memory and lumbar, 8-inch media display, cold weather package, and an alarm system. There are only two optional packages available; first is a Driver-Assistance Package for a more-than-reasonable $450, which includes front assist, blind spot monitoring with rear traffic alert, and heated side mirrors. Second is the cold weather package that's coming later in the year. It includes a heated steering wheel and rear seats, heated windshield (unique to Jetta) heater wiper park and washer nozzles, and remote start. Seeing how the U.S. VW headquarters are in Herndon, Virginia, having a cold weather package wasn't up for debate. Worth noting here before we step away from pricing: the 2019 Jetta's prices on every trim level are less than 2018 prices. When you add in the extra features, the value story is a strong one for the brand — and the segment.
Inside, the Jetta continues the clean, modern theme. It's purpose driven and business-like, as VWs always have been. We mentioned the features when discussing trims, so we'll focus on a few of our favorites. First, the seats. For years, VW seats were hard and unaccommodating. With enough complaining from Americans who appreciate the finer things in life like La-Z-Boy recliners, the seats in the Jetta (and Tiguan and Atlas, as well) have continued to evolve into supportive and comfortable places to be for longer drives. It doesn't go unnoticed or unappreciated, VW. We just wish there was a power passenger seat available (seems as if this is what we say to every manufacturer now). We also are pleased with the new digital cockpit, with a large display wherein the driver can decide exactly what features they want to see in front of them. We really like how the trim around the gauges turn red when in Sport mode.It's a great instant indicator to let the driver know what mode has been selected. The gauges and maps are easy to read, understand, and, most important, easy to figure out how to adjust them. The Cadillac's CUE system could learn a good lesson from VW in this regard. We also like the availability of 10-color ambient lighting, although since we drove during the day, we really didn't get the chance to experience the ambience afforded at night. And since this is a VW, we have to always mention our love of the flat-bottomed steering wheel. We wish everyone would adopt this design.
The entire cockpit has a driver-oriented focus by design, but as a passenger, you don't feel as left out as you do in other vehicles that angle everything toward the pilot. We also would be amiss if we left out a discussion on the audio system. For years, VW and Feder audio were partners, creating good sound in their vehicles. For 2019, that partnership has ended, and VW now has paired with BeatsAudio for the Jetta. For those who aren't familiar with BeatsAudio, Beats was founded by Dr. Dre and Jimmy Iovine, legendary rapper and recording engineer, respectively. Because listening in a vehicle is worlds apart from listening to music at home, BeatsAudio spent a lot of time developing the sound quality for the Jetta, taking into account materials used and external interference (i.e., traffic noises, wind noise, etc.) Full disclosure: We are not BeatsAudio fans, as we think the bass is often too heavy, and our choice of music isn't of the thumpity-thump variety. But for the young buying audience of the Jetta, they will be more than happy with the choice. This available premium audio system features 4a 00-watt output from seven speakers, including a bass-thumping subwoofer engineered for studio-quality sound inside the Jetta. We listened to it, and it's definitely high quality, but our ears are snobs and think the best sound quality in a vehicle belongs to the Lincoln Revel audio system. For $25,000, however, prepare to be impressed.
We have mixed feelings on the navigation system in the SEL Premium. For the ride and drive in Raleigh, we were able to follow the pre-set directions in the system, which included waypoints to prepare us for the turns. Most system have waypoints, but in the Jetta, the waypoint would appear with a vocal reminder, but was incredibly slow to bring up the next step. So much so that we almost missed the turns a few times. We had to look at the printed directions and couldn't rely anymore on the navigation system. Without the waypoints, however, the nav system worked well and is easy to program.
Because the Jetta is a well-priced compact, it made sense to only offer one engine selection. For 2019, it features a reworked version of the previous Jetta engine: a 1.4-liter turbocharged inline four-cylinder that makes 147 horsepower and 184 lb-ft of torque. It's mated to either a six- speed manual transmission or the 8-speed automatic. VW says the Jetta is optimized for fuel efficiency, including a clutch-driven air conditioner and a more efficient generator. In addition, start/stop is standard on the 8-speed, and all models achieve the same fuel-efficiency numbers of 30 mpg in the city, 40 on the highway, and 34 combined. During our testing time — and mind you we spent most of it in Sport mode — we saw excellent numbers of 37.1 mpg.
On paper, the numbers don't seem impressive, but in the real world, the Jetta had enough power to accomplish easy passing tasks as well as displaying good initial take off response. Frankly, the competitors' engine outputs are all roughly in the same ballpark, so we can't ding VW for not having more power. The Jetta's turbocharger was quiet and quick, and the 8-speed transmission shifts were smooth, predictable, and well spaced. We wished for paddle shifters, but if you really want to enjoy shifting, at least Jetta provides that six-speed manual option, but only on the S trim. Since VW expects to sell about 6-10 percent of Jettas with the manual transmission, we can understand why it doesn't make sense to offer a manual across the lineup.
Historically, the Jetta has been fun to drive, and that heritage continues with the 2019 model. The suspension setup is straightforward: strut-type in front with a stabilizer bar, and a torsion beam rear axle in back. Would we like an IRS? Of course, but since the vehicle is relatively lightweight (2,888-2,959 pounds depending on model), it remains lithe and agile. If you keep in mind the value story here, you'll be satisfied with the handling. And since you'll still have a little cash in your pocket, if you really want to make the ride stiffer, there are plenty of aftermarket companies happy to oblige. But for those who use the Jetta as a commuter car, or just an everyday driver, the ride is comfortable and the suspension compliant enough that no one will be complaining.
On the SEL Premium trim that we drove, a Sport mode is offered that allows the driver to switch up the settings depending on their driving personality. Four modes: Normal, Sport, Eco, and Custom, will adjust the shift points and throttle mapping, steering, ACC settings, HVAC controls, and even ambient lighting. Feel like saving money? Eco mode expands the shift points and adjusts the throttle for a less-spirited response, and steering feel is set to normal. You'll also notice a reduction in the HVAC settings to reduce cooling when idling. And the lighting changes to blue to put you in a "save the Earth" mood. Heading for a twisty mountain road? Go to Sport mode, and the shifts will shorten up and throttle response will be sharper. The steering effort gets tighter, and the lighting, as we mentioned before, turns aggressively red. Custom mode allows you to mix and match all you want. You could easily tell the difference between the modes, but being enthusiasts, we loved Sport mode the best.
If you're getting too sporty, however, and perhaps driving beyond your abilities, VW's broad range of driver-assist features are there to step in and help save your butt. We mentioned the features before, but to offer them all on a vehicle sitting under $28,000 is a major accomplishment. Anyone who has ever had to use any of these features understands their importance. Yes, it will cost you more up front, but just think how much you really have to lose by not having them.
To help amortize the cost, VW offers a really great warranty, one it calls the People First Warranty. It's a basic 6 years, 72,000 miles bumper-to-bumper limited that's also transferable. Six years is double what Ford, Toyota, and Honda are offering on their respective models. That's great peace of mind for younger buyers who need to watch their pennies Plus, when you pass the Jetta down to a sibling, the warranty is in place for them as well.
We won't dredge up the past, but we will say that Volkswagen is going out of its way to bring buyers back to its showrooms. VW says it wants to be a volume brand again, and plans to do that by offering more frequent facelifts and shorter production cycles. Since the Jetta only will be sold in North American markets and in China (surprisingly not in Germany anymore), these promises shouldn't be hard to keep. There are so many reasons to put the Jetta on your shopping list: good looks, great value, fun to drive, economical, and a super warranty. Volkswagen did a great job rethinking what it would take to keep the Jetta in the game, and this is one vehicle that will help keep the sedan market alive.