DUNCANVILLE—In Friday night's game, Duncanville Panthers scored on every single possession (nine) until the fourth quarter. While Duncanville defense held W.T. White (1-7) scoreless.
Thirty seconds after kickoff, Duncanville scored its first touchdown on a 23-yard run by Trysten Smith. Victor Escalona was good for the extra point.
Panthers Head Coach Reginald Samples told me an interesting story. It seems that Escalona did not really like football. He was a soccer player and that was all he wanted to play. But with patience and cunning Samples convinced Escalona that he had a better chance for a scholarship in football. Escalona has not missed a extra point all season. And now Division I scouts are buzzing and he is only a junior. Around campus, Escalona is referred to as "Magic Toe."
For the second touchdown, Smith scurried to the right side of the line for a 5-yard score. Duncanville led 14-0 with 3:35 left in the first period. Smith would score his third touchdown with just over a minute left on a 2-yard dive over the middle. The period ended 21-0 Duncanville.
With less than two minutes passage on the second quarter clock Ja'Quinden Jackson threw a pass to Daveon Walker for an 11-yard strike for a score. 28-0 Duncanville.
Duncanville would score three more times in the half. Karien Howard would have a specular 45-yard run for a touchdown. Javon Fountain would sprint 76-yards for another score. After catching the ball on the near sideline, putting forth tremendous speed and quickness he was able to allude all pursuers, aided by great blocking for the score. He had two carries for a total 87-yards for the game. James Beal added to the lead with a 1-yard dive over center for a score. First half ended Duncanville 49-0.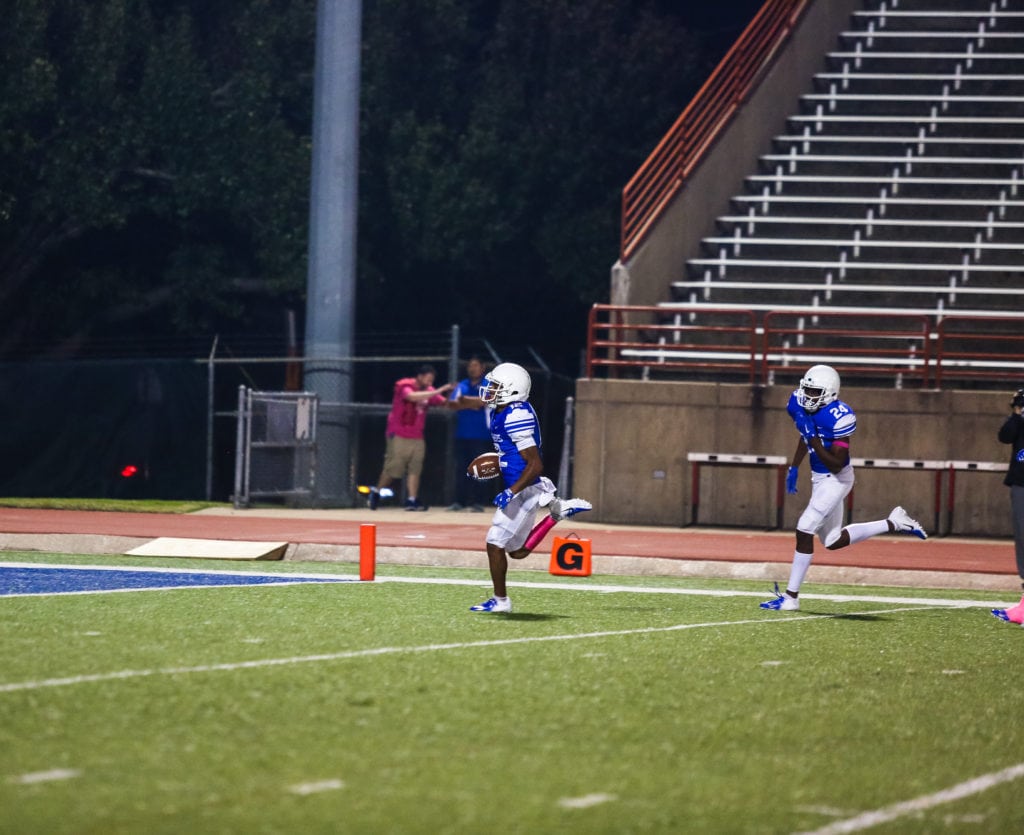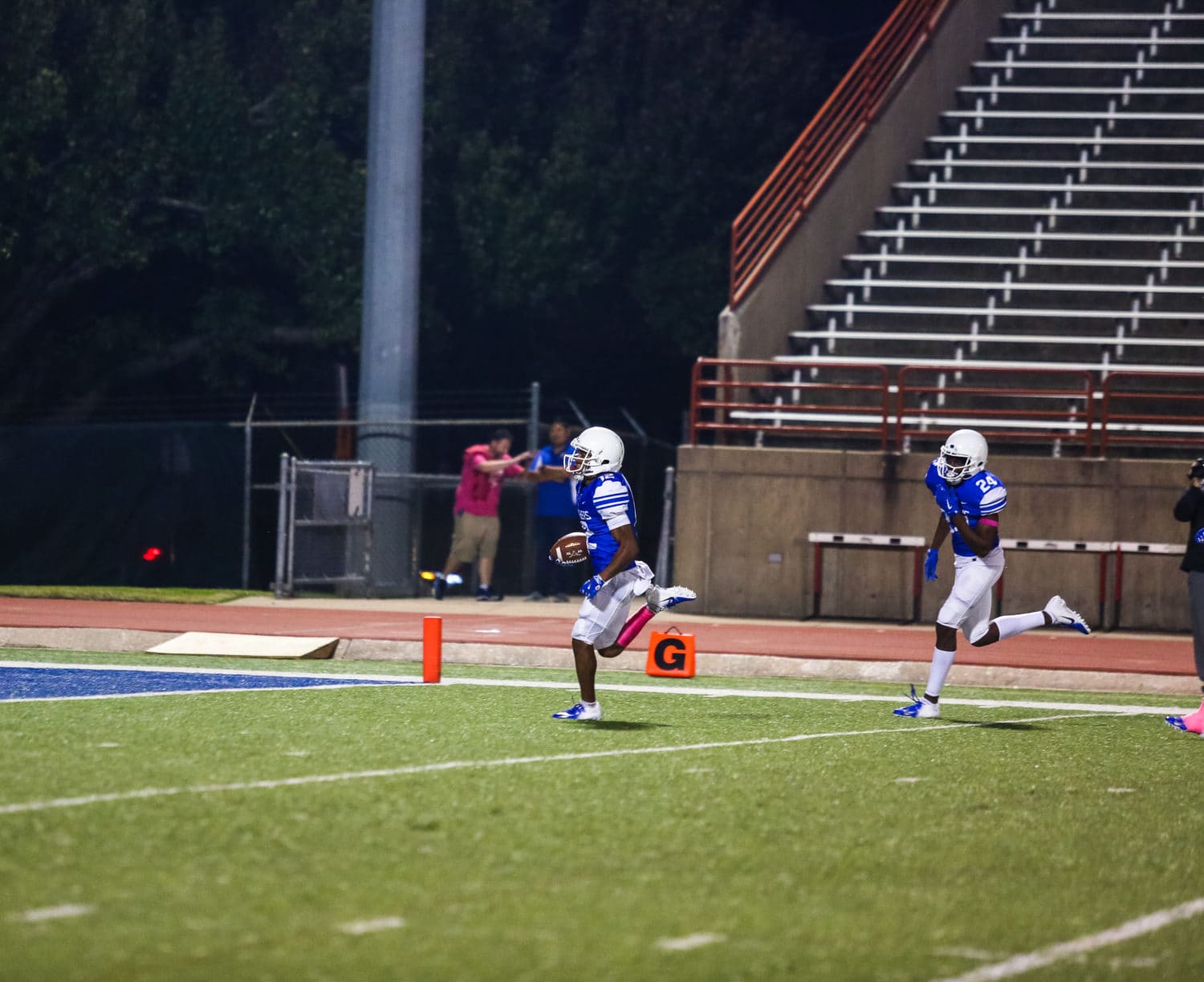 Second Half Shutout
The second half started off badly for White. On their kickoff, Marquez Beason took the ball at about the 15 yard line and went down the near sideline, cut back across the center to the far sideline and raced in for the 85-yard score. Nakia Brown ran straight through the defenders for a 65-yard gallop and a score. Duncanville led 63-0, and that is the way the game ended.
The most active player on the field was W.T. White Quarterback Marcus McClanahan. Before the game Samples told me that White had a good quarterback if he could get set up to throw.
"We are going to see that he doesn't get to do that," smiled Samples. McClanahan never threw the ball from a stationary position. He always had to throw on the run. Running for his life. The passing stats for White were 6-12-0 and a total passing yards of 12. They had one first down, and 17-yards rushing.
Duncanville had over 400-yards of total offense and 13 first downs. The Panthers never had to punt the ball. However, Victor "Magic Toe" Escalona, was good for all 9 extra points throughout the game.
The Duncanville defense is ferocious and quick. The opposing team's quarterback never had time to set up. He would usually run for the sideline to escape interior line pursuit, only to be engulfed by the defensive ends or linebacker. If the ball could be handed off or a receiver found, they paid a price with a hit that would rock Gibraltar.
Next week Duncanville faces Richardson at home; kickoff is at 7:30 PM.