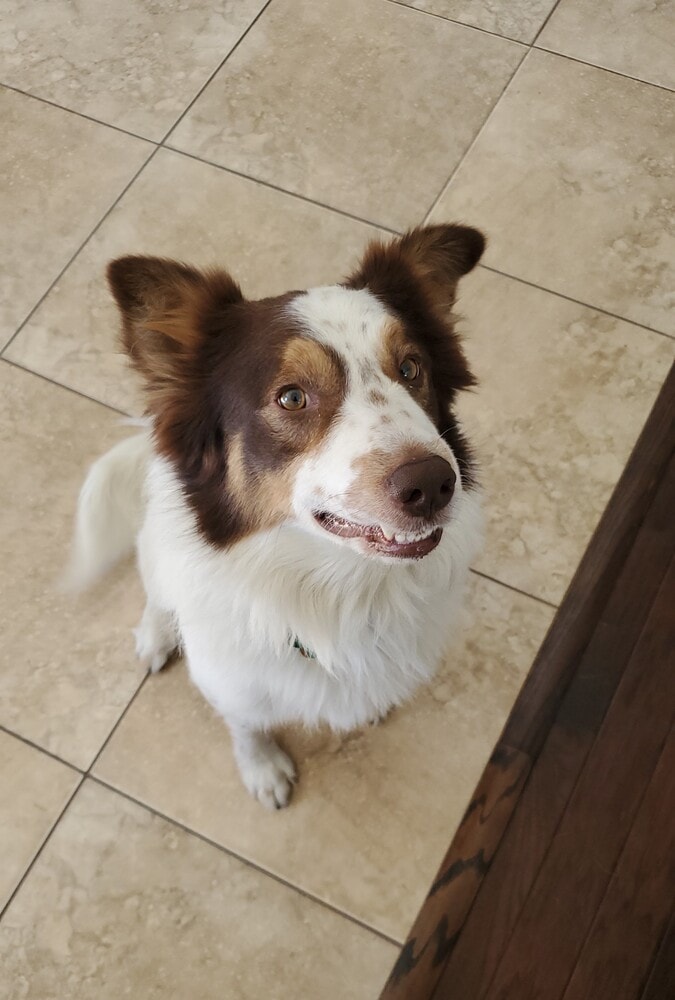 We're sharing some of the available dogs from Border Collie Rescue & Rehab. We've adopted several dogs from this rescue and love the investment they make in their dogs and their alumni. They truly work hard to make the perfect match between the dog and the adopter. And adoption is where the relationship begins, not ends, as BCRR works hard to provide support, whether it's training tips or answering questions about veterinary care and more.
Giddy-up Y'all – I'm COWBOY and I'm ready to roll! I am a 45 lb stunning, 4 yr-old, not yet neutered border collie (see why, below). I am very intelligent, high energy, house and crate trained, and good with other dogs. I am a happy goofball with kind and mesmerizing eyes. I still have more to learn so a home that knows how to give me lots of positive training and enrichment exercises would be wonderful! I do occasionally mark in new environments, but I am quick to learn what boundaries you may have, and am eager to please.
I sometimes don't know my own strength and can be nippy when chasing, so a home with no children under 10 would be best. I have not been cat tested, but chances are good I'd chase them too. I can also be a little vocal when frustrated or when I want your attention. And I must say, I LOVE LOVE LOVE human affection and would love to have lot of it! I am doing better with walking on a leash, and I know a bunch of basic things. I am food motivated, but more than anything I want to be with people – all people are fun – but I really want MY people!
I do have a LOT of energy, so my new home must be able to help me spend that energy in happy, positive ways, or a fur sibling who can keep up would be great! I don't appear to have any resource guarding issues, but I do react if you grab for my collar (who wouldn't?) and am sensitive about my paws (nail trimming is a challenge), but trust/good training may resolve those traits.
Speaking of energy – I do have a special situation. I have to slow my roll for a while. My previous world did not take good care of me and I am heart worm positive. Don't let that scare you! I'm being well cared for now and my future care should not be too difficult! Plus, the amazing rescuers will help you and pay for my treatment at one of their trusted vets.
Here are the details:
I am almost halfway through my treatment. I will be getting my 2nd & 3rd heartworm injection soon and will have to be on strict crate rest, or in a restricted area where I won't be able to get my heart rate up.
After a month of rest, I will need to be tested again, and if I am negative, I can then get neutered. I have medication to help me stay calm, if needed. I can only be adopted if you agree to "Foster-to-Adopt" until I am well. That way the rescue can be in charge of my medical treatment, and all you have to do is love me, keep me quietly entertained and learning low energy tricks. By the time my treatment is done, we should have developed a great, trusting bond and then we can GO GO GO like a good Cowboy should!
BCRRT is a Texas based rescue with fosters in TX and OK. Our adoption areas are TX, OK and surrounding states, we do not allow shipping/transport of dogs to other states. If you are interested and would like to apply please visit: https://bcrrt.com/adoption/ and fill out an application form.