Windmills is an architecturally fascinating, destination dining restaurant (plus brewery plus library plus jazz club and more) in Grandscape, The Colony's thriving entertainment district. Created by Total Environment Hospitality, Windmills offers so many different activities and amenities that visitors could easily spend all day there.
In fact, Windmills' General Manager Neil Alexander said some regular customers have come close to staying all day. They came in for lunch, and then stayed around for happy hour, dinner, and a jazz concert that evening. Windmills is not just an Indian restaurant, although it features fine food and an inventive menu that combines Indian and Southwestern dishes prepared by Chef Suresh Venkataramana and his team.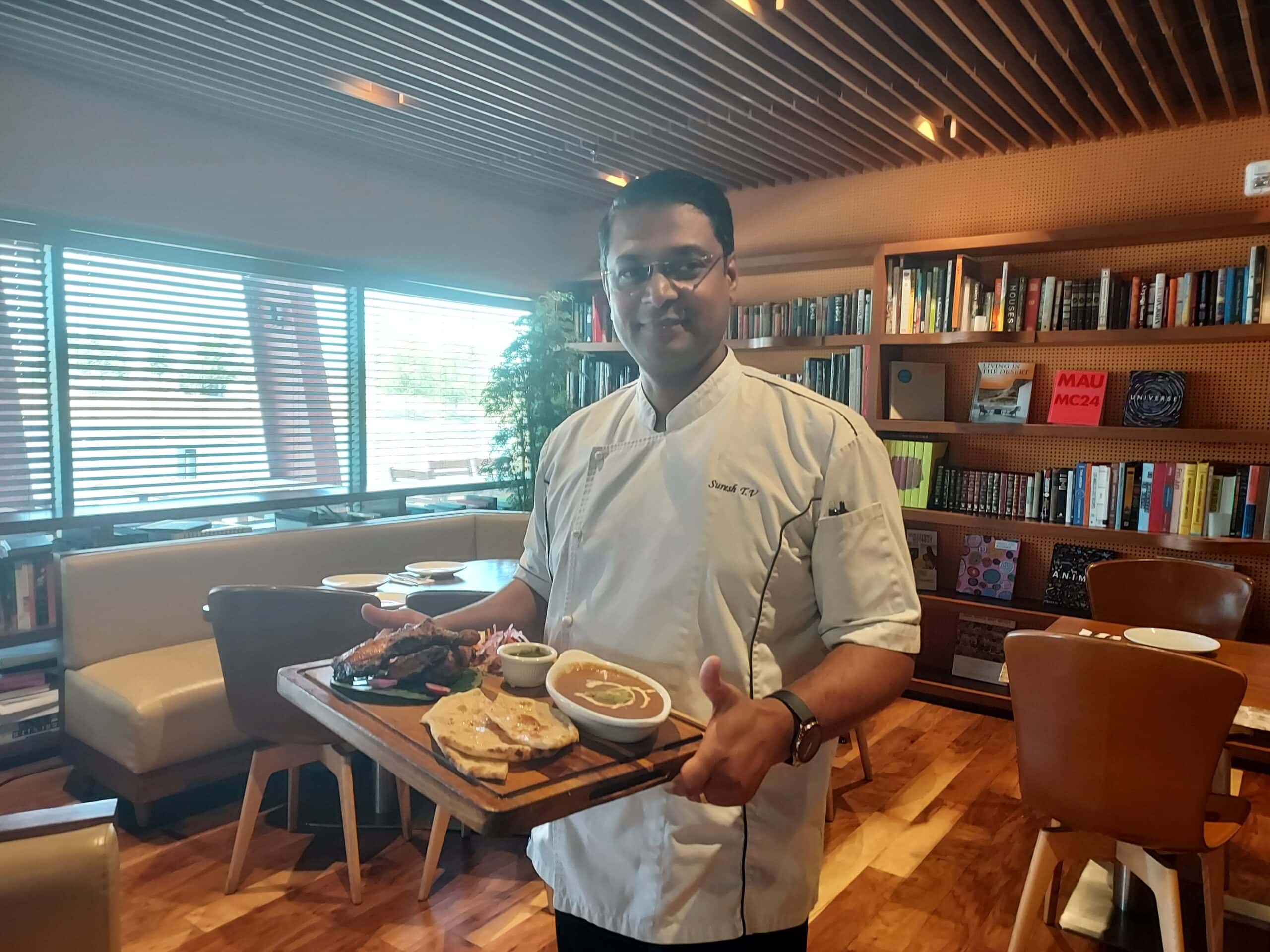 Windmills Boasts Many Amenities
Windmills is not just an excellent craft brewery, although it features a second-floor brewery presided over by award-winning Brewmaster Cal Ryan. In addition, it's not just a craft cocktail bar, although their expert mixologist invents new concoctions that look as good as they taste. And it's not just a jazz club, although it brings in well-known local and regional musicians who perform regularly on a state-of-the-art stage. It's also not just a library, but the well-stocked library with myriad books on art, architecture, and other topics, mixed with popular works of fiction by JK Rowling and other famous authors, invites visitors to linger longer.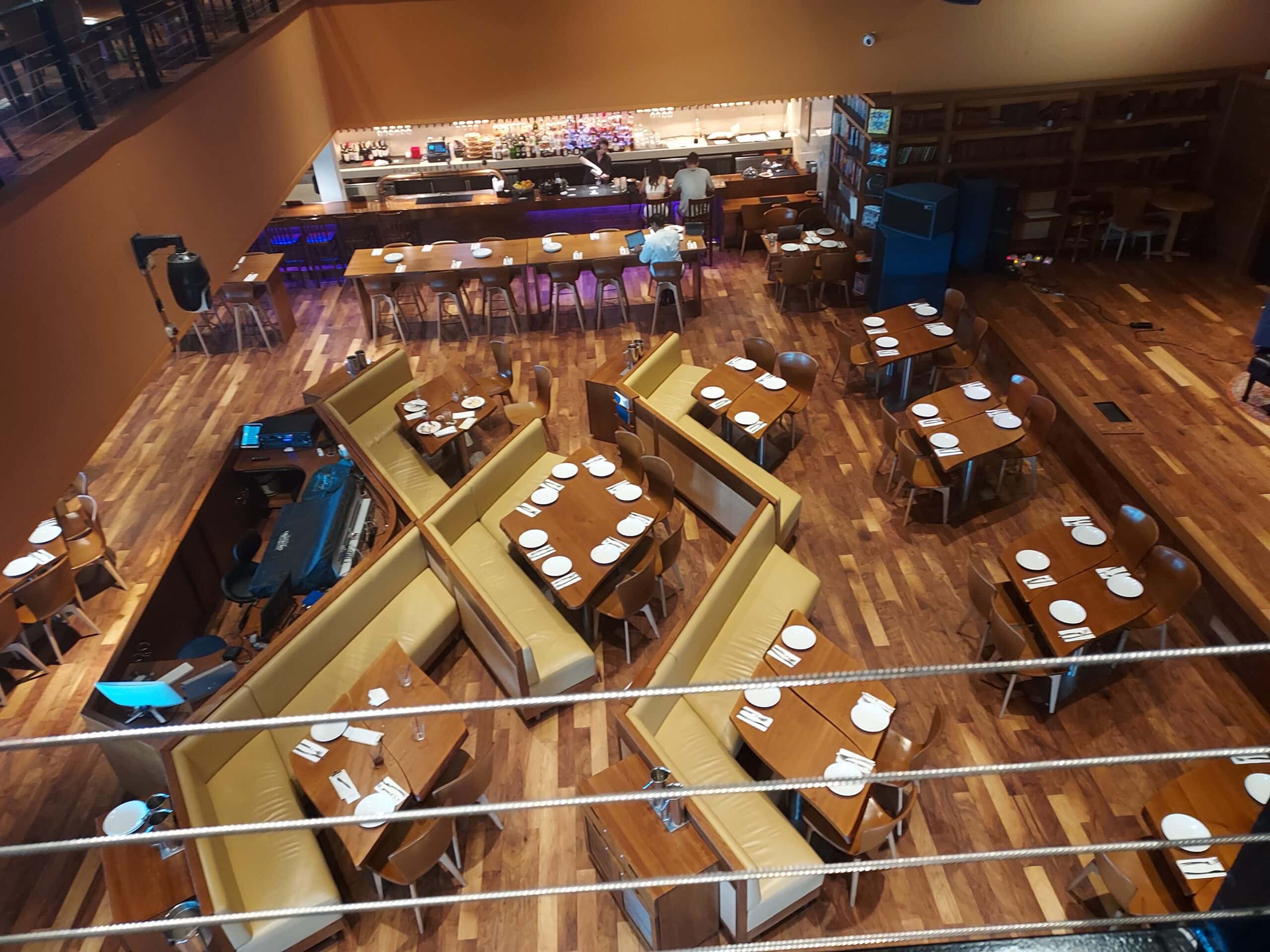 My friend Paulette and I spent a delightful afternoon exploring Windmills, finding new treasures at every turn. Although it was 100 degrees outside, with the noon-day sun blazing down, once we stepped inside the aesthetically designed gem (built and designed by architects from Total Environment Hospitality) we felt many degrees cooler. The expansive dining area, with its custom-designed tables and camel-skin chairs, was a welcoming space.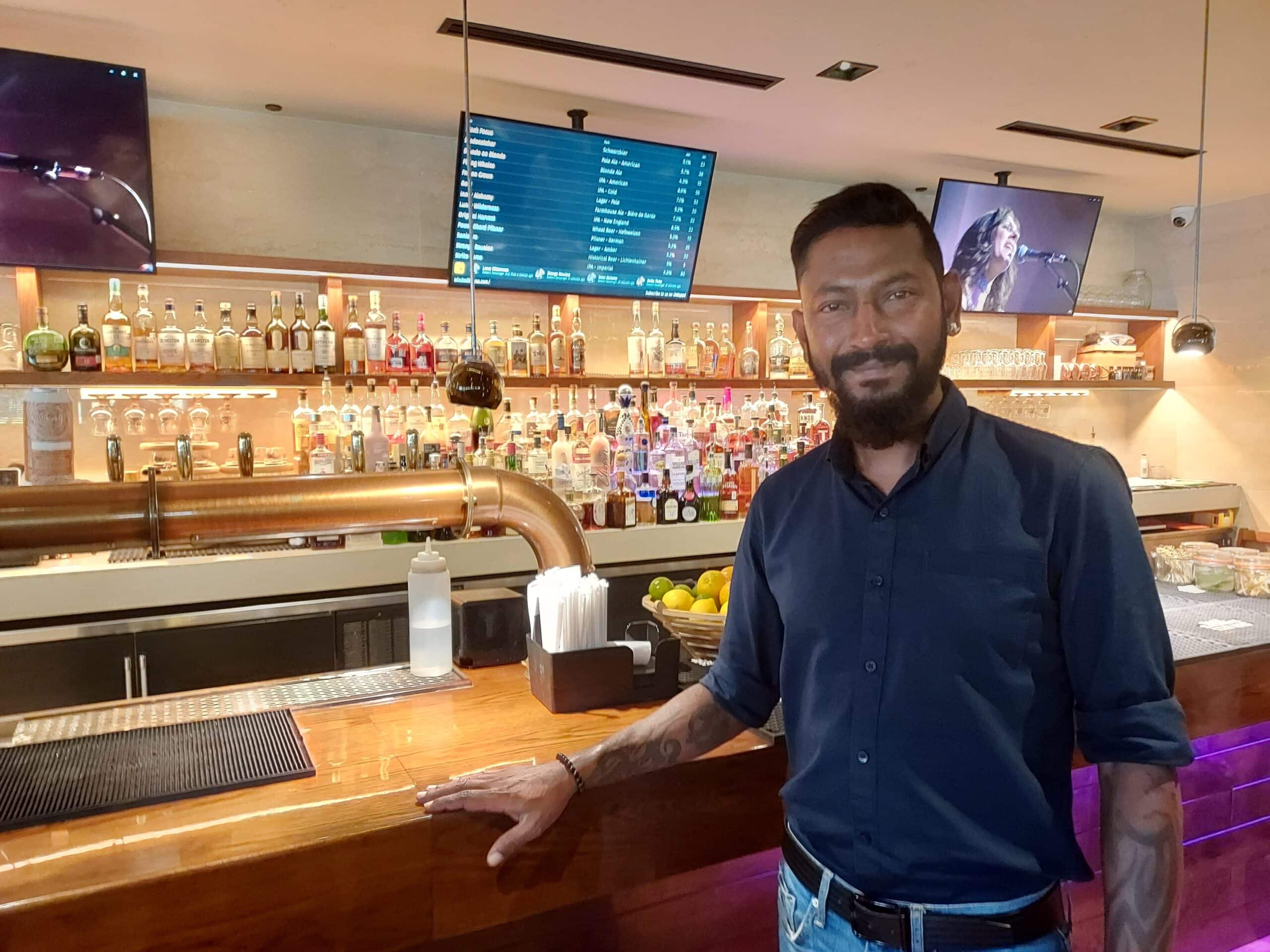 We were greeted at the door by GM Alexander, who came here from Windmills India in Bangalore. Alexander has spent 18 years in the hospitality industry, and is also a talented Mixologist and Flavor Architect as well as a musician. Both of us were impressed by the carefully curated soundtrack that featured some of our favorite artists and songs.
Windmills Combines Indian & Southwestern Dishes
We enjoyed a delightful, leisurely lunch, starting with a creatively designed charcuterie board and two lovely craft cocktails suggested by our host. Paulette ordered the Euphoria (Empress Gin paired with Crème d/Violette and topped with an orchid) tinted purple with a delicate, slightly sweet and floral flavor ($16). My selection was the peppery Spice Route, (hellfire bitters blended with citrus fruits, Serrano pepper infusion, fig and raisin infusion, and Nannari Sharbat, $16).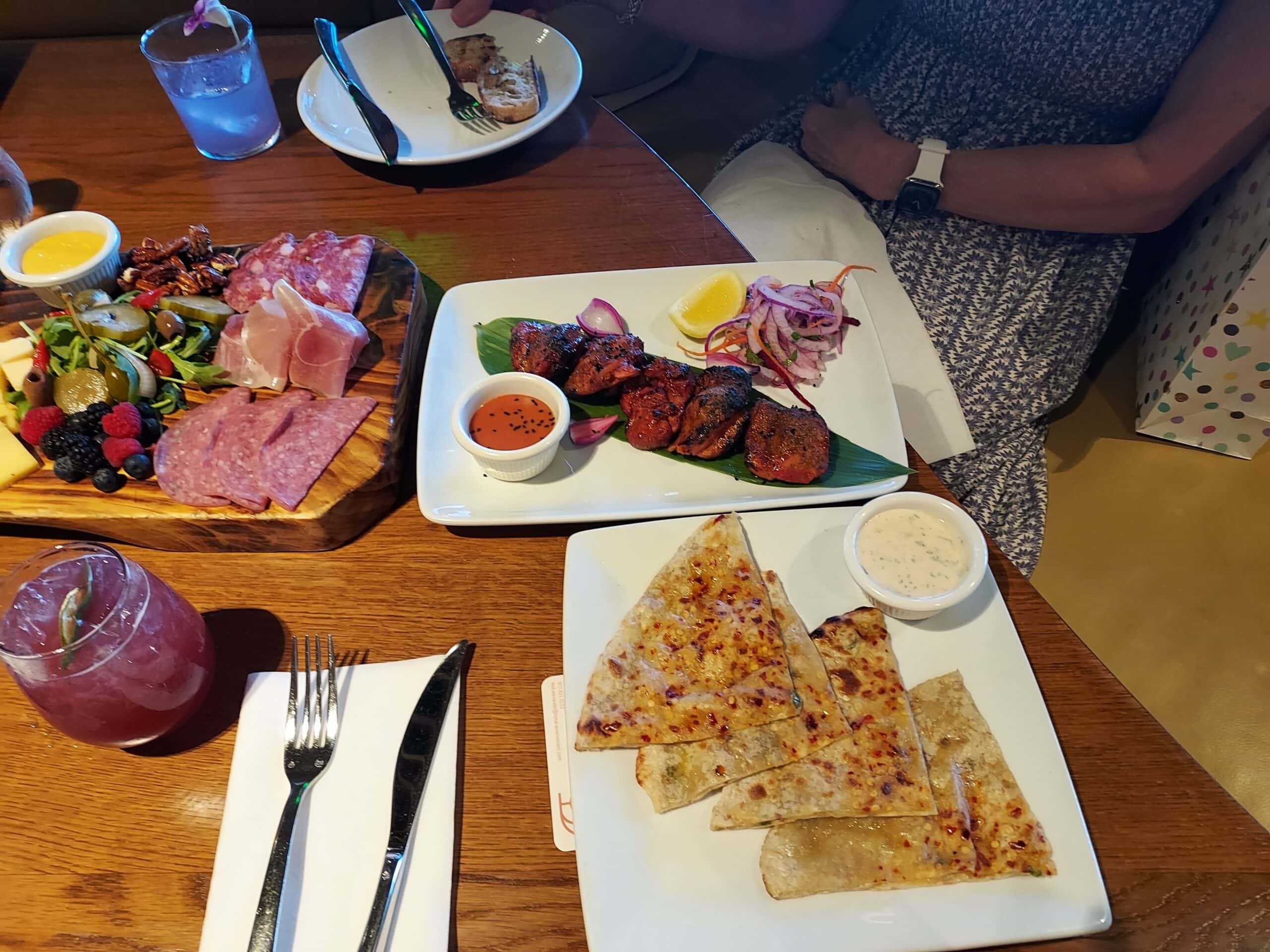 Along with our charcuterie board, we were encouraged to try the parmesan naan bread and savory tandoori chicken. For our entrees, I chose a delicious Malabar Chicken Curry, while my friend tried a lamb dish, the Smoked Leal Maas. When the Chef learned we were there to celebrate a belated birthday, he even sent a sticky toffee cake for dessert.
Unique Experiences
The Windmills at Grandscape offers far more than just food in a beautifully designed space. The owners opened the original Windmills in Bangalore in 2012. The Grandscape Windmills features a craft brewery and a menu pairing Southwestern specialties with authentic Indian dishes. They add eclectic music and a large stage for live musical performances to the mix, along with thousands of books that encourage browsing.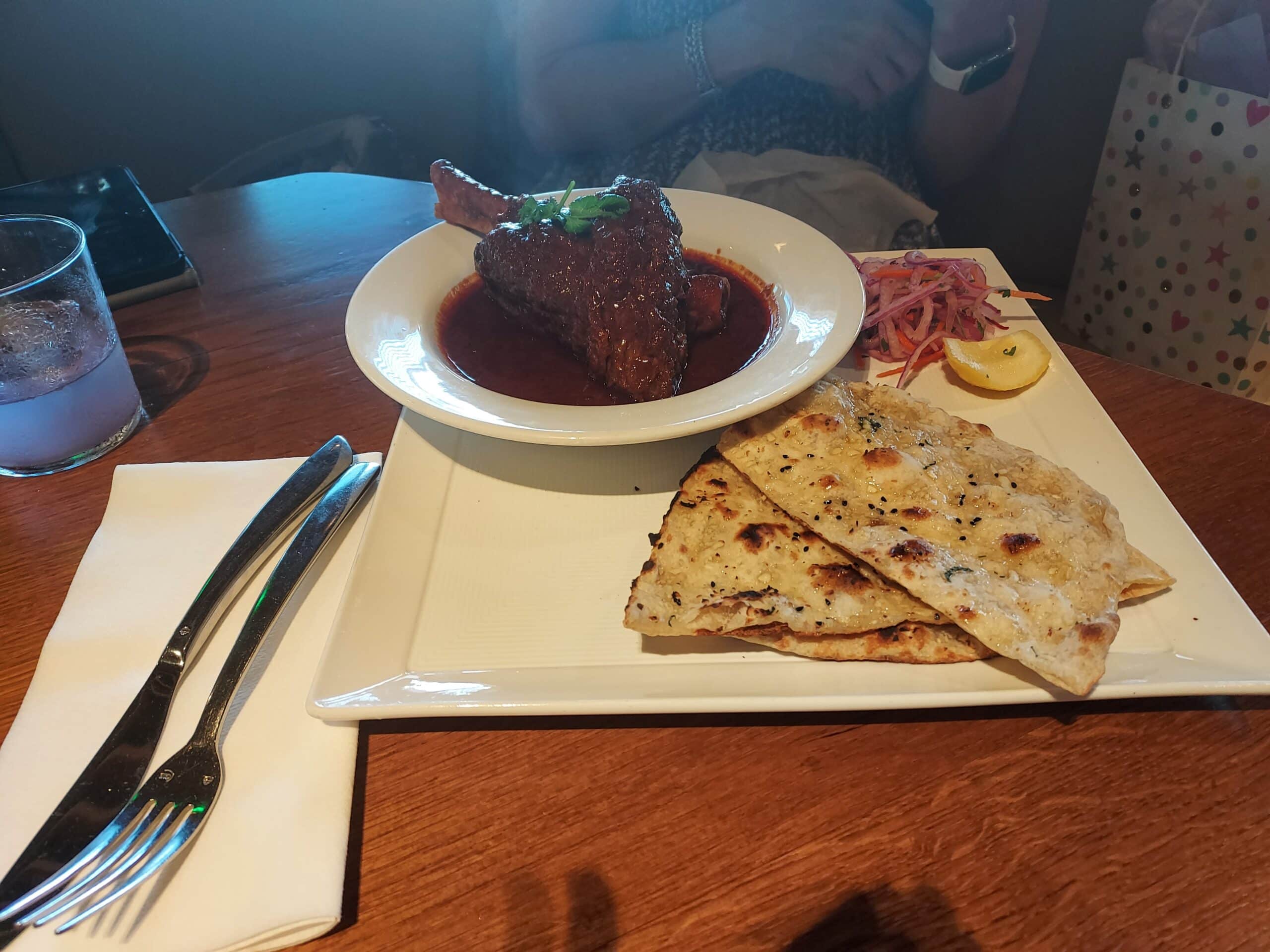 Windmills offers a fresh experience for every visitor, whether you stop by for lunch, a craft beer or cocktail at happy hour, or a special night out with dinner and a live music concert. Discover Windmills for yourself at 5755 Grandscape Blvd. in The Colony. Hours are Mon.-Thurs. from 11 a.m. to 10 p.m.; Friday 11 a.m. to 12 a.m.; Sat. 11 a.m. to midnight with bar open till 1:30 a.m.; and Sunday, 11 a.m. to 10 p.m. For additional information, please visit windmills-usa.com.