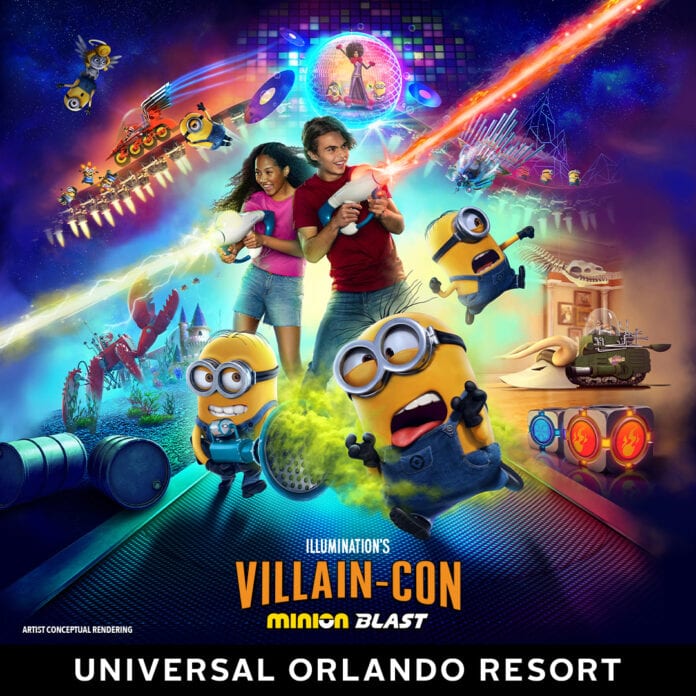 Orlando, Fla. – A whole new level of Minion mischief and diabolical fun will be unleashed this summer at Universal Orlando Resort with the official debut of the first-of-its-kind blaster game attraction, Illumination's Villain-Con Minion Blast, as well as the expansive new Minion Land on Illumination Ave. at Universal Studios Florida. Created in partnership between the visionary teams at Universal Creative and Illumination, the new experiences will invite guests of all ages to step into the beloved world of the Minions franchise like never before as they blast their way to supervillain stardom, savor flavorful fare courtesy of the Minions, meet some of their favorite characters and so much more.
NEW DETAILS ABOUT ILLUMINATION'S VILLAIN-CON MINION BLAST
Located at the entrance to Minion Land, Illumination's Villain-Con Minion Blast blends immersive sets, interactive game-based technology, custom animation and an original storyline to create a one-of-a-kind blaster attraction where guests can put their villainous skills to the ultimate test.
Upon entering the attraction, guests will immediately be transported to Villain-Con – the largest convention for villains around the globe – where the headlining event is a challenge to see who has what it takes to become the newest member of the notorious supervillain group, the Vicious 6, featured in the hit film, "Minions: Rise of Gru." As guests make their way through the convention, they'll venture through the trade show floor, stocked with the latest gadgets, vehicles, and fashion to pull off the most heinous schemes, before picking up an "E-Liminator X" blaster to compete against their friends, loved ones and fellow guests to prove how bad they really are.
Throughout the competition, guests will use their blaster – equipped with Freeze Rays, Banana Bombs, Explosive Nunchucks and more – to cause as much mayhem and destruction as possible to earn points. As they wind and glide through the experience aboard a moving pathway, they'll encounter each member of the Vicious 6, voiced by the original cast from the film, in a setting inspired by their character, including:
Belle Bottom (voiced by Taraji P. Henson), the cool, confident leader of the Vicious 6, in a groovy disco
Stronghold (voiced by Danny Trejo) – named after his giant iron hands – in a museum filled with tons of fragile and priceless art just waiting to be destroyed
Nun-Chuck (voiced by Lucy Lawless), a fierce warrior with prized nun-chucks who will travel aboard her flying organ as she challenges guests to create musical mayhem
Jean Clawed (voiced by Jean-Claude Van Damme) – outfitted with a giant mechanical lobster claw – in an evil, underwater lair filled with hidden loot and robotic sea creatures
and Svengeance (voiced by Dolph Lundgren), the roller-skating champion with spiked skates, in a floating roller derby filled with blimps, jumbo-trons, and speed-skating robots
Villain-Con Minion Blast will also be the first Universal Orlando attraction to feature a connected gameplay experience via The Official Universal Orlando Resort App. By syncing their blaster to the app with just a tap, contenders can take their game to an entirely new level and track their scores, embark on special missions within the attraction, unlock evil perks and extra powerful blasts to help them gain more points and earn digital collectibles. The more guests play and the higher they score, the more perks and bragging rights they'll earn. Plus, this digital experience connects to the visitor's Universal Guest Account within the Universal Orlando app – unlocking a deeper connection that enhances their in-park experience and sets the stage for even more digital-to-physical world benefits.
Villain-Con Minion Blast is just one of the incredibly fun experiences that await in Minion Land – which features a unique dining location, various eateries, shopping and entertainment offerings inspired by some of Illumination's hit films and characters. In addition to enjoying the wildly popular Despicable Me Minion Mayhem attraction and the new Villain-Con Minion Blast, guests can fuel up for the mayhem with a unique dining experience, Illumination's Minion Cafe – a new eatery run by the Minions featuring inventive, family-friendly fare; Bake My Day – a retail location and bakery featuring a unique selection of Minion-themed sweet treats; Pop-A-Nana – a kiosk featuring banana-flavored popcorn; and Freeze Ray Pops – a walk-up window serving refreshingly colorful frozen treats. Guests can also stop by the outdoor Illumination Theater façade to meet, greet, and interact with beloved characters like the Minions, Gru, Margo, Edith, and Agnes from the "Despicable Me" franchise, and Rosita, Gunter and Johnny from the hit film "Sing."
Click here for more information about Illumination's Villain-Con Minion Blast. Listen to an all-new episode of the Discover Universal Podcast here.
About Universal Destinations & Experiences
Universal Destinations & Experiences, a unit of Comcast NBCUniversal, offers guests around the world the most innovative, immersive and popular entertainment experiences. Our portfolio is comprised of world-class theme parks featuring the industry's most thrilling and technologically advanced attractions, exceptional hotels and resorts, unique merchandise, games, virtual and live entertainment experiences. We use our rich collection of stories and franchises to take people to places they couldn't imagine while creating memorable and emotionally fulfilling moments for people of all ages. For more information, visit our website.
About Universal Orlando Resort – Where It's More Than Magic, It's Real
Universal Orlando Resort is an award-winning theme park destination that welcomes all to truly be themselves while enjoying world-class attractions that redefine theme park experiences. Here, a multitude of authentically thrilling, exciting and spontaneous adventures await – each inviting guests to embark on whatever vacation they crave while igniting their full range of emotions like never before – from the awe of walking the streets of Hogsmeade or Diagon Alley in The Wizarding World of Harry Potter to the rush of adrenaline that takes over when coming face-to-face with a Velociraptor in Jurassic Park to the wide-eyed joy of seeing an entire slice of cake atop a delectable milkshake at The Toothsome Chocolate Emporium and Savory Feast Kitchen.
The 700-acre resort is home to three exhilarating theme parks – Universal Studios Florida, Universal Islands of Adventure and Universal Volcano Bay – that boast some of the most innovative and immersive experiences ever created, with a fourth next-level theme park, Universal Epic Universe, on the way. Guests can also relish in exciting dining and entertainment at the Universal CityWalk entertainment complex and enjoy incredible accommodations and magnificent theming across eight hotels that offer something for every style and budget – Loews Portofino Bay Hotel, Hard Rock Hotel, Loews Royal Pacific Resort, Loews Sapphire Falls Resort, Universal's Cabana Bay Beach Resort, Universal's Aventura Hotel and Universal's Endless Summer Resort – Surfside and Dockside Inn and Suites.
For more information about Universal Orlando Resort, visit www.universalorlando.com.
About Illumination
Illumination, founded by Chris Meledandri in 2007, is the entertainment industry's leading producer of event-animated films, including The Super Mario Bros. Movie, the first film of 2023 to earn more than $1 billion worldwide, Despicable Me—the most successful animated franchise in cinematic history—as well as Dr. Seuss' The Lorax, Dr. Seuss' The Grinch and The Secret Life of Pets and Sing films. Illumination's revered studio library includes three of the top 10 animated films of all time.
In April 2023, Nintendo and Illumination's The Super Mario Bros. Movie opened to a staggering $377.5 million worldwide—the biggest animated global film opening weekend of all time—and set new records as the biggest opening weekend in Illumination history, the biggest domestic, international and global opening of 2023 so far, the biggest Easter weekend opening ever and the biggest video-game adaptation opening ever.
Illumination is now responsible for the two biggest animated opening weekends of the pandemic era, and The Super Mario Bros. Movie is currently the highest grossing film, in any genre, of 2023.
Illumination's iconic, beloved franchises—infused with memorable and distinct characters, global appeal and cultural relevance—have grossed more than $9 billion worldwide. Illumination has an exclusive financing and distribution partnership with Universal Pictures. Illumination's upcoming films include Migration in December 2023 and Despicable Me 4 in summer 2024.