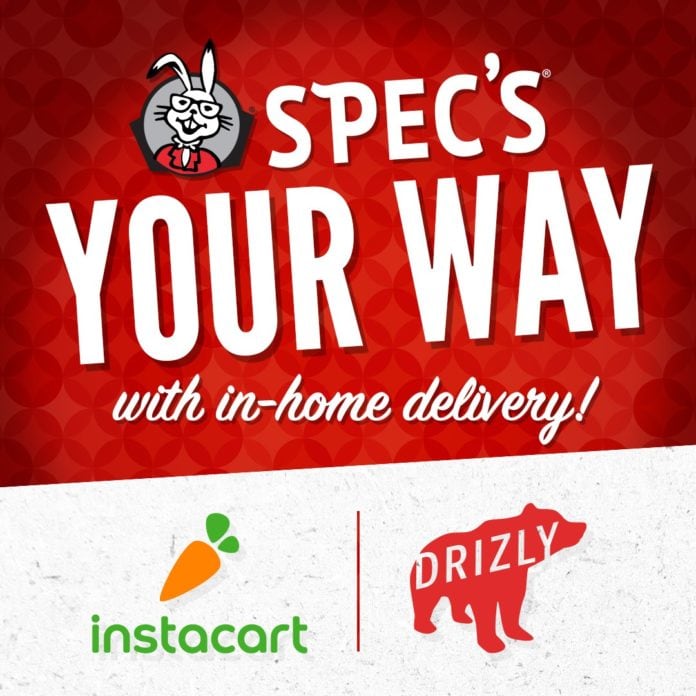 Spec's Offers Curbside Pickup & Instacart Delivery
AUSTIN, Texas – March 26, 2020 – With the stay-at home order in effect across 18 Texas counties as of March 23, 2020, Spec's has expanded its store offerings to provide essentials for Texans. Available for purchase at all 150 Spec's locations across the great state of Texas are meats, cheeses, canned foods, pasta, water, electrolyte drinks, crackers, chips, and complete meals to go at our deli locations.
Safety remains the top priority for both Spec's customers and employees. In an effort to ensure more convenient and safe shopping options, Spec's has expedited the launch of the new Spec's app, Curbside and In-store pickup locations across Texas.
In the past two weeks, Spec's has introduced Curbside pickups at over 40 locations around the state and rolled out in-store pickups at over 130 locations. Instacart is now available at 118 locations and Drizly at 104 for at home delivery options. The Spec's App serves over 30 locations with more being added daily. Spec's will continue to make these options available as quickly and safely as possible.
Spec's is proud to continue supporting and employing their local communities across Texas.
Visit specsonline.com for updates and store hours at all Spec's locations.
To view a map of Spec's stores, visit: www.specsonline.com
About Spec's Wines, Spirits & Finer Foods:
Since 1962, family-owned Spec's has provided exceptional service and an impressive selection of unique finds for hungry and thirsty Texans. With more than 100 locations in 35 cities across Texas, Spec's carries thousands of wines, spirits, craft beers, gourmet goods and accessories. For more information, follow Spec's on Facebook and Twitter or visit specsonline.com