A recent visit to the castle at Medieval Times Dallas made our party of four feel like royalty. For starters, when we walked across the drawbridge into the imposing Medieval Times castle, each couple was chosen to pose with the Princess. While she was attired in a lovely, flowing gown and we had on jeans and tennis shoes, Her Royal Highness welcomed us so graciously we felt like we belonged. The crowns they placed on our heads helped maintain the illusion.
Walking slowly through the Hall of Arms, we ogled at the fancy coats of arms along with an array of Medieval weaponry. But we walked a little faster past the Museum of Torture, where replicas of instruments used to torture prisoners were displayed.
Inside the Grand Ceremonial Arena, there are six color coded sections circling a tournament field. Each group is encouraged to cheer for their section's knight (red, green, yellow, black, brown, and blue).
Since we were early arrivals, we were seated on the front row of the blue section. We had a great view of the field where the jousting tournament, for the entertainment of His Majesty the King, would soon be held. We were welcomed by a smiling young man and woman, who introduced themselves as our serving serf and wench. They brought our beverages (tea, lemonade, soda or water) and explained the King's Feast Menu.
The menu included tomato bisque soup, garlic bread, roasted chicken, buttered corn cobette, herb-basted potato and a pastry of the castle. There was also a vegetarian menu available for non-meat eaters. In true middle ages style, we were supposed to dine without silverware. However, our thoughtful friend Suzi smuggled in some plastic forks and knives for us.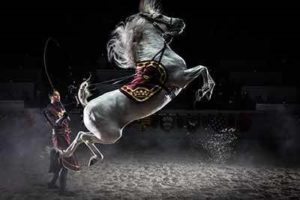 An early highlight of the dinner show is a presentation by the King of Arms, who displays his Equestrian skills along with a beautiful white stallion before the Tournament of Games begins. These games from the middle ages include a ring pierce, flag toss, and javelin throw. Our section loudly cheered the Blue Knight through all of these games, waving our souvenir blue banners and towels wildly in the air.
By the time the actual jousting tournament began, we were almost hoarse from yelling "go Blue!" But we must have been loud enough, because our valiant Blue Knight won the tournament. We later learned they were using real swords in the hand-to-hand fighting. Thankfully no one was injured in the tournament!
While we were all adults, the trip to Medieval Times brings out the playful child in any age. It's almost a must, though, for a family with children. While adults pay $60.95 for the show (which includes dinner and souvenir towels) children under 12 only pay $36.95.
Medieval Times Dallas is located at 2021 N. Stemmons Freeway in Dallas. If you plan to go, there are some great group rates and other specials available at www.medievaltimes.com.