NORTH RICHLAND HILLS, TX (June 28, 2023) – Merlin Entertainments, a global leader in location-based entertainment, in partnership with Hasbro, a toy and game company, officially broke ground on North America's second Peppa Pig Theme Park in North Richland Hills, Texas today. The groundbreaking event kicked off with short speeches from General Manager of Peppa Pig Theme Park Dallas-Fort Worth Jeremy Aguillen, North Richland Hills Mayor Oscar Trevino and Hasbro's Vice President of Location Based Entertainment Matt Proulx and got down to the business of fun quickly, revealing one of the new theme park's key attractions, Daddy Pig's Roller Coaster.
This family-friendly thrill ride is designed to be the perfect first roller coaster for brave little ones as they take a ride with Daddy Pig in his recognizable red car and go on an unexpected adventure when Mr. Bull's "digging up the road" sends them on a curvy exploration of Daddy Pig's new short cut!
Designed specifically for children through age six, Peppa Pig Theme Park Dallas-Fort Worth will be the ultimate theme park experience for little ones. The all-new theme park will feature multiple rides, interactive attractions, themed playscapes and shows when it opens in 2024. The first Peppa Pig Theme Park opened in Florida just steps away from LEGOLAND® Florida Resort in 2022 and has proved highly successful in providing oinktastic fun, unforgettable adventures, and cherished memories for families.
Merlin Entertainments operates more than 140 attractions in 25 countries and partners with some of the world's most popular brands, including Hasbro. In Texas, Merlin Entertainments operates LEGOLAND® Discovery Center, SEA LIFE Aquarium and Peppa Pig World of Play in Grapevine, Texas and SEA LIFE Aquarium in San Antonio, Texas.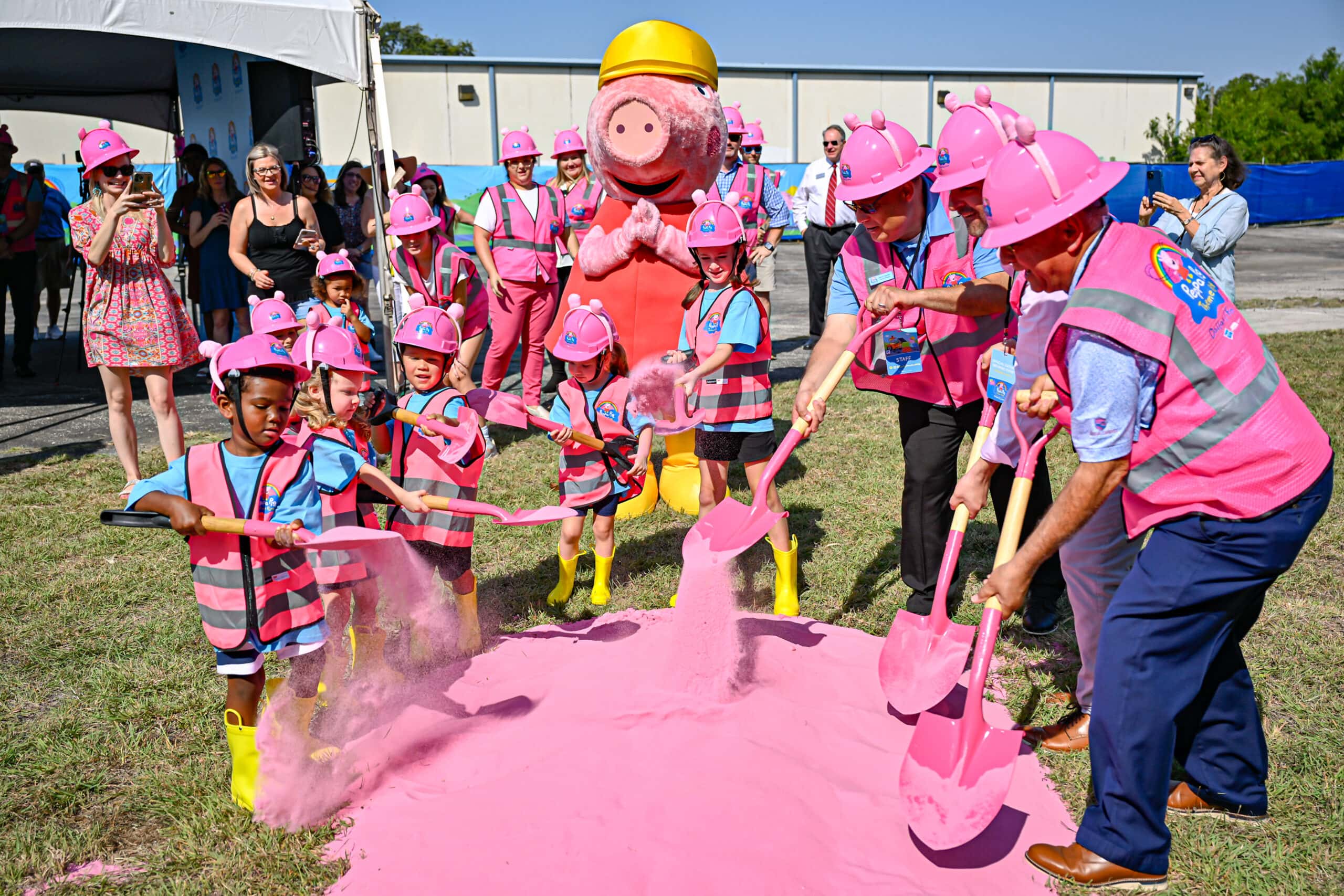 "When Peppa Pig Theme Park in North Richland Hills opens in 2024, Merlin Entertainments' footprint in Texas will include five interactive and immersive attractions. Following the incredible success of our current properties in Texas and Peppa Pig Theme Park in Florida, along with the focus on family entertainment in North Richland Hills, it was an easy decision to build our next Peppa Pig Theme Park here," said General Manager of Peppa Pig Theme Park Dallas-Fort Worth Jeremy Aguillen. "Both the City of North Richland Hills and Hasbro have been excellent partners in bringing this playful and popular early childhood brand to life."
Guided by its Blueprint 2.0 strategy, Hasbro's Location Based Entertainment Division is focused on creating more ways for families to engage with their brands. Peppa Pig Theme Park will provide the opportunity for preschoolers and their families to interact with a well-known character and her playgroup in a wholesome, fun-filled environment.
"We're heartened to see the success Merlin has had with Peppa Pig Theme Park in Florida and are energized by their excitement and dedication to bring the experience to her fans and families in the Dallas-Fort Worth area," said Matt Proulx, Vice President of Location Based Entertainment at Hasbro.  "As the brand approaches its 20th anniversary next year, we are proud to offer even  more fun adventures with this new park and give kids another way to learn about and explore the world around them, which is exactly what this immersive theme park experience will bring to local and visiting families."
Just 12 miles from downtown Fort Worth and DFW Airport, North Richland Hills is an ideal location for the second ever Peppa Pig Theme Park. Centrally located in the heart of North Texas, the park will be accessible to Dallas-Fort Worth residents, but also to visitors as the area is a destination market for weekend travel from Oklahoma, Arkansas, Louisiana and cities throughout Texas. Not only does the city offer several family-friendly amenities and activities already, including nearby NRH2O Family Water Park, but the Peppa Pig Theme Park will rejuvenate the area facing Highway 26 across from Tarrant County College.
"We appreciate the investment Merlin Entertainment is making to bring Peppa Pig Theme Park to North Richland Hills. They are not only making a significant capital investment to build the theme park, but they are also creating jobs and economic activity that will have an ongoing impact on our community," said North Richland Hills Mayor Oscar Trevino.
Be among the first to receive exclusive updates and a sneak peek at the exciting offerings at Peppa Pig Theme Park Dallas-Fort Worth by signing up for emails at https://www.peppapigthemepark.com/dallas-ft-worth. Fans and parents of little ones won't want to miss the latest details!
Oink, oink!
About Peppa Pig
Peppa Pig is a British preschool animated television series that has been airing for almost 20 years, across nine seasons in over 180 territories as of 2023. The series follows Peppa Pig, a cheeky little piggy who lives with her family – younger brother George, Mummy Pig and Daddy Pig – as well as her diverse community of friends. Globally successful, the brand connects with consumers across every touchpoint, from TV to theme parks to retail. As a lifelong friend, Peppa Pig encourages kids to jump in together and explore the world around them, while giving kids the confidence to treat every first step as a new adventure, from the everyday to the epic.
About Merlin Entertainments
Merlin Entertainments is a global leader in location-based, family entertainment. As Europe's number one and the world's second-largest visitor attraction operator, Merlin operates more than 140 attractions, 23 hotels and 6 holiday villages in 25 countries spanning four continents. Merlin's purpose is to deliver memorable experiences to its millions of guests around the world, through its iconic brands and multiple attraction formats, and the commitment and passion of its employees.
See www.merlinentertainments.biz for more information and follow on Twitter @MerlinEntsNews.
About Hasbro
Hasbro is a toy and game company whose mission is to entertain and connect generations of fans through the wonder of storytelling and exhilaration of play. Hasbro delivers engaging brand experiences for global audiences through toys, consumer products, gaming and entertainment, with a portfolio of iconic brands including MAGIC: THE GATHERING, DUNGEONS & DRAGONS, Hasbro Gaming, NERF, TRANSFORMERS, PLAY-DOH and PEPPA PIG, as well as premier partner brands.
Hasbro is guided by our Purpose to create joy and community for all people around the world, one game, one toy, one story at a time. For more than a decade, Hasbro has been consistently recognized for its corporate citizenship, including being named one of the 100 Best Corporate Citizens by 3BL Media, one of the World's Most Ethical Companies by Ethisphere Institute and one of the 50 Most Community-Minded Companies in the U.S. by the Civic 50. For more information, visit https://corporate.hasbro.com.
© 2023 Hasbro, Inc. All Rights Reserved