CEDAR HILL – The Cedar Hill City Council administered the oath of office to incoming city council member Place 6, Maranda K. Auzenne.
Auzenne said she was "appreciative of the opportunity" to serve in a city she loves so much.
"This has been about 15 years of service, and I have been in the city 30 years," she said after being sworn into office.
She added she never thought she would be standing there and that it made her feel at home.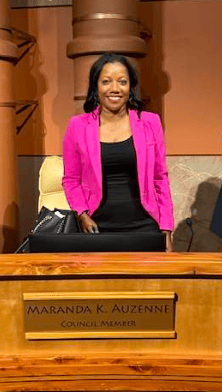 She acknowledged former councilmember Clifford Shaw who did not seek re-election this term after many years in the Place 6 seat.
"When I first met with Cliff, I gave him this long speech, and it was long," Auzenne said. "I had details and notes and bullet points, and I thought he was going to say something really smart afterward because when he sits in that chair, he says some really poignant things, and he says, oh yea, you can do that. And so, I just took him at his word and decided to go for it."
Two regular agenda items passed Tuesday night, including authorizing Cedar Hill Mayor Stephen Mason to execute an agreement with InfoSend, Inc. for water bill printing services. According to staff reports, the vendor change is located in Carrollton and will reduce the delivery time of the mailed water bills. The proposed print cost for the fiscal year is $172,000.
There was also the approval of a resolution to adopt the policies and hourly rental rates for the future library event spaces, including the Multipurpose Meeting Room, Rooftop Deck, and Warming Kitchen, per the City Council's direction from April 2023.
Consent agenda all passed, including the purchase of adult and children's reading materials not to exceed $75,000 for each; the approval of an application for a final plat on a property zoned single-family residential estate with a minimum 1-acre lot in the 700 block of Windy Lane; an application for a site plan on property zoned Retail District at 802 Belt Line Road to construct a Taco Casa with a drive-thru; the Cedar Hill Police Department's 2022 Annual Report, and an ordinance passed removing the right-of-way along and adjacent to N. Joe Wilson Road to the abutting property owner. The new property owner is interested in developing this land, and the current driveways are not in the correct location for the proposed development.