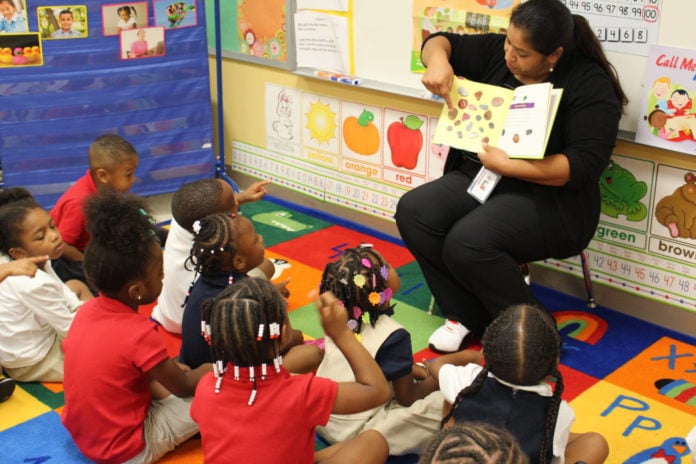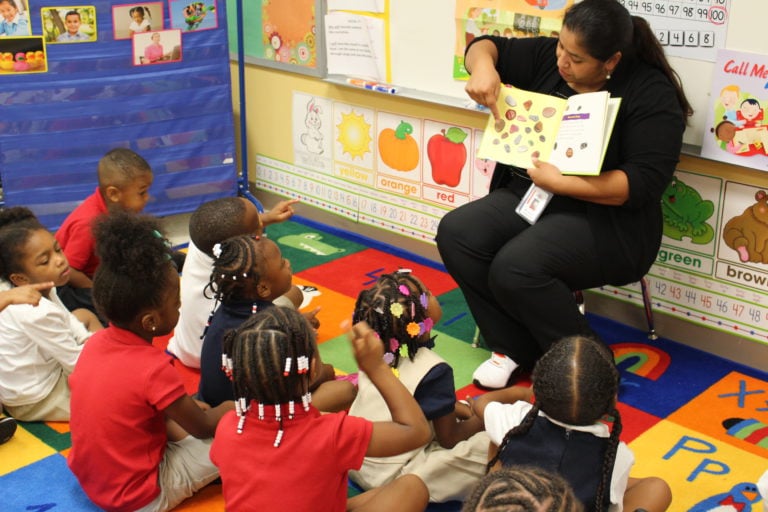 Immigrant Journeys From Custodian To Teacher
Lancaster—When I walk into the Pre-K classroom with Missar Sanguino at Houston Elementary in Lancaster, her 15 students are sitting on a rug in front of a chalkboard. They're  practicing the alphabet with the teacher's aide. Their eyes light up as she walks into the room.
One thing is for sure, these little pre-k kids love their teacher. And she loves them too.
"My teachers were always helpful and willing to work with me and I want to help someone in my classroom that same way," Missar Sanguino said.
Sanguino is not your ordinary teacher. She moved to the United States when she was six years old and started first grade in the Wilmer Hutchins ISD, where she eventually graduated with honors. When she moved to Texas from Merida Yucatan she did not know English, but she was willing to work hard to learn the language of her new country.
Sanguino has not let anything stop her from achieving her goals. Last summer she received her bachelor's degree from UNT Dallas in Early Childhood to 6th and was hired to begin teaching Pre-K at Houston Elementary in October.
Sanguino Has A History With Lancaster ISD
The interesting part of her journey isn't that she finally landed her first teaching job with the district. It's that she was already familiar with Lancaster ISD because she began working there 12 years earlier as a night custodian. Over the years she has also worked with the district moving from night to day custodian and then on to various jobs as a Bilingual and Teacher's Aid and a Spanish teacher.
"If I can do it from an immigrant family than anyone can set their mind to do something and do it," she said.
With that attitude, Missar Sanguino, decided to go back to school in 2009. She attended Cedar Valley College and then UNT Dallas part-time even though she has two children, a 14 year old son and 15 year old daughter. She is the oldest child in her family of three siblings and the only daughter of parents who do not speak much English.
While going to university, Sanguino continued to work full-time at Lancaster ISD, raise her family. "I also have a dog and that is like having another child," she laughs.
Uncertain of the hurdles she had to cross in order to enroll in college that first semester she said there have been folks to help her every step of the way during her journey. Friends like Pleasant Run Elementary 4th grade Bilingual Instructor Gloria Fernandez, who went with Sanguino to Cedar Valley College. Fernandez stayed with her to help her get enrolled and register for those first classes.
"What I saw in her was that she was so eager to learn and anything that someone asked her to do, she always tried to do her very best and she was kind of doubting herself," said Fernandez. "Now, in the classroom, her passion clearly shows she made an excellent decision. She just needed that little push."
Sanguino is the first child to graduate in her family, but she said it hasn't been easy.
"There were days I wanted to say I can't do it anymore," she said explaining she went to bed at 2 a.m. and got up at 6 a.m. for six years. "But then I wanted to show my kids to go to college and do it while they are young."
Her success has definitely come with many late nights, but she finally graduated in the summer of 2015 with honors from UNT Dallas. She now holds an Associate Degree in Early Childhood and Arts as well as her Bachelor degree.
"Mrs. Sanguino is a naturally gifted teacher that makes learning fun for all of her students," said
Houston Elementary Executive Principal, Dr. Tonia Howard. "Her passion and energy is contagious and the students and parents love her." This is Sanguino's first full year of teaching since her journey began way back on her first day working at Lancaster ISD on October 3, 2001.
"I love Pre-K the hands on of it. I get down and dirty with the kids," she said.
She paints and cuts and glues with her students and she said she gets on the carpet with them and crawls and sing and she wouldn't want to be doing anything else.
Looking at her 15, four-year-old students you can tell she is as important in their life as they are in hers. Sanguino concludes however, that her entire family at Houston School Elementary is important to her.
"Houston School has given me so much support," she said. "I have an awesome Pre-k team. I know what it feels like to be in school and I want to be the one who changes a child's life."