MIDLOTHIAN, Tex. — The father of a Midlothian infant has filed a lawsuit against Discovery Children's Academy, claiming his 18-month-old son was severely burned by an unsecured bottle warmer. The incident, which took place at the center in May 2022, was the result of daycare workers leaving the child unsupervised, just one of the many violations of Texas childcare safety laws by the daycare, according to the complaint.
Daycare workers were occupied with other tasks when they left Mark Mattox's infant son alone to play nearby and on a changing table shelf. According to the complaint, an unattended and unsecured bottle warmer filled with scalding hot water fell on his legs and body. The suit describes the young boy being in excruciating pain and skin peeling off his legs. However, Discovery Children's Academy, which advertised its dedication to providing a safe learning environment, failed to follow state-mandated safety protocols including actively supervising children, seeking immediate medical attention for the boy, and submitting an incident report to the state of Texas.
Furthermore, the suit alleges Discovery Children's Academy workers downplayed the incident to Mattox by providing him with false information about his son's injuries. The complaint reads that it wasn't until Mattox arrived at the daycare at the end of the workday and saw the obvious severity of his young son's wounds that the infant was rushed to the emergency room to receive treatment on his legs and body for severe burns.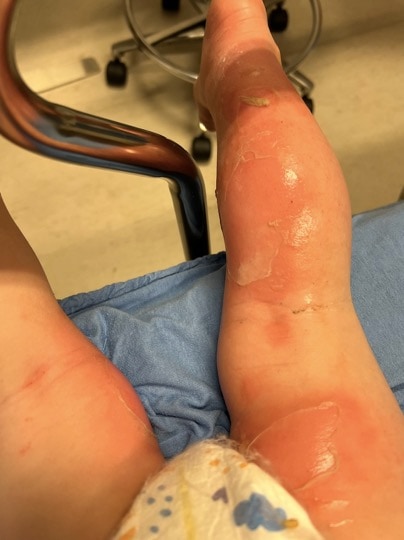 An independent investigation conducted by Texas Health and Human Services and Texas Department of Family Protective Services substantiated Mattox's allegations regarding the daycare's lack of supervision and safety practices, according to the suit. Discovery Children's Academy was cited more than 27 times starting in April 2018. The last citation came in November 2021, just seven months prior to this infant's burn incident.
"Common sense safety standards mandated by the state only work if daycares follow them. This little boy should not have had to experience severe burns on nearly half of his body," says The Button Law Firm attorney Russell Button, who represents the Mattox family. "The persistent disregard for the safety of vulnerable young children at Discovery Children's Academy is shocking."
The case is Mark Mattox, Individually and as Next Friend of M.M., a minor child, vs. Discovery Children's Academy, LLC, Cause No. 110869 in Ellis County, Texas.