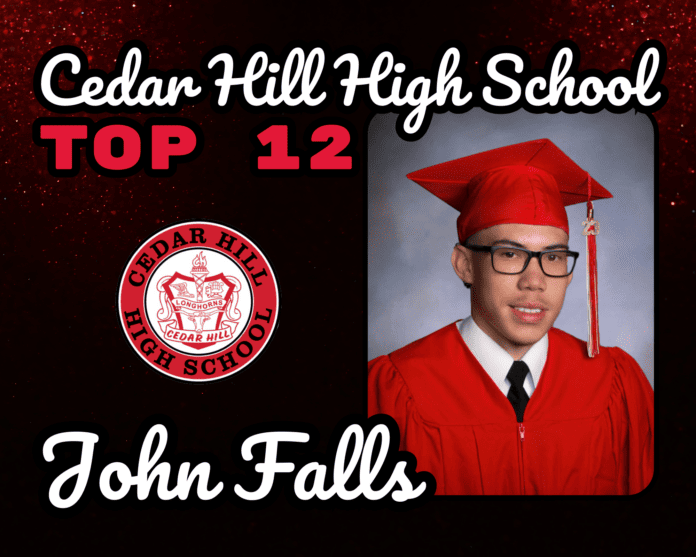 (CEDAR HILL, TEXAS) Few incoming Texas A&M University Scholars find themselves facing a choice like the one John Falls has before him:
Walk on to the nationally ranked Aggies Men's Basketball Team or join the Corps of Cadets/Fightin' Aggie Band.
Falls, who is graduating 11th in the Cedar Hill High School Class of 2023 on June 3, balanced academics with both basketball and band in high school. He'll study Engineering in college, but he knows he'll have to pick either basketball or band.
Falls started both basketball and band in the sixth grade at Permenter Middle School in 2016-2017.
His love of band/music precedes his days at Permenter. His older brother, Matthew, played on the offensive line for the Cedar Hill High School State Championship Football Team back when Falls was a Plummer Elementary Scholar.
Watching football was awesome, and Falls thoroughly enjoyed the Cedar Hill Red Army Marching Band as well.
"I picked the French Horn because everyone else wanted to do the Trumpet," Falls said.
Falls eventually became a section leader and mentored his fellow band members. On May 26, he'll head to Austin for the UIL State Solo and Ensemble Competition. He's one of 40 CHISD Scholars who will be making the trip to compete.
"John is the ideal scholar who juggles early morning basketball practice and early morning band practice, all while being in the top 12 of his class academically," Cedar Hill Band Director Derrick Walker said.
Falls' perseverance on the basketball court paid off. He was on the Freshman B Team in 2019-2020 and spent two years on Junior Varsity before making his varsity debut as a senior.
By the time the Longhorns made their deepest playoff run in eight years, Falls was the team's sixth man and an Academic All-State honoree.
"Falls is the epitome of what a scholar-athlete should be," Cedar Hill head boys basketball coach Corey Chism said. "I'm extremely proud of the young man that he has grown into, and I know that he will be very successful in his future endeavors. It was an honor for me to say I had the privilege of coaching him."
Falls grew up a University of Texas Longhorns Fan, but he's proud to be an Aggie now.
Texas A&M awarded him a total of $60,000 in scholarships, including the Century Plus Scholarship and the Presidential Scholarship.