Lush Gardens Complement Unique Buildings at Eve's Garden B&B in Marathon
Marathon is a small town (population only 400) in Brewster County, Texas, but a disproportionately large number of artists and other creative people live there. Among them are the owners and proprietors of Eve's Garden B&B and Ecology Resource Center.
Houston native Kate Thayer, artist/cook/gardener/accountant/maid/florist/former steelworker, is now the welcoming hostess for Eve's Garden. Her innovative bed and breakfast is a showcase for art, starting with the lush indoor and outdoor organic gardens surrounding the buildings. The gardens boast blooming roses, bougainvillea, and many other species year round.
Then there are the buildings. They are made from recycled content like paper adobe/fiber-cement called Papercrete. This material has a concrete-like strength, but without the heavy weight of concrete. With the help of local builder Clyde Curry, Thayer added seven rooms made from the mixture of recycled paper, sand, clay and Portland cement. Curry trained the Thayers to be papercrete experts, and still serves as an off-site consultant.
They have since added additional buildings, including a high deck. From there visitors can view the spectacular West Texas sunsets along with dark night skies filled with stars. The buildings are covered in what Kate calls high Mexican contemporary color treatments painted in various shades of turquoise, pink, orange, purple, and green. This private oasis offers a soothing respite to travelers on their way to or from nearby Big Bend National Park.
Assisting Kate in running Eve's Garden are her son Noble and his wife, Alaine. Noble is the all-around handyman and computer guy, while Alaine focuses on preparing the locally produced food served by the B&B. Although the younger couple live part of the year in Costa Rica, they spend more time in Marathon as Eve's Garden has grown increasingly busy.
Live Music And Art
Eve's Garden b&b hosts numerous art exhibits and music concerts along with neighborhood potluck dinners or happy hours on the lovely, spacious patio. Along with providing a comfortable environment for overnight or longer stays, Eve's Garden provides a forum for community conversations about issues regarding ecology and the world we live in. Kate Thayer also provides organic flower arrangements for weddings and other special occasions, many of which are held on her property.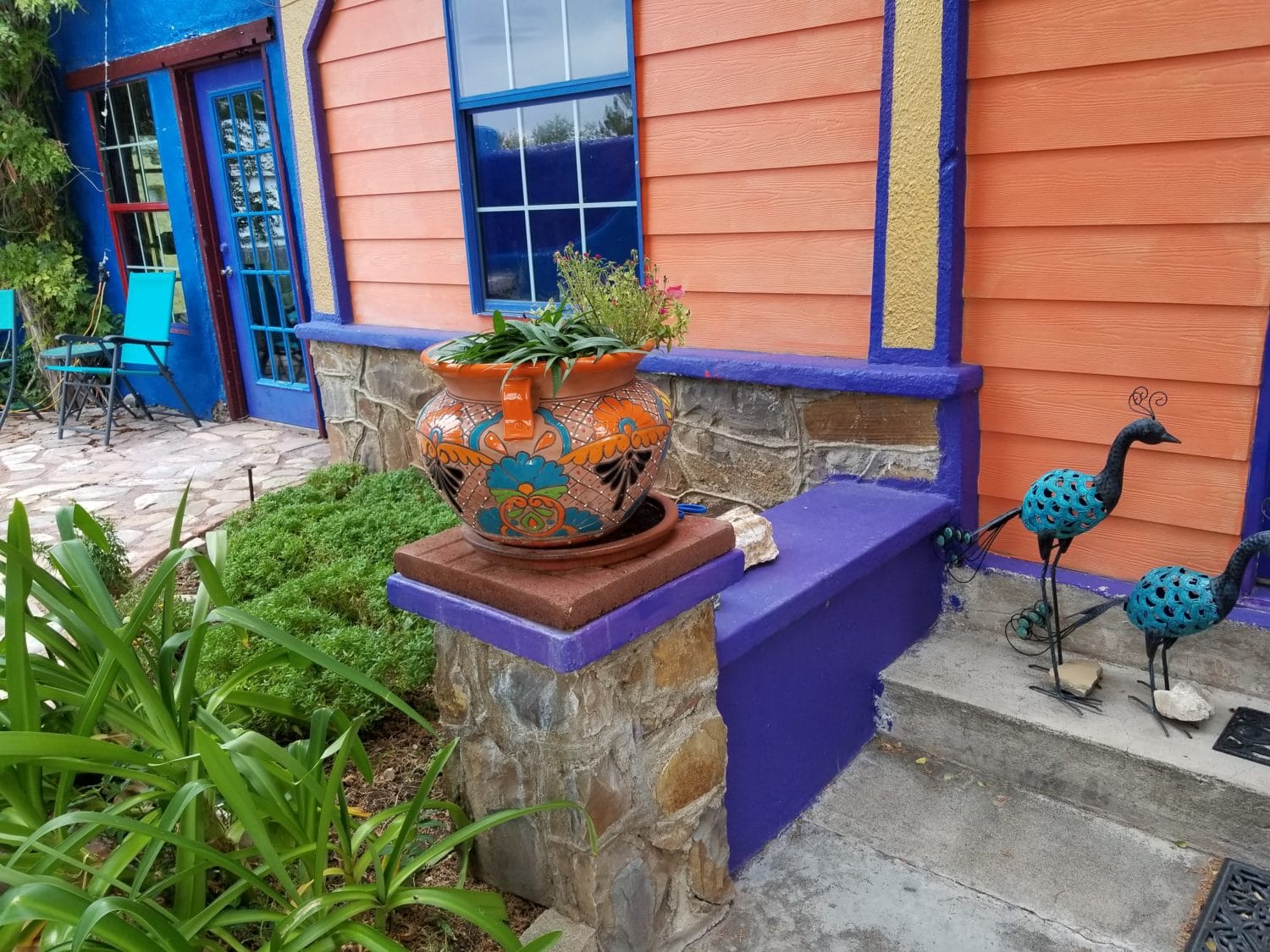 The seven hand-built rooms at Eve's Garden B&B are: The Boquilla Room, Garden Room, Lotus Suite, Ocotillo Room, Sapphire Room, and Turquoise Room. Each room has arches, bright colors, and other special touches; and thanks to the thick insulating papercrete construction, is very private. The rooms have their own heating and cooling system plus a mini-fridge. They also feature a private bath, and fresh flowers from Kate's organic greenhouse. Most also have a faux fireplace to add a touch of romance to the room. Three of Eve's Garden B&B rooms have private patio areas.
Room rates range from $185 to $215 per night for two people. For more information, visit evesgarden.org.