Duncanville High School instructor Marissa Alsabrook was happy to share some good news about the successful Architectural Design classes she has taught the past seven years.
Alsabrook said her students have been doing exceptional work, with several winning state honors in the recent SkillsUSA competition. Duncanville High School is also able to increase capacity of the in-demand Architectural Design program with a $260,000 "P-TECH" (Pathways in Technology Early College High School) grant awarded the district.
The P-TECH grant will provide funds to hire additional support staff to work with the students, including a program coordinator and tutors; provide a second classroom with necessary AD equipment; update classroom computers and technology in both classrooms to offer more dual credit and certification opportunities; and provide for educational field trips.
Duncanville ISD's Architectural Design program currently offers students the opportunity to earn an industry-based certification and an associate degree in Architectural Design. They can also earn a high school diploma at the same time, with no cost to the student.
Students have the opportunity to graduate with an 85 credit associate degree comprised of 30 hours in Architectural Design. Those credit hours are transferable to the University of Texas at Arlington toward a Bachelor's Degree in Architectural Design. Duncanville ISD partners with Mountain View College and UTA for the Architectural Design degree.
Architectural Design Courses offered at Duncanville High School include: Architectural Materials and Methods of Construction; Architectural Blueprint Reading; Architectural Illustration; Basic Computer-Aided Drafting; Architectural Drafting-Residential; Intermediate Computer-Aided Drafting; Architectural Drafting- Commercial; Advanced Technologies in Architectural Design and Drafting; Topographical Drafting; and Parametric Modeling and Design.
Thanks to the P-TECH grant, Alsabrook says the school has already added a second classroom and an experienced teacher Michelle Sowers, who has spent 20 years in the industry.
Alsabrook said she first displayed a talent for drafting when she was 11 or 12, and drew plans for a new building for the church they attended in a South Grand Prairie strip mall. She says they didn't actually use her plans, but the church they built had quite a few of the elements from her design. At age 17, Alsabrook took a job with an architectural firm, where she stayed 10 years while attending college.
"As one of the few females to attend architectural school," she said, "I wanted to teach and help prepare others for careers in the industry. So I started teaching at Duncanville High School, where my mother had been librarian, and have been here seven years now. I currently have about five girls and 25 boys in my classes."
Alsabrook says her dual credit program not only paves the way for college but provides a career path for students. Seniors can earn architectural draft certificates, as well as associate degrees from Mountain View College. They can also attend the University of Texas at Arlington to complete an architectural degree.
A few years ago, Alsabrook said, one of her students landed a drafting job with an engineering company the day after graduating with his certificate from DHS, with a starting salary of about $30,000. Other recent graduates are attending architectural programs at University of Texas at Arlington, where one is now a junior. Another former student attends architectural programs at UTSA.
Duncanville HS Students Win Skills USA Leadership Conference Awards
One of Alsabrook's senior students, Paul Martinez, recently took first place in Pin Design at the state's SkillsUSA leadership conference. Ms Alsabrook will chaperone Paul when he attends the SkillsUSA National Leadership and Skills Conference in Kentucky in June. Every Texas student who qualified for national competition will receive ten of Paul's pins as keepsakes, or to trade with others.
Paul plans to attend UTA and major in nursing, with a minor in architectural design. While he says he has always wanted to work in health care and to help others, he doesn't plan to stop designing. "I want to keep my options open," he said. "Going to the national conference in Kentucky June 25 will be a great experience. I look forward to meeting students from other states there."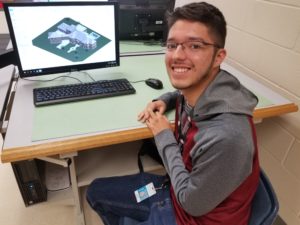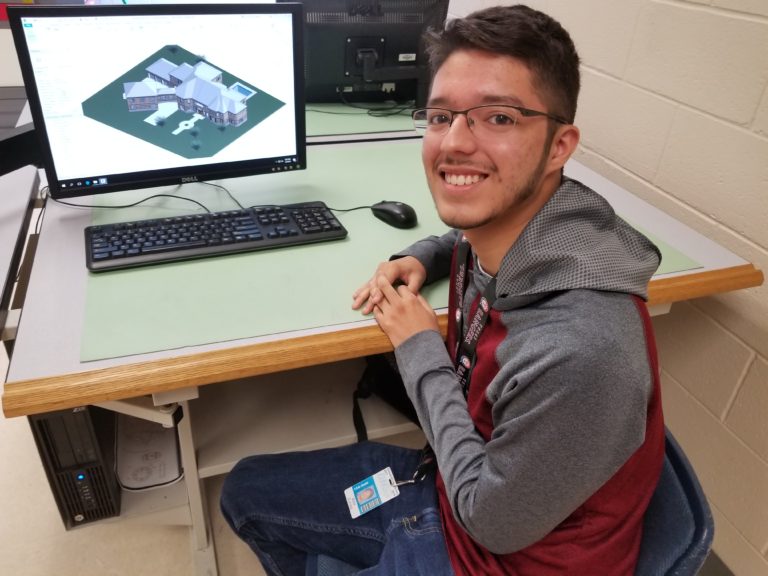 Senior Alex Zuniga received a blue ribbon for First Place honors for his CAD (computer aided design) Architectural Residential Project. While Zuniga was the top winner in the state, that category does not advance to the national competition. Zuniga says it took him several months to complete the design for his winning entry. He said the large home he designed, while beautiful, "would definitely be expensive to build."
Zuniga has attended DISD schools since his family moved to Duncanville ISD when he was a second grader at Central Elementary. Zuniga says he has enjoyed designing things since he was younger, and he also likes to plan ahead. He now plans to attend UTA and major in architectural design with a minor in interior design, since both fields interest him.
A team of collision repair students, Christian Vasquez and Oscar Villarreal, won Best in Show for their custom hood design. Ariel Rico also qualified for the SkillsUSA national contest in Engineering Related Technical Math.
Alsabrook says, "I tell my students there are numerous fields they can go into with the training and certificates from Architectural Design programs at Duncanville HS. For instance, they can design shoes for Nike; anything that can be assembled has to be designed first."