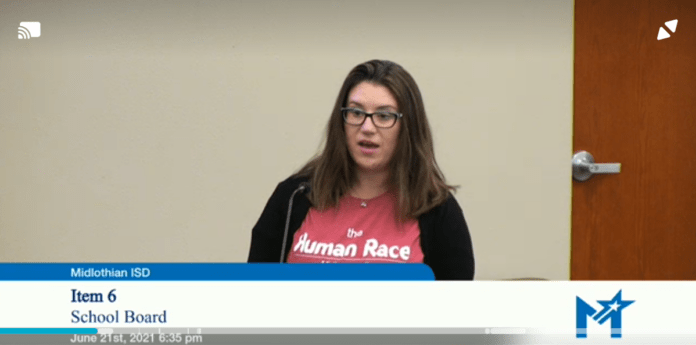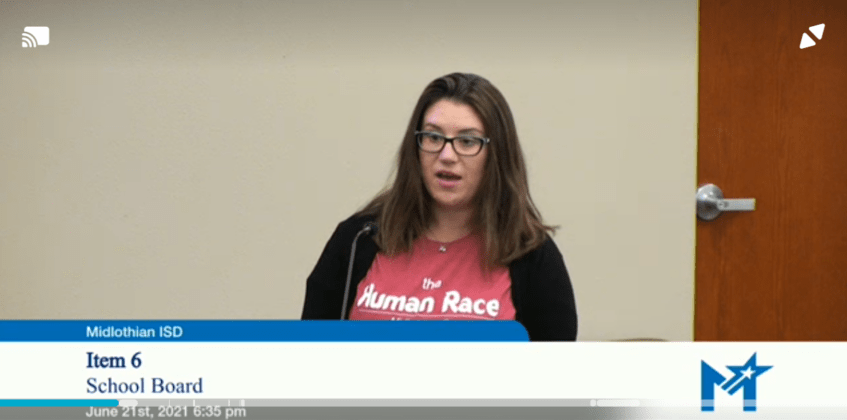 Midlothian Parents Urge MISD School Board To "Be Leaders"
School is out for the summer and one might assume school board meetings would be mundane. That wasn't the case last night as several parents and community members participated in public comment at the MISD board meeting. The issue: parents want the Director of Diversity, Equity and Inclusion to resign or be removed, and for social/emotional learning curriculum to be evaluated. This issue wasn't on the evening's agenda, yet all of the public comments were on this topic.
At a school board meeting in May, parents addressed the board and presented a petition with over 1000 signatures asking for the removal of Midlothian ISD's Director of Diversity, Equity and Inclusion, Ms. Chalisa Fain.
The petition was started when parents began questioning social media posts by Ms. Fain on her personal accounts. In the petition they state, "Mrs. Fain only cares about protecting and promoting the black race." Those supporting the petition believe Ms. Fain's social media postings demonstrate a lack of impartiality and believe her posts are inflammatory leading to more divisiveness.
Since the Board meeting in May, there hasn't been any public discussion or actions by the Board to address the concerns of the 1100+ people that have signed the petition.
What Is Being Taught In The Classroom?
So, feeling their concerns have been ignored, last night several parents again used the public comment time to voice their concerns over what they describe as a "lack of leadership." Wearing red t-shirts that said, "Teach…show…live…RESPECT Midlothian,TX 2021, another shirt said "The Human Race-Midlothian, TX 2021", each speaker used their entire five minutes or went slightly over their allotted time.
The consensus of those that spoke, including a local Pastor, (quote from petition) "Teaching values and belief systems is the responsibility of the parents and family. Therefore, political messages cannot be allowed in the classroom on such topics like BLM, homosexuality, or immigration."
Reverend Shull's passionate speech concluded with him urging Ms. Fain to immediately resign or for the MISD Board to "defund her position immediately".
The Debate Over Social Emotional Learning
Parents expressed concerns about curriculum promoting social/emotional/learning and other programs the District is using like BrainPop. Many parents feel like BrainPop is teaching indoctrination over education.
Note: In 2019, Governor Abbott signed into law school safety legislation (Texas SB11) requiring all Texas school districts to add a social/emotional learning component to their curriculum.
A Closer Look At The Curriculum
Speakers feel like the Board is being indecisive by not addressing their concerns. The recurring message questioned the leadership or perceived lack thereof of Trustees.
During the budget portion of the school board meeting, Trustees asked Mr. Norris questions about how curriculum is evaluated. Trustee Tobey pointed out that software and technology needs to be evaluated, and Gonzales suggesting a subcommittee take a closer look. Trustee Gonzalez also pointed out that twelve of the thirteen public comments expressed concerns over what is being taught in the classroom.
During this time, Vice President Walton pointed out 53% of the budget is for instruction and asked Mr. Norris how much of the budget is allocated for CRT? The answer is none.
Walton also pointed out that the Board's role is to set goals for academics, whereas implementation belongs to administration.
Dr. Fey took the time to state, "Our teachers get a lot of autonomy in the classrooms to teach, and we get great results with our kids in that light. when we start looking at auditing for curriculum appropriateness and such, we tend to become much more streamlined in what our teachers can and cannot do in their classrooms, and while that is good for some, that is not good for others. I just want us to be very cognizant of that and understand that. Our teachers and our system…are the best resource for students."