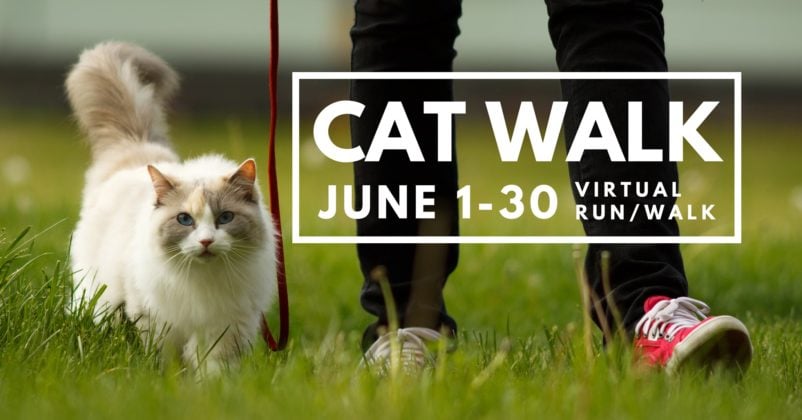 Among the things that folks have learned from dealing with COVID-19 is the ability to be creative in finding ways to entertain themselves.
The City of Cedar Hill Parks and Recreation Department is a prime example, as shown with a pair of virtual events being held in June designed to entertain while maintaining proper protocol concerning coronavirus.
They're even getting felines and fish involved in the action.
First, a Cat Walk is being held the entire month. The walk promotes a healthier life and brings awareness to adopting cats. June is National Adopt a Shelter Cat Month.
Participants agree to walk 30 miles in 30 days at home, in a neighborhood, or on any of the city's 36 miles of trails in parks and around town.
Also, in lieu of an in-person event, the city is offering a virtual format for its Kid Fish Tournament. The tournament is June 3-10 at Valley Ridge Park, 2850 Park Ridge Drive.
"While many events have been canceled due to the pandemic, our citizens can still come together virtually to do good things for both themselves and our community," Cedar Hill Recreation Superintendent Carolyn Skeels said.
CAT WALK
This event is designed to create a better life for both cats and their owners, even if a person doesn't own a cat yet.
"As longtime supporters and partners of Tri-City Animal Shelter, Cedar Hill Parks and Recreation wanted to use this opportunity to both promote health and fitness and do something great for the animals," Skeels said, noting that cat adoption rates are lower than dogs.
Participants of all ages in the free event have up to 30 days to walk 30 miles. Of course, if you can do it in less time, that's fine, too. Each participant must log their own miles.
To get started, click the green button on the website, https://www.tricityfriends.org/catwalk. Participants who register by June 15 and complete their 30 miles by June 30 will receive a free Finisher's Medal. They'll also receive a certificate to adopt a cat at a discounted adoption fee. Those who miss the deadline for the medal can still take part for better health and an adoption certificate.
There will be a special opportunity to cross the "finish line" at Tri-City Animal Shelter where participants will turn in their mileage log, collect a finisher's medal, and meet some of the adoptable cat (and dog) companions from the shelter. Date and details will be announced the week of June 29.
"This event promotes both health and fitness, but also supports Friends of Tri-City Animal Shelter, who funds critical services for the dogs and cats at the shelter," Skeels said.
While the event is free, donations to the shelter are always welcome. These gifts can be made on the website during registration or on their website. Proceeds from the Cat Walk will help pets at the shelter receive veterinary care and find their "fur-ever" homes.
KID FISH
The popular event is going virtual this year. Kids will still be able to fish in person, but social distancing regulations must be followed. Judging will be done virtually.
"We are running a virtual event by putting out verbiage regarding safety guidelines while still allowing patrons to enjoy the park, pond and fish," Skeels said.
Participants in the event, which includes a partnership with Dallas Bass Hookers, must have a fishing license or do catch-and-release for all tournament days except June 6, which is a free fishing day, licensed or not.
Skeels said Kid Fish events have generally drawn about 400 people and have continually grown.
In order to qualify for prizes, participants must post pictures of their catches. They must be tagged with @CedarHillPARD on the Cedar Hill Parks and Recreation Facebook Page.
Judging will be based on the following categories:
Best looking fish.
Most fish within the time frame.
Best family fishing picture.
Prizes will be determined by the judging committee based on the prizes available. Winners will be announced on the parks and rec Facebook page. Participants can also contact cedarhillpard@cedarhilltx.com or 972-291-5130.