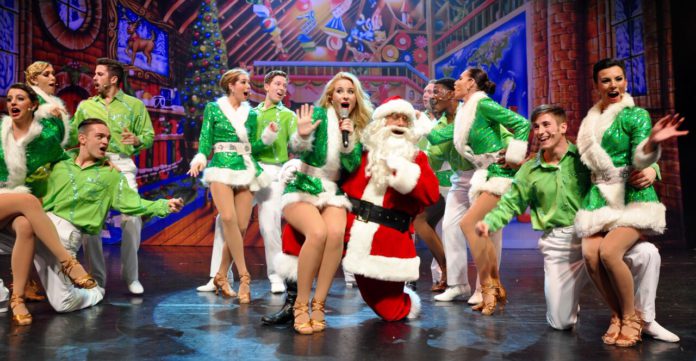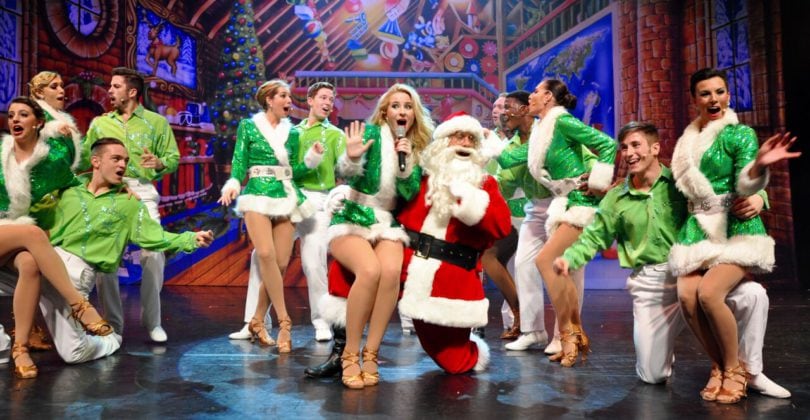 Broadway Christmas Wonderland At Music Hall Gets You In The Christmas Spirit
Dallas Summer Musicals brings Broadway Christmas Wonderland to the Music Hall at Fair Park in December. The holiday extravaganza will be onstage through December 18. The show features glittering costumes, a dazzling cast and "the highest kicking chorus girls this side of the North Pole."
The entire family can enjoy Christmas in style with Santa and his merry helpers. Join them on an unforgettable journey with everyone's favorite seasonal songs. Christmas standards include 'White Christmas,' 'Winter Wonderland,' 'Have Yourself a Merry Little Christmas,' 'Chestnuts Roasting On An Open Fire,' 'Jingle Bells,' ''Away in a Manger,' 'O Come All Ye Faithful,' 'Let it Snow,' 'Silent Night,' 'Hark the Herald Angels Sing,' 'Deck The Halls,' 'Rockin' Around the Christmas Tree,' and 'O Holy Night.'
With a cast of 24 singers and dancers from London, New York, Las Vegas, and Los Angeles, the show turns the Music Hall's stage into a winter wonderland. Over a thousand glittering costumes, spectacular sets and scenery are featured. The stage even converts into a glistening ice pond, where two world champion ice skaters show off their artistry.
Featured vocalist Laura Mansell answered a few questions about the show for Focus Daily News. Ms. Mansell, from the UK, trained at the Mountview Academy of Theatre Arts in London. Previous theatre credits include: Starbuck (Moby Dick, New Union Theatre, London) Diva (Priscilla Queen of the Desert the Musical, UK Tour), Principle (Godspell, UK Tour), Maida Vale Singers (BBC Proms, Royal Albert Hall), and Woman 1 (Edges, Cockpit Theatre, London). Her TV credits include This Morning (ITV), X Factor (ITV), Stella (Sky 1), and BBC Proms (BBC 2)
Conversation with Featured Vocalist Laura Mansell
FDN: When did you first realize you wanted to be a singer?
LM: I've wanted to be a singer since my early teens. I started singing lessons at school as part of the choir and fell in love with it straight away. I knew straight away that it was something I wanted to do. Before that I wanted to study law so it was quite a big change!
FDN: Can you talk a little about Mountview and your teachers?
LM: I loved my time at Mountview, though it seems a long time ago now! I made some wonderful friends and learnt so much. My favorite teacher was my singing teacher, Ian Baar. He was brilliant and was always there for me when I was having a bad day.
FDN: Have you ever toured the U.S.?
LM: No, I've never toured the States before. It's been a dream of mine for such a long time and I'm so excited to be here.
FDN: How did you like working on Priscilla? We remember when it came to the Music Hall a few years ago.
LM: Priscilla was one of my favorite shows and playing a Diva was a dream come true. I did both UK tours with the show and loved every second of being on stage. The reaction from the audiences every night was amazing and something that you don't get with every show. The songs were a joy to sing and it holds such a special place in my heart.
FDN: What was your favorite role so far?
LM: I would say that being a Priscilla diva is my favorite role so far. Being able to wear such amazing costumes, sing fabulous songs and flying from the ceiling every night is pretty hard to beat!
FDN: What can Dallas audiences expect from Broadway Christmas Wonderland?
LM: Audiences can expect a Christmas extravaganza from start to finish. The dancers are incredible, the singers are brilliant and the costumes are amazing. There are so many sequins, which I love! It's a family show that will get you in to the holiday spirit with all your favorite Christmas songs. I'm so excited to be part of it, especially in such a wonderful theatre as the Dallas Fair Park Music Hall.
FDN: What's your favorite part of the show?
LM: I don't really have a favorite number- there's so many to choose from. I love watching all of the dance breaks as the choreography is brilliant and I'm in total awe of the dancers!
FDN: What are your future plans?
LM: Following Dallas we take the show to Biloxi and then we fly home. I've no idea what's next for me but that's the life of a performer. You never know what's around the corner!
Dallas Summer Musicals Ticket Information
With Christmas just around the corner, Dallas audiences can expect a special treat waiting for them at the Music Hall at Fair Park this month. Single tickets for BROADWAY CHRISTMAS WONDERLAND, starting at $20, are now on sale at www.DallasSummerMusicals.org, by phone at 1-800-514-ETIX (3849) and at The Box Office, 5959 Royal Lane, Suite 542 in Dallas.
Groups of 10 or more receive a 15% discount, priority seating, and many more benefits. Please call 214-426-4768 or email Groups@DallasSummerMusicals.org.