Don't Overlook Belton, TX
I made the mistake of overlooking Belton for many years and countless trips driving south on I-35 to Austin or San Antonio. Sandwiched between Salado and Temple, there never seemed to be a reason to stop in Belton. Especially with the continuous construction on the I-35 highway making it difficult to get on or off the road.
My attitude changed when my son and his new wife moved there. After making several visits, I've discovered how much more there is to Belton. For those who might have made the same mistake, overlooking this central Texas town of about 21,000, here are a few things to do and see there. I'll never think of Belton again as just another town on the way to somewhere else.
I spent a few days in Belton between Christmas and New Year's, and we took a leisurely drive through Nature in Lights at Belton Lake. This enchanting holiday extravaganza covers five winding miles around the lake. There were only three of us in the car, all adults; and as we oohed and exclaimed our way through the 130 holiday displays and lights, we longed for a carload of children to share this wonderful light show with us. Next time we'll be sure to round some up! Admission is $15 a car.
Belton Lake, fed by the Leon River, has 136 miles of shoreline, and draws fishing and boating enthusiasts for fun on the water year-round. We had dinner one night at Dead Fish Grill, a casual dining restaurant overlooking the lake. They offered great views and good food; we especially liked the Oysters Gilhooley. The restaurant features live entertainment and brunch on weekends.
History of Belton
Belton was incorporated in 1850 and is the county seat of Bell County. The state's oldest family-owned department store, Cochran, Blair & Potts, is situated on a prominent corner of downtown Belton. Established in 1869, it predates the beautiful Bell County Courthouse (1884-85), which is a great example of Renaissance Revival architecture.
CB&P covers an entire block on East Central Avenue. They have a friendly staff and great selection of boots and other items. I fell for a pair of Old Gringo boots and spotted a great buy on a denim shirt for my husband. Take time to browse through the upstairs museum, featuring historic photos from the early days of Belton and the store. It's now owned and operated by the seventh generation of the Potts family. A historical marker on the building credits all who have kept the store thriving for more than 14 decades. Open Mon.-Fri. 8:30 a.m. to 5:30 p.m., Sat. 9am to 5pm, closed Sunday; phone 254-939-3333 or visit cbandpotts.com.
Unique gifts and fun browsing were also available at another downtown Belton store, My Giving Tree Gift Shop & Art Gallery. This friendly store was opened in 2011 by Leila Valchar, who believes in buying Made in America and Texas products. It was fun to watch my Marine veteran son buy handcrafted dolls to add to his wife's collection. This quaint shop is located at 121 N. East Street; for information call 254-939-TREE or email mygivingtree@yahoo.com.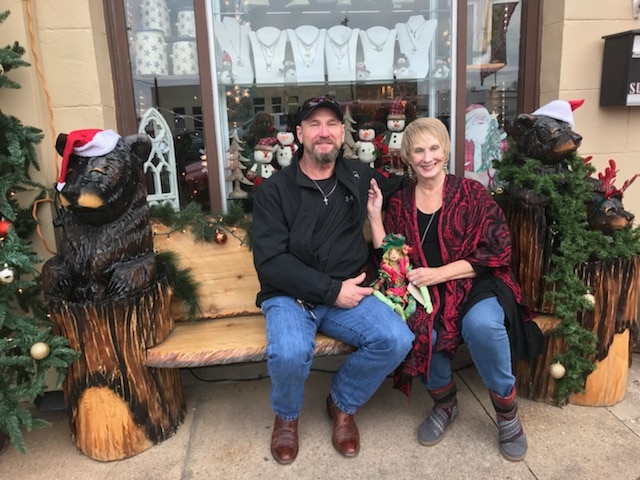 With Fort Hood as a close neighbor, it's not surprising that Belton honors military heroes with Patriot Way Brick Walk. There's also a Police Memorial honoring public servants past and present.
Downtown Belton Has Great Restaurants
Downtown Belton's popular plaza area is an inviting and picturesque place on the banks of Nolan Creek. Several restaurants like The Gin at Nolan Creek, originally an old Cotton Gin with early 1900's architecture, dot the plaza. We had deliciously fresh Tex-Mex with views of the creek during lunch at Coronas de Oro. Since it was nippy out, we decided to wait till spring to try the highly touted Hike & Bike Trail at Nolan Creek.
We enjoyed terrific BBQ at Miller's Smokehouse in downtown Belton, which has been rated one of the top 50 barbecue joints by Texas Monthly. Other highly rated restaurants include Schoepf's BBQ, Narunya's Thai food, Sarsaparilla Saloon and Cafe (now a deli) in downtown Belton, and Nami's Japanese Steakhouse.
I'm looking forward to another visit soon. Next time we will tour the Bell County Museum, and visit the downtown Beltonian Theatre. I'm told that is a great place to meet friendly folks and see classic films or live performances.