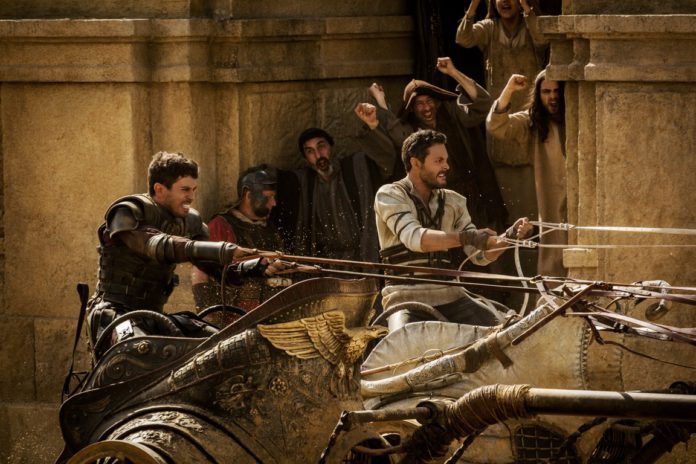 Ben Hur Remake Gets Hammered By Critics
"Ben Hur" will open in theaters Friday, August 19. It's a new version of the well-known legend of Judah Ben-Hur. If there's anyone out there who hasn't seen this story before, it's about a wealthy Jewish prince who lived in the time of Jesus (or 25-33 BC). Ben Hur is falsely accused of sedition by the Romans, and sent as a slave to the galleys. He survives against incredible odds, returning to challenge his adopted brother, now a Roman soldier, to a legendary, epic chariot race.
Since the classic 1959 film version starring Charlton Heston and Stephen Boyd is so beloved by most film critics, those same critics are gleefully trashing Paramount Pictures' new film. Apparently it's sacrilegious to try to remake some films, and "Ben Hur" leads the list. It's easy to see why, since the 1959 movie was nominated for 12 Oscars and won 11. But still unfair! Three earlier versions of Ben Hur (based on Lew Wallace's 1880 novel), including two silent films, have also been made.
After screening the new film (a drama, produced by Mark Burnett and Roma Downey, directed by Timur Bekmambetov, written by John Ridley and Keith R. Clarke, rated PG-13 for violence and disturbing images) here is a slightly more positive review of the new "Ben Hur."
This "Ben Hur" stars Jack Huston as Judah Ben Hur; Toby Kebbell as his adopted brother, Messala; Rodrigo Santoro as Jesus); Nazanin Boniadi as Judah's wife Esther; Ayelet Zurer as his mother, Naomi; Pilou Asbaek as Pontius Pilot; and Morgan Freeman as Ilderim, a wealthy Arabian trader.
Early in the film we see the competitiveness along with the love between the two adopted brothers. Judah and Messala are racing through the desert when Judah's horse throws him. Messala carries Judah on foot for many miles, saving his brother's lif
For scenes like this one, and many others, Olliver Wood's gorgeous cinematography deserves recognition. Hopefully the fact that this film is being compared frame by frame with the earlier version won't stop that from happening.
Feeling unloved, Messala joins the Roman army to impress his adopted mother of his worth. Judah becomes even wealthier, but a rift between the two brothers occurs when Messala accompanies Pilate to occupy Jerusalem. When a zealot shoots an arrow onto Roman soldiers from Judah's roof, the family is accused of treason. Messala refuses to intercede to save them.
The next few scenes are difficult to watch, with Judah's beloved mother and sister led away to be killed while he is chained with other galley slaves to a Roman war vessel. The scenes on the boat, as seen through Judah's point of view, are chilling. The boat repeatedly rams into other vessels and finally sinks. Judah miraculously survives, swimming to land where he meets Ilderim, a rich trader who loves to win chariot races.
The two form a strong bond, and Ilderim takes Judah back to Jerusalem to compete against the always-victorious Roman charioteer, Messala Severus. The chariot race is another exciting, well filmed episode. But for those of us who love horses, it's really hard to watch. Made even harder through 3-D glasses. Apparently there weren't any animal rights activists in Roman-occupied countries.
The actors all do a fine job in this new "Ben Hur" film. It's unlikely that any of them will be nominated for an Oscar, like Best Actor Heston in 1959. But don't dismiss this film just because critics say "it doesn't hold up" against the earlier version. It still provides two hours of exciting, ultimately inspirational entertainment. That's more than you can say about a lot of new films.