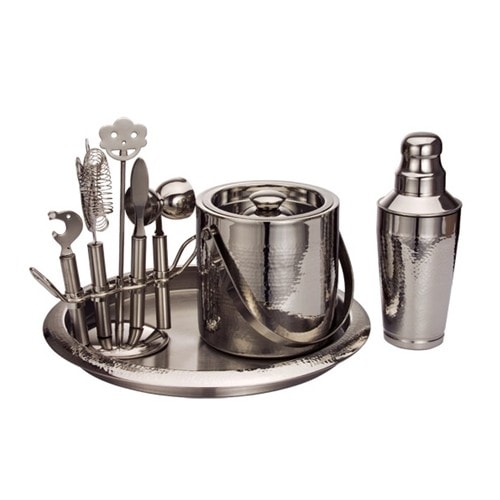 Building a registry is one of the big items on the wedding checklist and it can often seem like an overwhelming task, given the number of categories to consider. From bedding and bath to kitchen, furniture and so much more, the perfect wedding registry will include all of the things that you'll want to have as you start this next chapter as a married couple.
One area to focus on is selecting great barware. You may be entertaining friends and family even more as newlyweds, so having the right glassware and tools that fit your entertaining style is important. To help with the process, Clinton Kelly, "Wedding's Best Man" for Macy's, shares his tips for building a well-stocked bar, as well as recipes to impress any guest.
Decide on a Style
Whether it's frilly and fluted or heavy and masculine, determine a style that best suits your taste. The traditional route is to get a suite of cut crystal, but these days, casual glassware is just as welcome on the table, as well as mixing different styles.
Know Thy Beverage
Technically, just about every drink has an optimal glass silhouette. But unless you have unlimited storage space, consider what you like to drink and how you entertain. If your typical Saturday night involves eight-course dinners with wine pairings, register for a glass for each grape. For everyone else, consider eight to 12 each of the three or four glasses you're most likely to use, Kelly adds.
Shape it Up
Most people go for red and white wine glasses, plus champagne flutes or ones for fortified wines. When it comes to cocktails, start with highball glasses which you can also use for water, and then pick specialty silhouettes based on your favorite beverages: martini glasses, margarita glasses, Irish coffee mugs and more. If you're a beer drinker, load up on steins or pilsner glasses instead.
The Right Tool for Every Drink
Fill out your registry with plenty of accessories and tools: corkscrew, decanter, shaker, ice bucket and more. And while you're at it, why not a bar cart to hold it all?

It's 5 O-Clock Somewhere
Master these drink recipe ideas from Kelly and you'll impress all your friends.
Martini: Add 2 ounces of gin and a splash of vermouth to a shaker filled with ice. Shake it, then strain into a chilled glass and garnish with two olives or a twist of lemon. Substitute pearl onions to make it a Gibson.
Margarita: Add one part each tequila, triple sec, lime juice and simple syrup (you can use brown sugar for a caramel flavor) to a shaker filled with ice. Mix and strain into a salt-rimmed glass filled with ice. Sub in spicy salt or jalapeno-infused tequila for some kick.
French 75: Mix an ounce of gin, a little simple syrup and lemon juice in a shaker. Then strain it into a champagne flute and top with champagne.