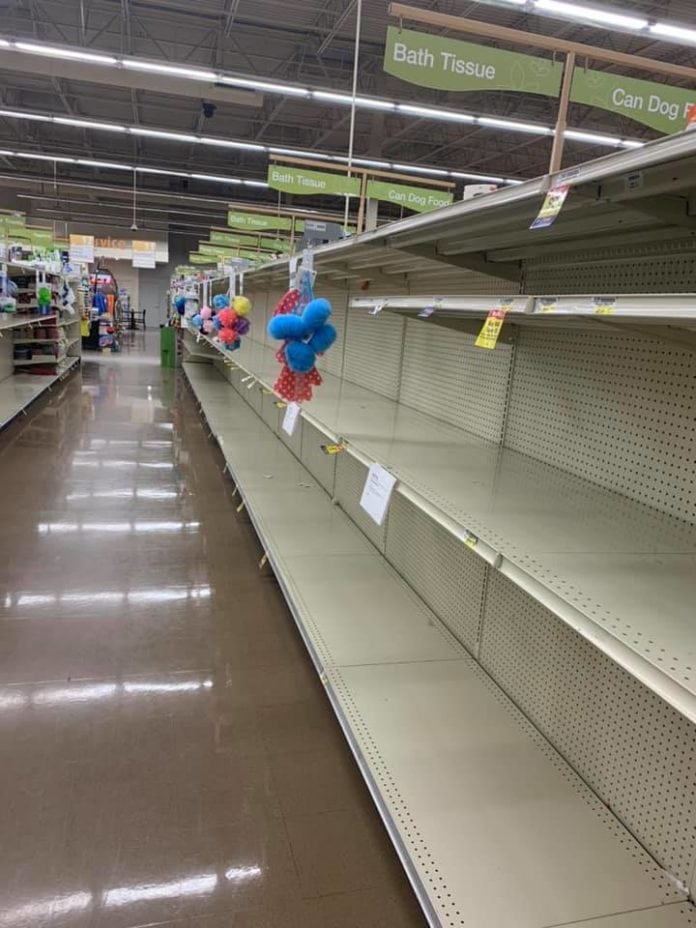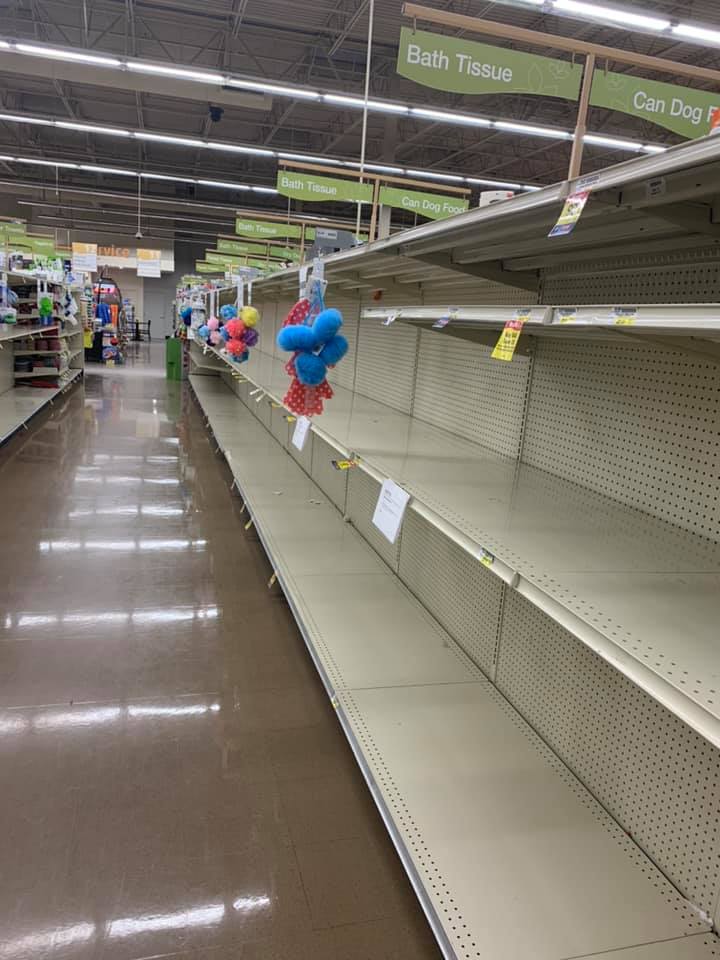 Grocery stores are packed, lines are long, and shelves are empty. Stockers don't have enough time to get the shelves stocked, as pallets are often raided by panicked shoppers. Staff and patience are in short demand as we adjust to the "new normal with COVID-19".
So, many grocery stores are changing their operating hours to give employees a chance to clean the store and stock the shelves.
Here's an evolving list of grocery stores temporary hours:
Aldi 9AM-7PM
Brookshire's 8AM-8PM

In order to better serve all of our guests, we are limiting the following items: ground beef, fresh chicken, eggs, milk, rice, beans, canned soup, household essentials, sanitation, cold/flu, and water.
We are continuing to receive shipments and restock shelves. We're in this together and it's important to remain calm. As friends and neighbors let's continue to come together to support one another and be kind.
Central Market
To prepare our stores and better serve our customers, all Central Market locations will operate with temporary modified hours of 8 a.m.-8 p.m. These temporary changes will help us keep our shelves stocked and ensure our customers have access to the products they need. We are working to resume operations with normal hours as quickly as possible.
Costco
H-E-B
Tonight (3/14) all of our stores will close at 8pm, and starting 3/15 stores will be open from 8am-8pm. Customers will also see reduced services in our delis, bakeries and floral departments as we adapt to better serve you. We will return to our regular hours and full services as soon as we can. #SlowtheSpreadTexas. Customers can find updates on H-E-B operations at www.heb.com/newsroom
In an effort to make sure all customers have access to products they need, H-E-B is limiting the purchase of the following items per shopping trip/transaction: (updated 3/15)
Food items
Chicken – 4 units
Ground Beef – 4 units
Water – 2 multipacks and 2 gallons, total of 4 items
Eggs – 2 units
Frozen vegetables – 4 units
Frozen breakfast – 4 units
Frozen pizza – 4 units
Boxed dinners – 8 units
Pasta – 4 units
Pasta Sauce: 4 units
Rice – 4 units
Canned Soup – 8 units
Canned Vegetables – 8 units
Canned Beans – 8 units
Canned seafood – 8 units
Canned meat – 8 units
Dried Beans – 4 units
Nut butters – 4 units
Oatmeal – 4 units
Cereal – 4 units
Bread – 4 units
Milk – 2 units
Powdered Milk – 2 units
Non-food items
Baby Diapers – 2 units
Baby wipes – 2 units
Toilet Paper – 2 units
Paper Towels: 4 units
Disinfecting & Antibacterial sprays/wipes – 4 units
Liquid Bleach – 2 units
Hand sanitizer – 2 units
Hand soap – 2 units
Hydrogen peroxide – 2 units
Rubbing (Isopropyl) Alcohol/swabs – 2 units
Latex Gloves – 2 units
Masks – 2 units
Home Depot
Starting 3/19 hours will be 6 AM- 6 PM until further notice.
Kroger
Remaining stores and regions not listed are continuing to operate under normal business hours.
Ashland, KY: 7am – 10pm
Cincinnati, OH; Dayton, OH; Northern, KY: 7am – 9pm
Columbus, OH; Toledo, OH: 7am – 10pm
Houston, TX Region: 7am – 10pm
Indianapolis, IN; Central IN store locations; Peoria, IL: 7am – 10pm
Lexington, KY; Louisville; KY; Southern IN store locations; Southern IL store locations: 7am – 10pm (effective March 17)
Michigan: 7am – 10pm
Middle TN store locations; Knoxville, TN; Huntsville, AL; Bowling Green, KY: 6am – 10pm
Southeastern OH (Belpre, Marietta, Proctorville): 7am – 10pm
Tri-Cities, TN store locations: 7am – 10pm
Virginia: 7am – 10pm
West Virginia: 7am – 10pm
Market Street
Beginning on Thursday, March 19, 2020, every Market Street store will have a dedicated shopping time from store opening 6 a.m. until 9 a.m. on Monday and Thursday for shoppers older than 60 and guests who have compromised immune systems. We are asking our neighbors to help us provide those most vulnerable groups access to essential products
Sam's Club
We want to let you know that, starting Tuesday, 3/17 we are shifting all club opening hours to 9 am – 8 pm, Monday – Saturday. This is to ensure our associates have ample time to restock, clean and sanitize each club, and to provide you the best possible experience. Our Sunday hours will remain 10 am – 6 pm. Prescheduled Club Pickup orders will still be available for pickup starting at 7am.
Starting Sunday, 24-hour stores will be open 6 a.m. to 11 p.m. "until further notice." Other locations will also have reduced hours.
Market Street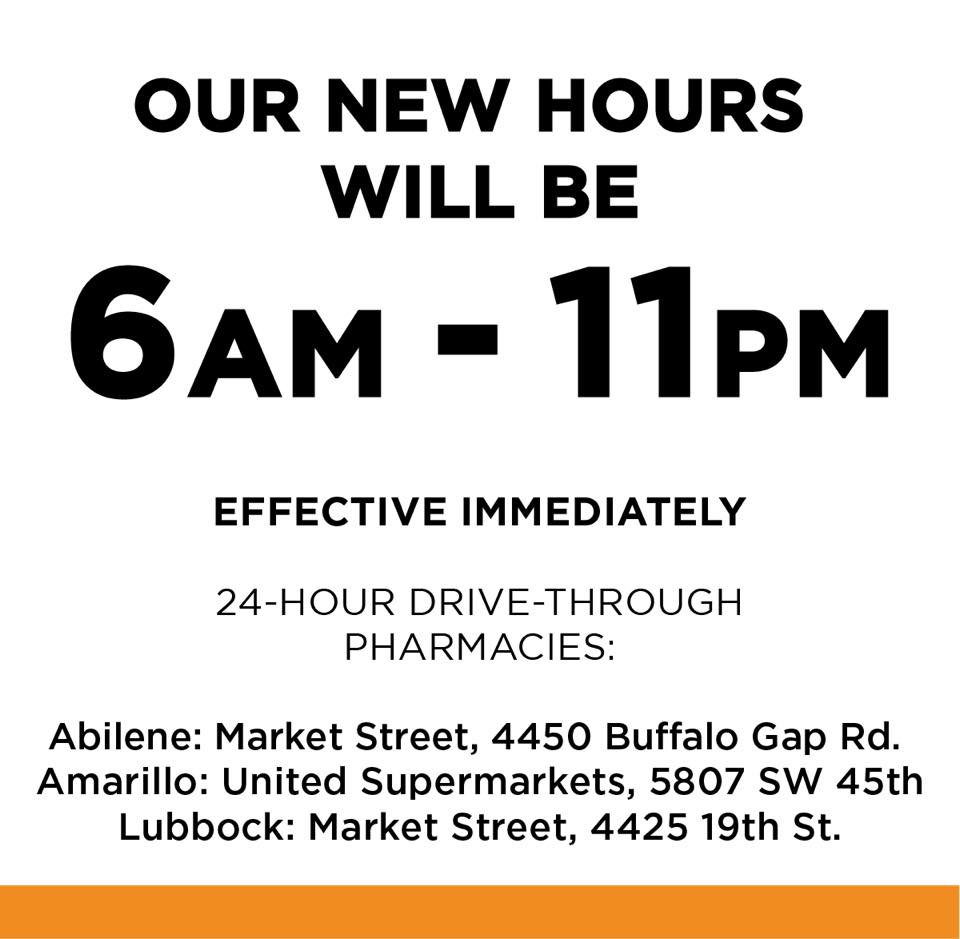 To our guests: as always, you remain our top priority. Due to the heightened demand for specific products, and in order to continue our high standard of cleanliness and timely product restocking, 24-hour stores will adjust hours of in-store operations to 6 a.m. to 11 p.m.
The select pharmacy locations noted here will continue to offer 24-hour service through the drive-through only.
We apologize for any inconvenience.
Target