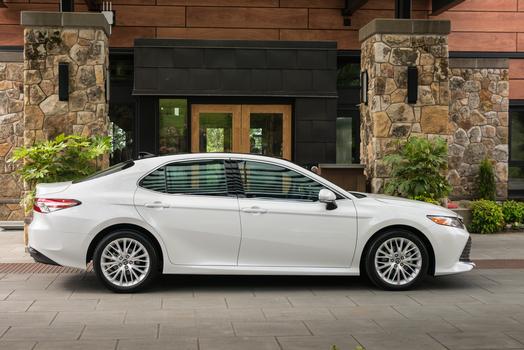 2018 Toyota Camry Brings Significant Changes To Their Best Selling Sedan
The Toyota Camry has been the best selling car in America for the past 15 years. Some may say "why risk significant changes to something that has been that successful?" I am not one of that "some." I love that the company went back to the drawing board with a completely new design, new performance, new technology and a myriad of completely new features.
The population at large will get to test drive and bring a new Camry home from their local Toyota dealership this July. I was among the few lucky enough to experience it in early June. This new 2018 Toyota Camry has evolved a great deal. Its transformed from being a boring but completely and almost forever dependable motor car into being a boldly designed, totally evolved example of dynamics at work in its new eighth generation.
Quality Remains A Priority For Toyota
Toyota points to the changes as being part of the company's Toyota New Global Architecture (TNGA). The company relates that this is a new strategy that will encompass the way Toyota designs, engineers and packages its vehicles in the future. They pledge that the quality, safety and reliability that has allowed the company to be a world leader will remain but a new fun driving experience will be injected into the mix.
Bill Fay, Toyota Senior Vice President of Automotive Operations, told us at the introduction of the vehicle in Newburg, Oregon: "With an exhilarating design, refined interior, stirring driving performance, cutting-edge safety and technology, and class-leading fuel efficiency, the all-new Camry retains its excellent value while raising its level of fun and excitement to new heights.It is, quite simply, the best Camry ever and the benchmark in the mid-size sedan segment."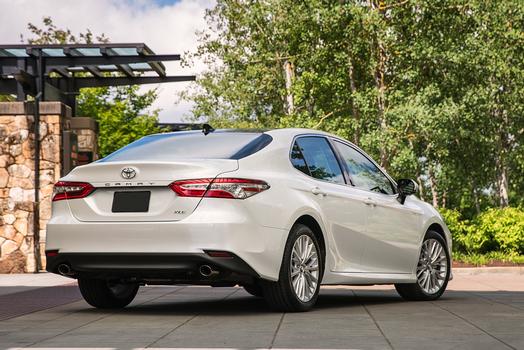 I spent two days driving the 2018 Camry through the mountains northwest of Portland, Oregon as well as taking it onto the freeway leading southward toward Salem. I found the new Camry exciting to drive, very fuel-efficient, very comfortable and – as already acclaimed – very stylish. We turned more than a few heads, as myself and my drive partner Wayne Gerdes, stopped for photos many places along the way.
We found the Toyota mileage claims and the EPA data supplied were right on target, if not a bit on the conservative side. Toyota provided us with a 26 mpg overall (22 city and 33 hwy) for the large-engine V-6 3.5 liter model. The 2.5 liter V-4 was estimated by the EPA to be at 29 mpg city/41 mpg highway and 34 mpg overall. The hybrid model shows 51 city/53 highway and 52 mpg combined. Wayne did extensive real-world testing within the time constraints needed.
Those wanting choices will not be disappointed with the new 2018 Camry. Five grades, the L, LE, XLE, SE and XSE are all available as non-hybrid models. The SE and XSE have much more daring design cues, while the other three models tend toward coming closer to satisfying those who don't want to venture quite as far into the wild side. Three power-trains will be available, starting with an all new 2.5 liter inline-four and progressing up to a new 3.5 liter V6 with D-4S Fuel Injection. Both of these are paired with a new eight-speed direct-shift automatic
transmission.
2018 Toyota Camry Hybrid
The third choice is the most-efficient-ever next-generation Toyota Hybrid System. The hybrid system is mated with a continuously variable transmission (CVT). Under most conditions, the CVT is my least favored type of transmission because of the constant "whining sound" most seem to make. Driving the new hybrid Camry, I did not even know I was "not" being shuffled through the gears. Somehow, Toyota managed to mimic a six-speed automatic if one used the paddle shifters. I have to admit the CVT completely fooled me since I never used the paddle shifters and it seemed as if my hybrid was marching through the gears like any "normal" transmission would do. Score another one for Toyota engineers!
The new Camry is outfitted with Toyota Safety Sense standard. Safety Sense is a suite of cutting edge safety technologies to help toward achieving a goal of zero casualties from accidents. Safety Sense includes, Pre-Collision, Pedestrian Detection, Dynamic Radar Cruise Control, Lane Departure Alert, Steering Assist, and Automatic High Beams. Some model include as standard Blind Spot Monitor and Rear Cross Traffic Alert.
Pricing for the new eighth generation Camry starts at $23,495 for the L model and marches up to $29,000 for the XSE. Hybrid models range from $27,800 to $32,250. This is not the Camry your parents drove. This is a car that has come light years from the days of its first introduction as a United States built car in 1989. It is worth drive to your local Toyota dealer just to check out the difference. See you in mid-July!