Visitors To Granbury, TX Find History
History buffs will find a lot to like in Granbury. The small North Texas town is filled with history. It starts with Confederate General Hiram B. Granbury who gave his name to the town. Originally from Mississippi, Granbury moved to Waco to practice law, serving as Chief Justice of McLennan County in the 1850s. Granbury recruited the Waco Guards when the Civil War broke out, and was elected Major of the volunteer group in 1861.
Captured in 1862 at the Battle of Fort Donelson, he was given early parole when his beloved wife, Fannie, underwent surgery and later died from ovarian cancer. Granbury resumed his war efforts, joining Maxy's Brigade in northern Mississippi as a colonel. After the Confederate defeat at the Battle of Raymond, Granbury continued as commander of the 7th Texas. He was wounded in the Battle of Chickamauga, and became a Brigadier General in 1864. Killed at the Battle of Franklin, General Granbury was originally buried there, just outside Nashville, TN.
On November 30, 1893, Granbury's remains were removed to the town of Granbury, which had been named for him. Sadly, the unmarked grave of Fannie, who died at age 25 at her father's home in Alabama, has never been found. Other historic figures buried at Granbury Cemetery include General John Hood, and the widow and descendants of Davey Crockett. A man who claimed to be the real Jesse James is also buried in Granbury Cemetery.
Granbury Opera House Backstage History Stranger Than Fiction
During the 1870s a number of former Civil War soldiers and their families settled in Hood County. Their first art house, the Granbury Opera House (originally Kerr's Hall) opened for business in 1891. The most notorious actor to perform there was also a part-time bartender named John St. Helen. Thinking he was on his deathbed, he confessed that he was really John Wilkes Booth, President Abe Lincoln's assassin. He even told the priest where the pistol he used had been buried. Recovering, he fled town, and the pistol was found in the spot he claimed to have hidden it.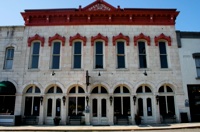 Carrie Nation and prohibition caused the opera house to close in 1911, and the building was used for various retail outlets for many years. In 1974 retired businessman Joe L. Nutt, whose ancestors had helped establish Granbury as the county seat of Hood County, sold the building to the newly established Granbury Opera Association.
I've enjoyed visiting Granbury several times the past few years, a town about 58 miles from my Dallas home. With a population of about 9,000, Granbury still has a small town charm, with a bustling town square that's the center of commerce. My husband and I usually go to see shows at the historic Granbury Opera House, such as "A Closer Walk with Patsy Cline" starring Julie Johnson. The restored Granbury Opera House re-opened in 2013.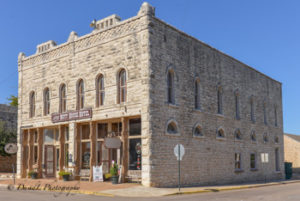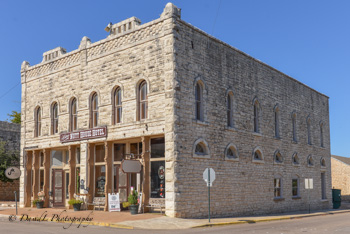 We have stayed several times at the historic Nutt House Hotel , prominently located on the square. The family-owned bed and breakfast's old-fashioned rooms and suites feature antiques and period furniture, with rooms priced from $109. The hotel was built of authentic limestone in 1866 by twin brothers Jacob and Jesse Nutt. Since both twins were blind, they were assisted by a younger brother, David Lee, who served as their eyes. The brothers also built the Wagon Wheel barn, just behind the hotel.
A number of boutique shops are located on the ground floor of the Nutt House Hotel. Over 60 restaurants and retail establishments line the Granbury Town Square. Nearby restaurant favorites, all just down the street or on the square, include: 1890 Grille and Lounge, Linda's Southern Kitchen, Christina's Bistro, Babe's Chicken Dinner House, and Farina's Wine Bar & Café.