2018 Kia Stinger Auto Judge Sports Car Of The Year
Kia's new sports car the Stinger was an unconventional introduction for the Korean automaker known for its sedans and CUV/SUV lineup. With an emphasis on design and handling the Stinger is turning heads and winning awards. Check out BJ Killeen's impressions on the sports car that delivers performance with an affordable price tag.
The best leaders in the world are those who surround themselves with people more talented than they are. These CEOs understand that building a team and letting them do what they do best will deliver exceptional results. Over the years, Kia has turned this business principle into an art. When they hired designer Peter Schreyer away from Audi in 2006, Kia was rewarded with stylish sedans and SUVs. Kia currently has design studios in Korea, Germany, and California, all of which have created award-winning vehicles thanks to Schreyer's guiding hands.
Now that the designs were fresh and unique, Kia turned its attention to ride and handling. Once again, it reached across the ocean and grab the shirt collar of Albert Biermann from BMW and dropped him in his new home at Hyundai/Kia to head the vehicle test and high-performance development team. Why these names should be important to you are because what they have created together is nothing less than perfection (well, nearly). We're talking about the all-new Kia Stinger four-door sport sedan, which is destined to become a classic.
Completing The Line-Up
Kia has continued to reach beyond what's expected, and has become successful at pretty much everything it's attempted (let's ignore the Borrego and Amati for now). What was missing from the stable was a performance-pedigreed vehicle, which the Stinger now becomes.
Kia calls this it's "inflection point": where the brand moves forward with a new lineup designed to be as far away from the original brand image as possible. A mere two decades ago Kia started life as cheap, mediocre, and ordinary. Today, Kia stands for quality, excitement, great design, and now, top-class performance.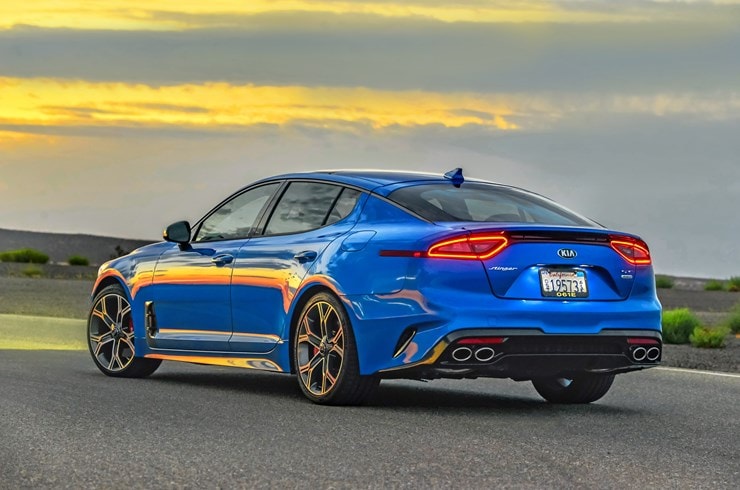 Kia GT Has Striking Design
We'll get to the performance in a minute, but we have to focus on the styling first, because the Stinger is a true GT from headlight to tail light. The profile is unquestionably striking. If you recall the GT concept, the Stinger incorporates all that it was, but in production form. The signature tiger nose grille sits low in front with a lower airdam for balance. Deep-set functional air inlets on the sides add visual interest, and the sculpting on the hood and dual vents add balance. The profile is where the Stinger shines. Its sleek fastback lines make the sedan look like a coupe, and the rear haunches definitely show off the powerful capability.
Strong shoulders in back help with a muscular stance, and while you might think visibility would be difficult, the greenhouse actually allows excellent views all around. In back, the Stinger finishes strong, with quad exhaust ports from the true dual-exhaust setup, a broad reach from left to right, and a rear hatch design that might be mistaken for a trunk if you didn't know better. The rear diffuser is the biggest hint that the Stinger means serious business. LED exterior lights are standard on all but the entry model, and 225/45R18 wheels and tires are on the Stingers with the 2.0-liter engines, while 19-inch Michelin Sport 4 tires are standard on models with the 3.3-liter V6.
Five Trims Offer Buyers Choices
The Stinger's five trim levels are nicely equipped, and will satisfy everyone looking for a level of performance above and beyond, even if their checkbook isn't lined with gold. The Stinger starts at $32,800, while the Premium goes to $38,000. The GT is $39,250, the GT1 bases at $44,150, and the GT2 comes in at $50,100. All prices listed here include $900 destination charges. We will get to the different content on the trim levels, so keep reading.
While the exterior is striking, the interior is designed as a driver's car. Ergonomics are respectful of function, and fit and finish and materials quality is on par with much more expensive vehicles. We know this is intentional, as Kia spent a lot of time bench-marking vehicles a price class above (in some cases, way above). The Audi A7, BMW 640, Infiniti Q50, and Lexus GS served as Kia's guiding light for the Stinger. Even the lovely but ridiculously priced Porsche Panamera stopped by the design studio to give the interior designers fodder.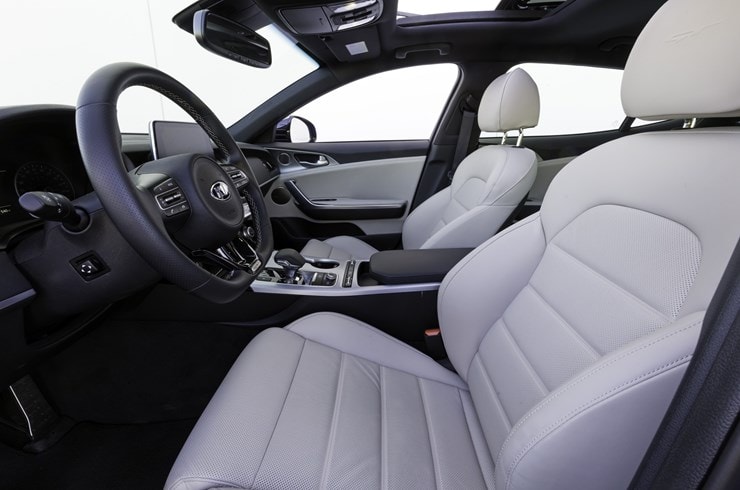 Deep bucket front-row leather seats (Nappa leather on higher trims) provide excellent support whether cruising down the road or diving into mountain curves. The driver's seat is a 16-way, while the passenger gets to move his 12 ways. The instrument cluster is clear and easy to read, and the cowl sits low for great visibility out front. While we've never been a fan of the new "stick it on the dash" info screen, at least in the Stinger it doesn't block any visibility and is inoffensive in its position. The steering wheel is flat bottomed, and is neither too thin nor too thick (think BMW). Paddle shifters are a short reach behind the steering wheel, and the information displayed on the instruments is a quick read. Even the air inlets are intentionally circular to remind us of a turbine engine.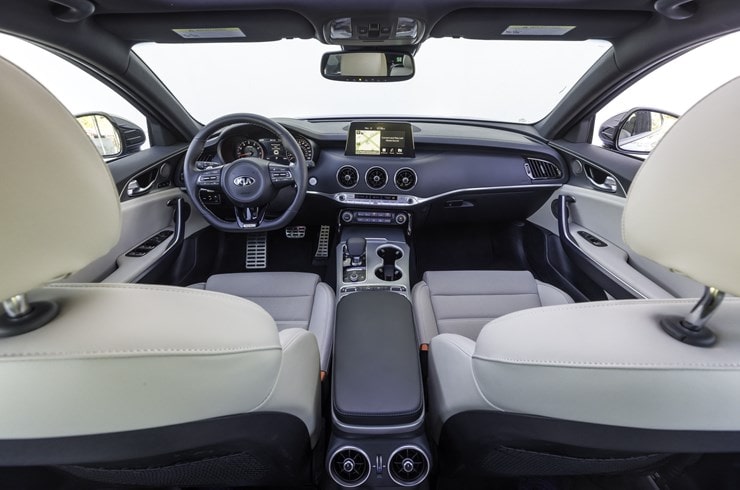 The center console contains a short automatic transmission shifter with a head that fits perfectly in the hand, alongside cup holders and control button for the different drive modes, Auto Hold, camera views, seat coolers/heaters, parking assist, and the much-loved heated steering wheel function. Hard buttons on the center of the dash allow both the driver and passenger the ability to control the audio and HVAC easily, even though it all can be done on the touchscreen as well.
Efficient Interior
Overall, the interior is efficient and businesslike. If we have a comment, it's that there's some warmth missing due to material selection that can be found in the Lexus and Porsche. In defense, Kia probably thought of using natural wood accents, but price may have played a part, as well as possibly a heated discussion within the interior design team as to the desire to keep the cabin more focused on performance versus luxury.
In back, the Stinger also surprises, with more roominess than expected. The reason for this is that the Stinger has more rear-seat leg room than the Audi S5, BMW 440i and 640i, and Porsche Panamera. In addition, Stinger also has more passenger volume (93.8 cubic feet), cargo volume (23.3 cubic feet), and total interior volume (117.1). So there!
As a Kia owner (we bought our long-term Sedona), we like the UVO system. The newest version in the Stinger is faster and more capable, and among the best systems in the business. The Stinger does offer Apple CarPlay and Android Auto standard, and the 15-speaker Harman Kardon audio system with 720 watts of power is exceptional. HK's two signature technologies — Quantum Logic Surround (QLS) and Clari-Fi — make even the crappiest recording sound as if the musicians were playing in Carnegie Hall.
Besides larger interior dimensions, the Stinger also smites the competition in exterior size as well. The Kia's wheelbase is 114.4 inches, and overall length is 190.2, besting the aforementioned Audi, BMW, Infiniti and Lexus sedans. Obviously, a vehicle's size can affect handling characteristics, and the Stinger was designed to use its size to an advantage.
Since we're on the topic of handling, for those who never knew what a driver's car is, look it up and in the dictionary will be a photo of the Stinger. A driver's car is one that is so well balanced, no matter how you toss it around or what the road is like, it will perform as if it's a connected to your brain inputs. Bravo, Mr. Biermann, bravo. How the Stinger accomplishes this also makes us happy, because we know that the Stinger is just the beginning when it comes to creating a platform that surely will show up in future Kia vehicles.
A Shared Platform
The Stinger is a global car when it came to chassis development. Kia notes that the Stinger had its passport stamped across Europe, the Middle East, Asia, and the Americas. But the most time was spent in Germany, at the famed Nürburgring's Nordschleife course, both the dream and nightmare of every chassis engineer. We won't go into the grueling details of durability testing like this, but we will say that Stinger racked up nearly 100,000 miles on this miserable, thrilling course. The outcome was worth every kilometer.
Starting with the underpinnings, the chassis is comprised of 55 percent advanced high-strength steel, which gives it a great foundation upon which to build outstanding dynamic handling. In addition, Kia has been using a lot of structural adhesives in its vehicles, and the Stinger is no exception. These adhesives are used to reinforce welded joint areas, which not only increase chassis rigidity, but also reduce overall weight because no extra metal is required. As a side note, the Stinger shares a platform with the Kia K900 luxury vehicle, as well as the Genesis G70 and G80 models. When you think about it, starting with a modified rear-wheel-drive platform that was originally designed for luxury vehicles shows that Kia is serious about making a vehicle that's solid, quiet, and capable.
The suspension setup also helps contribute to vehicle structure. It starts with a MacPherson setup in front, with larger diameter shocks, high-strength wheel bearings, and an aluminum strut brace. In back, the five-link independent suspension is mounted to a stiffened rear subframe. When you step up to the GT trim levels of the Stinger, the suspension gets even more serious.
These models come with Kia's first-ever continuously damping electronically controlled suspension called Dynamic Stability Damping Control. Basically, it will adjust in milliseconds as it interprets road conditions. What this means is that it can change its personality depending on what you're asking of it. In a tight corner at speed, it can, for example, soften the front shocks and stiffen the rear, or vice versa when at high speeds on a straight road. The driver can decide on the input by selecting one of the drive modes: Eco, Sport, Comfort, Smart, and Custom.
Kia Gets It Right
While a great chassis and intelligent suspension tuning are vital to a vehicle in this segment, it's nothing without the right steering. Build a great sports car and muck up the steering, and you might as well go back to the drawing board. Luckily for Kia, not only did they get it right, they won the World Series (which is more than we can say for Dave Roberts and the Dodgers). The Stinger uses a motor-driven power steering setup that gives such direct feedback you'd think you were driving a Formula One car (well, okay, almost). It allows the driver to precisely aim and point the Stinger, and not have to worry that inputs aren't received the minute they're sent. A steering this crisp and solid really translates the true intent of the vehicle dynamics engineers. So glad Kia got it spot on.
When you think about it, creating a world-class sports car is a lot harder than Kia makes it look. Chassis, suspension, styling, and steering must be near perfect. Then it's time to discuss power. How much is too much, and how much is not enough? And how do you get that power to the ground? In the Stinger, the power is just right. Choose from one of two good engines: a 2.0-liter twin-scroll turbocharged I4 or a 3.3-liter twin-turbo V6. The four-cylinder is the Theta II engine that makes 255 horsepower and 260 lb-ft of torque. That's perfectly adequate for power in the segment, but maybe not enough for those who desire some heat. This is where that Lambda II V6 engine steps up, with 365 horsepower and 376 lb-ft of torque. The 3.3-liter offers more power than the Audi S5 Sportback, BMW 440i Gran Coupe, and Infiniti Q50.
Impressive 0-60
We told you Kia wasn't fooling around here. With 0-60-mph times faster than even the six-cylinder Porsche Panamera, the Stinger GT means business without needing a second mortgage to pay for it. We spent our driving time in and around the Southern California area on a mix of mountain roads and highway driving, and our fuel economy numbers registered about 20.2 mpg. EPA estimates are 25-29 mpg highway depending on the model, and we never put it in Eco drive mode, so there's a good chance those numbers could be obtained, but not by us when we have a vehicle that's too much fun to drive hard and fast like this Stinger.
Mated to the engines is an eight-speed automatic transmission designed in house by Hyundai/Kia. The is the second-generation of this transmission, and features Kia's first use of a Centrifugal Pendulum Absorber (CPA) torque converter on the 2.0-liter engine to reduce drivetrain vibration. There's also an oil cooler to help with heat dispersion. Shifts are determined by the drive mode, which means drivers can select the mode and the transmission will shift accordingly. The throttle also will be optimized depending on the drive modes.
Paddle Shifters, No Manual
For those who are DIY, the Stinger comes standard with paddle shifters. Don't cry if you're wondering why Kia didn't opt to include a manual transmission. The word is that with about a five-percent take rate, the development cost couldn't be recouped, so it didn't make sense to offer one. Besides, according to Kia, the Stinger is trying to be a full-fledged race car. Once you use the paddle shifters your upper lip will stiffen and you'll recover. They work quite well.
We mentioned previously that the Stinger comes as either rear drive or all-wheel drive. It has the capability to send torque front to rear and side to side depending on the demand, with up to 50 percent of that available torque going to the front wheels when needed. When in Sport mode, the drive system can send up to 80 percent of that torque to the rear wheels. A limited-slip differential is included in the GT2 models for even better power distribution.
Going is good, but stopping is better, which is why the Stinger features standard hi-po Brembo disc brakes with four-piston front calipers and dual piston in the rear. The Brembos are beyond reproach, and even after repeated stops, we noticed almost zero fade, thanks to Kia's brake fade compensation. Where other sports cars start to encounter pedal droop after hard driving, the Stinger's braking felt solid and confident.
Just because the emphasis is on sport doesn't mean Kia doesn't take your safety to heart. On the contrary, the Stinger goes out of its way to protect you with a suite of driver-assist features that will do everything you can think of and more. We're talking Forward Collision Avoidance with pedestrian detection, Smart Cruise Control with Stop & Go, Lane Keeping Assist, Blind Spot Collision Warning with Rear Cross Traffic Collision Warning, and Driver Attention Warning, which tells you to stop being stupid and pull over to rest or get a cup of joe. Other technologies include a HUD, all things UVO, including navigation, and Bluetooth operations.
Kia Stinger First Drive Impressions
Sometimes sitting through the vehicle presentation before the press drive is worse than waiting for Christmas morning. But once we got behind the wheel, we were richly rewarded and were able to confirm and concur with all of Kia's descriptions. With every mile we marveled at the balance, the finesse, and the precision of the new Stinger. The seats were supportive and comfortable both through fast corners and on traffic-clogged highways. The engine just kept bringing the power in a quick and progressive manner. Transmission up- and downshifts were smooth and accurate, and the steering inputs were crisp and delightful. Every once in a while, the suspension would flex over a bump at speed, but we never, ever felt as if it would be uncontrollable. The added bonus to all this is that the interior was much quieter than we expected, thanks to such a solid chassis.
When you have a vehicle this well built, this well engineered, and this beautifully designed, you really try hard to find its weak spots. With the Stinger, there really aren't any. It's about as good a vehicle as there ever was. Which is why we know that once someone drives it, compares its overall value, and starts using the brain that God gave them, the Stinger should be their only choice. Kia has reached its inflection point, and the only way to go now is up.