On May 11, Duncanville Design Studio unveiled a permanent art feature on the walls of Ben Franklin Apothecary, 302 N. Main Street in Duncanville.
The Duncanville Design Studio consists of about 20 business people, city leaders, community volunteers and interested residents. They meet each month to brainstorm low-cost, small-scale projects that will enhance the community. The group focuses on grassroots efforts to revive the city and allow others to Rediscover Duncanville. Past projects have included the DuncanSwitch Street Market held one Saturday each month. They also host art shows in Main Station.
Over the past two years, the group has been promoting art initiatives in the city. Several members have painted art panels for the Duncanville Feed Store. Under the direction of Tim and Anne Perry, local artists have worked together to provide different designs each quarter. They recently installed their art panels for the spring season on the feed store.
In efforts to continue to enhance the art culture on Main Street, Ben Franklin partnered with artist Tim Perry to design and install a permanent painting on their building.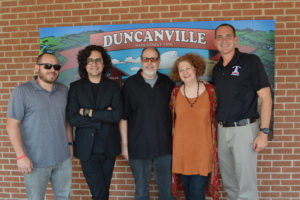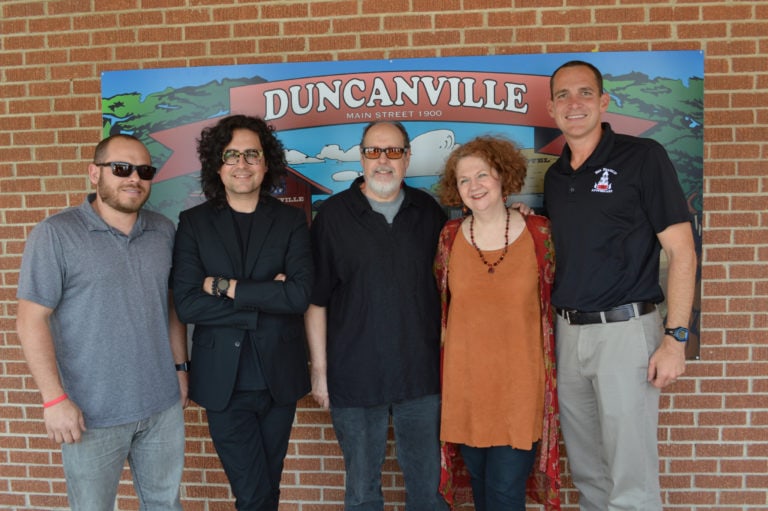 "I have been impressed with the creativity and efforts coming from these local artists," said Kasey Cheshier, Director of Operations at Ben Franklin Apothecary. "The panels on the Duncanville Feed Store add so much value and enhance the character of the Downtown District. It was a natural fit for one of the landmark businesses in Duncanville to partner with these artists and further enrich the atmospherics of the area."
The newly designed panel highlights the "Main Street" scene as it looked in the early 1900s. Key components of the concept include the original Santa Fe Train Depot, the first Duncanville Post Office, Brandenburg's Store, a blacksmith shop and hotel.
"Our desire for the new art panels is to highlight the development of Main Street over the last century and preserve the rich history of the region," said Cheshier. "The overall goal of the project is to have three different panels showcasing different eras in the downtown region. The next panels will be designed around the 1940s and 1950s, followed by the 1970s and 1980s."