Kia Stinger Offers Affordable Performance in A Sexy Package
I was expecting stylish and sexy when I learned the new Kia Stinger would be delivered for a week-long test drive, and I was not disappointed. Everything about the new beauty screamed "love me" and I will give you a great ride.
I found the Micro Blue exterior and the chrome side moldings between the front tires and the front doors to be distinctive and attention grabbing. The cockpit was just as inviting with perforated leather seats, a dual-speedometer display showing both instant speed readouts as well as the traditional round dial showing all numbers and a pop-up navigation/camera system leaving more room on the dash for dials and other important aspects. I especially love the three round air distribution blowers which add styling as well as functionality in keeping everyone inside warm in the winter and cool in the summer.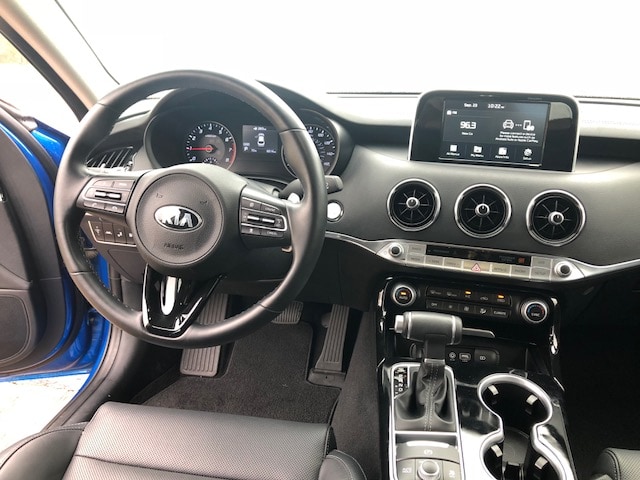 The Stinger is equipped with a twin scroll turbo engine that provides great torque for dashing off the line. Further enabling quick acceleration, the five-speed automatic transmission can be manually operated as well with easy to find fingertip paddle shifters on each side of the steering wheel.
Both driver and front passenger seats have power adjustable seats so there is no need to crank your seat up or down so you can adjust your height when inside the car. So often, sporty cars such as the Stinger do not have electronic controls which makes the task of bringing you up from what seems like the floor to windshield level a real task. In fact, this was one of the first things my wife noted as she settled down into the seat. Her initial reaction was it was too low to the ground but then delight set in as her right hand found the control which easily moved the seat up, forward and back with the touch of a finger.
McKenzie found the back seat spacious and comfortable and that the air flow was superior to many other vehicles which either don't have rear vents or the air from the front cannot be adequately directed rearward. Her only complaint, was not the responsibility of Kia, but one of the owner/operator – the SiriusXM functionality of the UVO infotainment system's three month initial subscription had expired so she could not listen to her favorite station, The Highway (My how things have changed since when I first drove and only AM worked, and reception in rural Minnesota was not always wonderful either).
All in all, the Stinger is a great vehicle which provides a lot of value for the $31,900 base MSRP. As with every Kia, the warranty is second to none with a ten year, 100,000 mile warranty and five years/60,000 miles of roadside assistance.