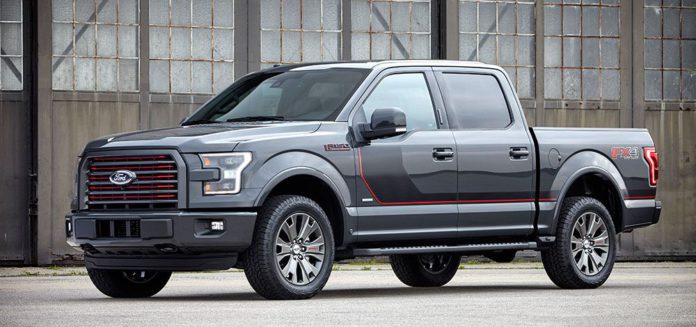 2016 Ford F-150 Is A Smooth Operator
I've always considered the Ford F-150 a leader in the truck market. F-Series trucks have led the country in sales for the past 39 years. There are a lot of Ford trucks that I love, but I was so impressed with the 2016 Ford F-150 Lariat that the Ford folks provided me with last week that I even had to take a significant road trip. I put more miles on this loaner than any time previously other than during special "Navigating the Northlands" series of many years ago.
In putting over 500 miles on the Lariat, a lot of it during highway driving, I found it as smooth as a sedan. And, I might add, I didn't even have to put any fuel in it since the miles per gallon was good enough that I had about a quarter tank remaining at the end of my week.
It's almost impossible to remember to write about all the great features and options this truck came equipped with. Of course, the first one that comes to mind is BLIS – the blind spot warning system. Any time I am doing a lot of highway driving when one has to change lanes relatively frequently for those who do-dah along half asleep on the highway, BLIS is a must. I hate to think how many times I risk pulling out into a lane where another vehicle is exactly in that blind spot.
The next thing that comes to mind is Sirius/XM. It's impossible to drive any significant distance without wanting to listen to my favorite tunes on the radio – I would say the news channels as well, but this election season seems to be dragging into the decades of ramble-on-and-on rather than merely months.
Towing Made Easier
Of course the amenities don't stop there. I will have to go to the window sticker to even begin to discuss everything on this truck. I guess I should start by discussing how I was able to go over 500 miles and not even draw the fuel tank down to a quarter tank. It's called "EcoBoost." The Lariat I drove is equipped with a 3.5 liter EcoBoost engine mated with a special selectshift transmission.
Were I to tow something this truck had a pro trailer backup assist package. I have tested that attribute during a launch event a few months ago and it is simply amazing how one need only look at the large center console screen and the truck actually does the rest in guiding you directly to the hitch on your trailer. Without actually doing it, it's impossible to contemplate how easy this once daunting job has become.
Then there are some convenience factors such as remote start, reverse sensing, side-mirror spotlights making night ingress/egress much easier and even a 110 volt power outlet and a 12 volt power point as well as two USB ports making charging of your phone or other electronic devices a snap.
The base MSRP of this truck is $45,730. Mine came with a "boatload of options" which added $14,220 to that price. Whether one might choose some or all of the added features might depend on budget or individual preferences, but I have to say I thoroughly enjoyed every feature on the truck. It's really hard turning it back in, and accepting my next week's featured vehicle – a Transit van. Oh well. Regardless of how good it is, the 2016 Ford F-150 Lariat will be really hard to match!!