Local Seamstresses Contribute to Historic Fashion Display By Recreating American Girl First Lady Doll Collection
Two members of Old Chisholm Trail, Texas Society of the Daughters of the American Revolution (TXDAR), have faithfully recreated American Girl-sized gowns. The gowns are replicas of those worn by two Texas First Ladies. The unique First Ladies Collection features 47 American Girl Doll costumes. They will be sold, along with a doll representing Texas current First Lady Mrs. Cecelia Abbott, at TXDAR state conference in San Antonio in March, 2018.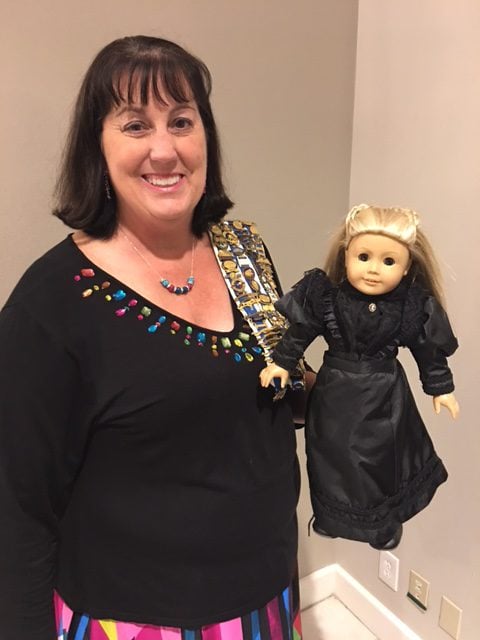 Honorary Regent and associate member Susan Reno, a longtime Duncanville resident and educator, sewed the gown worn by Francis W. Edwards Roberts. Francis was the wife of Oran Milo Roberts, who was the 17th Governor of Texas (1879-1883). Honorary Regent and Duncanville native Sandra Jo Raz LaVigne painstakingly recreated the gown worn by Blanch Fay Wright Stevenson, wife of Governor Coke Stevenson. Lt. Governor Stevenson, who became governor when W. Lee O'Daniel resigned in 1941, was then re-elected for a full term.
The funds raised from the American Girl doll collection dresses will be used for restoration and preservation of the gowns of the First Ladies Historic Gown Collection at TWU in Denton. The Collection is more than a chronology of fashion, with each First Lady of Texas leaving their own legacy.
The Collection at TWU displays 21 of the 47 gowns. The display changes at various times throughout the year so visitors can enjoy different gowns with each visit. Restoration, storage and upkeep of the collection is made by generous donations from the community including the Texas Society of the Daughters of the American Revolution and the Denton Benefit League.
The Collection was created by Dr. Marion Day Mullins during her term as TXDAR State Regent (1937-1940), and presented to TWU in 1940. The Collection is open Monday-Friday and admission is free.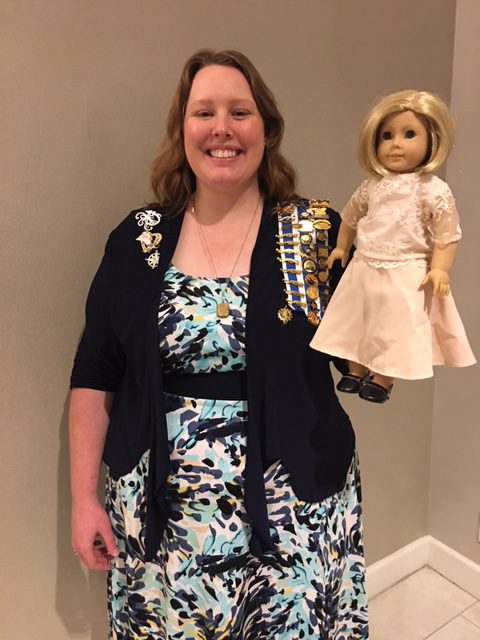 Current TXDAR State Regent Judy Ostler, a graduate of TWU, designated the American Girl First Lady Doll Collection as a special project fundraiser during her three-year term. "Style & Grace," a beautiful coffee table book about Texas First Ladies and their contributions to the state, is being sold in connection with the exhibition. Written by TXDAR Historic Preservation Chair Martha Ann Hartzog, the book sells for $54.13 plus shipping. The book will also be sold at the TXDAR State Conference in San Antonio.