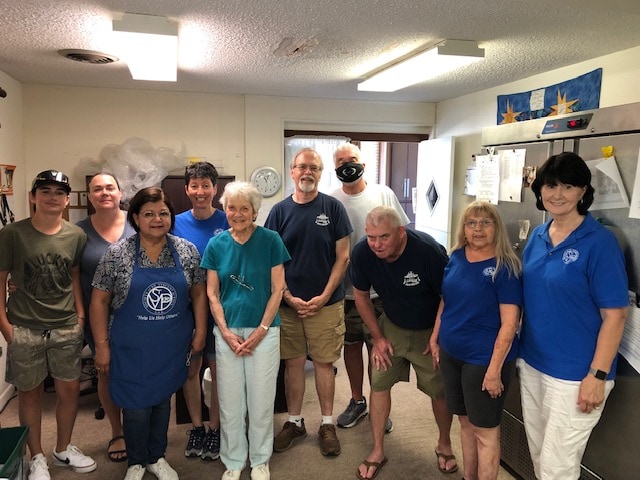 Serving The Community For Two Decades
What started as a community service project for his child has blossomed into a life's passion for Daniel Rogers of Mansfield.
But then, he's not alone, for a long-time folks at the St. Jude Food Pantry, a mission of the St. Jude Catholic Church in Mansfield, have made it their work to help others. Rogers is the director of the pantry, which is going on two decades of service to the community.
"I wasn't there right at the beginning but knowing the founder of our St Vincent de Paul conference and the food pantry, we have been active in Mansfield since 2003 which makes us the oldest food pantry in Mansfield," Rogers detailed. "We started small even when I got involved at first to get my daughter community service hours when she was 12 (15 years ago). Back then we had one freezer unit, some canned goods and other dry food items."
Rogers said the pantry started expanding during the crash of 2008. They had an additional freezer donated, coinciding with need for their services picking up.
Helping The Community With Help From The Community
"We needed more access to food to serve the needy, so while we were already an agency of Tarrant Area Food Bank (TAFB) we requested that we be part of the Walmart store pickup program to gain more access to quality food, and TAFB assigned us one Walmart store to pick up from twice per week."
Along with that, the pantry receives food donations from parishioners and other charitable organizations in the Mansfield community, purchases direct from the food bank, and does some other retail shopping to fill in the gaps. These sources allow them to offer a wide variety of good nutritious food to help the underserved in the community.
Rogers spent well over three decades in the logistics sector, much of that in high level sales where he made a very healthy income. But three years ago, he decided he'd done enough in that area and wanted to spend his time giving back to the community.
Serving Those In Need Is His Calling
"I get tired sometimes, and I think some days I work harder now than in the private sector, but I have to live my calling – and my true calling is to serve those in need," he said. "The people I serve are so positive and industrious. They aren't lazy, they just don't have the advantages you or I may have. Many of them work so hard and yet they still don't have enough to get by, and that's where we come in. I love them with my whole heart and my whole soul, and that brings me joy."
And though he is the director, Rogers makes one thing clear.
"It's not about me. I have a dumb joke that I make the tough decisions because I make a six-figure salary – except all the figures are zeros," he said with a chuckle.
Rogers has 20-plus dedicated volunteers who love to serve the underprivileged as much as he does.
"Some of them just pack boxes, some help with carry-out. Not all of them get the same face-to-face contact I do to I share the stories – stories about tears of joy and thanks, and prayer requests, births and deaths, illness and recovery, and stories of joy in getting a better job where the client won't be coming back because they no longer need us," he said.
"That last one may be the most joyous of all when all is said and done."
The pantry has always had its doors open two days per week, Wednesday, and Saturday from 9-11 a.m.
Making The Connection With Those In Need
"From 2008-2011 we were serving 30-40 families per shift at our peak. During that period, another local food pantry closed and donated a commercial size refrigerator to us, which allowed us to store fresh produce, an item much in need for the poor," Rogers said. "So the TAFB Walmart pickup program allows us to offer frozen meat, fresh produce and baked goods, in addition to canned and other dry groceries."
The pantry now has five freezer units, as well as two refrigerators, and by 2013 TAFB offered a second Walmart through their pickup program.
And, like many, COVID has affected some things with the pantry. Mostly, Rogers isn't able to hug people, which he loves doing.
"But you still do the best to connect with a smile, a kind word, listening – that is so important – letting the client know they are special, and they are loved, genuine caring," he said.
"Our mission is to serve anyone who comes to our door without judgement. Sure, there is an application process. As an agency of TAFB and receiving USDA commodities we need to take a brief application, but we are bound to serve those not only here in Mansfield but all the surrounding areas. As the oldest food pantry in Mansfield, we feel a sincere obligation and connection to the community."