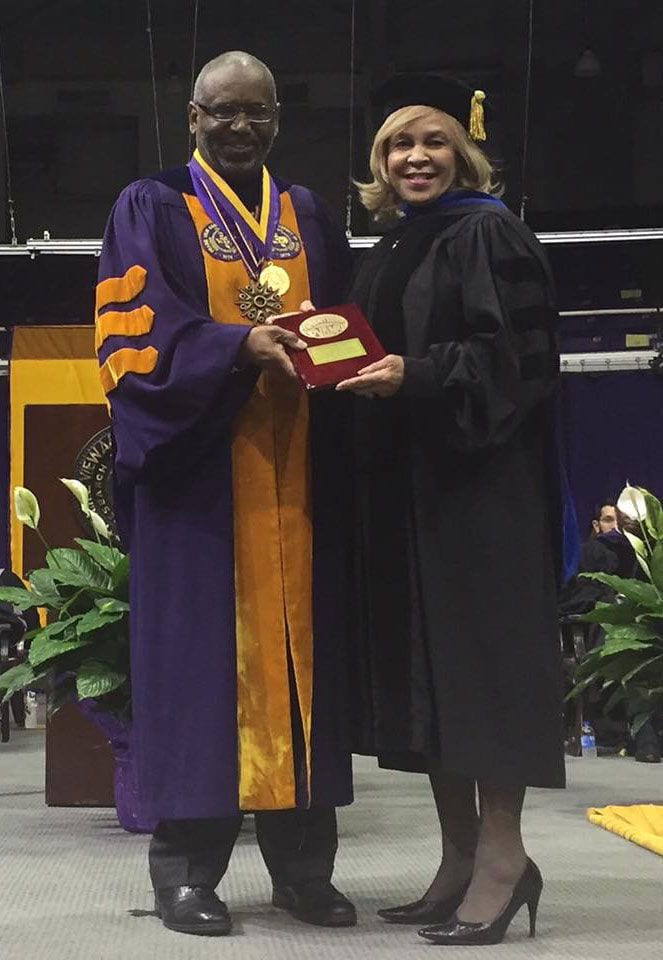 On May 14th, State Rep. Helen Giddings was honored during the commencement ceremonies at Texas Southern University and Prairie View A&M. At Texas Southern, President John Rudley presented Rep. Giddings with the prestigious President's Medal for her efforts repealing the B-On-Time Loan Program, which had the unintended consequence of sending millions of tuition dollars from universities like Texas Southern to other institutions, thereby creating a cycle of certain students subsidizing those from other campuses.
"Representative Giddings has been very special to Texas Southern," President Rudley said. "We wanted to ensure our community was fully informed of her tireless efforts to help Houston students."
In addition to the President's Medal, Texas Southern has chosen to use the saved money to create a scholarship program in her name- "The Helen Giddings College Completion Program."
Meanwhile at Prairie View A&M, Rep. Helen Giddings was honored with the University's highest honor- the Humanitarian Award, given to those in the community who "exemplify a spirit of love and helpfulness to others" and to honor individuals who "make outstanding contributions to the University, the state of Texas, and the nation."
"Representative Giddings is a steadfast advocate for the underserved population in Texas" stated Prairie View A&M University President, George C. Wright. "When we were nominating candidates for the Humanitarian Award, her nomination was unanimously praised and accepted by our selection panel because she exemplifies the spirit of the award and is unequivocally deserving of recognition."
Representative Giddings offered her appreciation for the awards and expressed her closeness with the universities. "It was incredibly humbling to be honored with these awards. I have always felt a close bond with our historically black colleges and have always worked to ensure they receive the tools they need to serve our most at-risk students," Giddings said.
"The future of these universities are bright, and I thank the many students, faculty, and staff that have worked so hard to make that hope a reality."