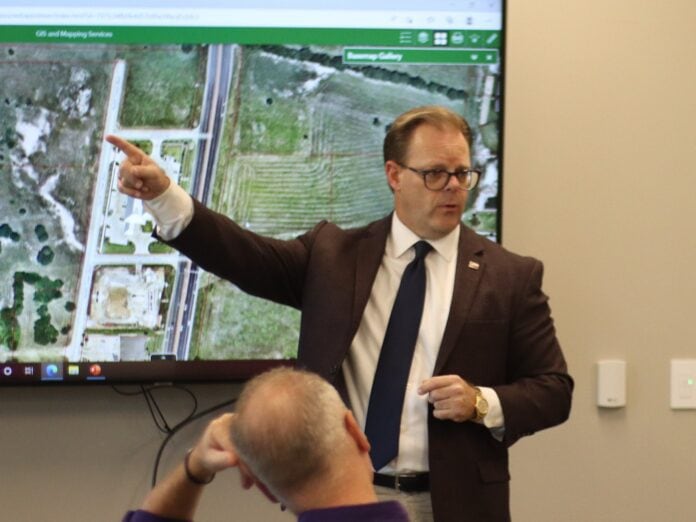 (Arlington, TEXAS) — Corinth Mayor Bill Heidemann, will preside over the North Central Texas Council of Governments for the next year after being elected president of the regional planning agency's 18-member Executive Board.
Mayor Heidemann assumes the leadership of NCTCOG from Andrew Piel, Councilmember for the City of Arlington, who was elected to the one-year term in June 2022.
Councilmember Piel will continue to serve on the NCTCOG Board as Past President. Collin County Judge, Chris Hill, is the Vice President and Burleson Councilmember, Victoria Johnson, will serve as Secretary/Treasurer. The officers will serve their positions through June 2024.
Mayor Heidemann is a retired business manager and is currently employed by DATCU, a full-service financial institution serving Denton, Cooke, Wise, Montague, Collin, Dallas, Tarrant, Jack, Parker, Grayson and Clay counties in Texas. He holds a bachelor's degree from University of Wisconsin-Stout and attended graduate school at the University of Wisconsin- Stout and Columbia University.
Judge Hill holds a bachelor's degree from Texas A&M University-Commerce. Additionally, he holds three master's degrees from the University of Texas at Dallas, Webster University and Columbia Biblical Seminary.
In addition to the officers, 13 directors and a non-voting Ex Officio member were elected to the Board.
Dallas County Judge, Clay Jenkins
Wise County Judge, J.D. Clark
Ellis County Judge, Todd Little
Tarrant County Judge, Tim O'Hare
Dallas Councilmember, Cara Mendelsohn
Fort Worth Councilmember, Carlos Flores
Denton County Commissioner, Bobbie Mitchell
Grand Prairie Deputy Mayor Pro Tem, Jorja Clemson
Euless Mayor, Linda Martin
Arlington Councilmember, Bowie Hogg
Richardson Councilmember, Jennifer Justice
Ennis City Commissioner, Kameron Raburn
Aledo Mayor, Nick Stanley
State Representative of District 107, Victoria Neave-Criado (Ex Officio, non-voting
member)
As an Executive Board director, Judge Little has voting authority over all policy, fiscal, and vision-setting activities undertaken by NCTCOG.
Lancaster Mayor, Clyde Hairston; Terrell Mayor, Rick Carmona; and former Richardson
Mayor Pro Tem, Janet DePuy, will be rotating off the board along with Past President and
Former Rockwall County Judge, David Sweet.
About the North Central Texas Council of Governments:
NCTCOG is a voluntary association of local governments established in 1966 to assist
local governments in planning for common needs, cooperating for mutual benefit and
coordinating for sound regional development.
NCTCOG's purpose is to strengthen both the individual and collective power of local
governments and to help them recognize regional opportunities, eliminate unnecessary
duplication, and make joint decisions. NCTCOG serves a 16-county region of North Central
Texas, which is centered in the two urban centers of Dallas and Fort Worth. Currently,
NCTCOG has 228 member governments including 16 counties, 169 cities, 19 school districts and 24 special districts. For more information on NCTCOG, visit www.nctcog.org.