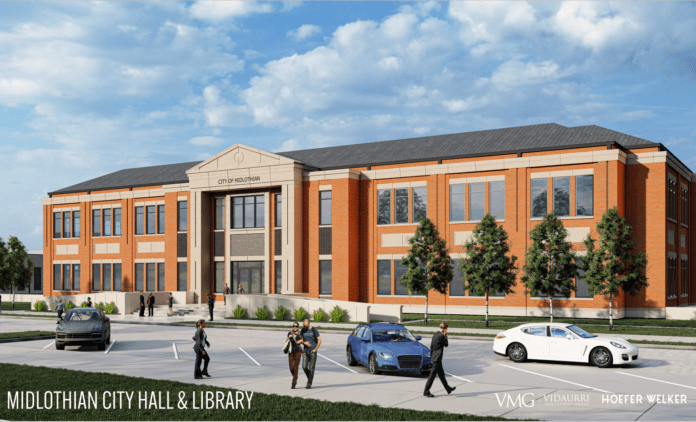 ELLIS COUNTY, Texas–The Cities of Midlothian and Red Oak recently announced each city's public library has received a $100,000 grant from Google, which has a data center in Midlothian and recently announced a new data center campus in Red Oak. The grants will bolster infrastructure and make digital literacy opportunities more accessible to students and residents throughout Ellis County.
"The new public library will be a place of opportunity, particularly for students in Midlothian, and this donation from Google will help foster curiosity in learning," Justin Coffman, Mayor of Midlothian, said. "In addition to offering access to books, the new facility offers access to creative spaces and technology, inspiring exploration and experimentation. We're thankful for Google's contribution to this community, and we cannot wait to see the impact the library will have on generations to come."
Through Google's funds, the City of Midlothian will build a new, stand-alone library to better meet the needs of a growing community. Along with improving access to information and learning resources, the new facility, which is expected to be completed in late 2024, will be fully furnished and equipped with the latest technology. The current public library, which is also Midlothian High School's library, will remain operational, serving as an additional public library for the nearly 40,000 residents in Midlothian.
"The investment from Google to the Red Oak Public Library is a testament of its commitment to empowering the next generation of tech leaders in Texas," Mark Stanfill, DVM, Mayor of Red Oak, said. "The funds will support a new makerspace that will allow people in our community to explore technology that could lead to careers in anything from data centers to aerospace. Making these resources available and accessible to the public will propel the imaginations of our residents to new heights."
The Red Oak Public Library will use the grant to create a makerspace equipped with technology such as 3D printers and other robotics for residents in Red Oak and surrounding Ellis County communities. The makerspace will encourage individuals to explore developments and careers in STEM for the myriad of local jobs available.
"Libraries are information and learning hubs that play an essential role in every community. They foster growth and development for residents of all ages," Kate Franko, Regional Head of Data Center Public Affairs for Google, said. "Google is honored to play a part in helping the Cities of Midlothian and Red Oak meet their goals of transforming these spaces for local residents."
Learn more about Google in Texas at: https://economicimpact.google/state/tx/.