The company plans to grow its presence in the state with a second data center, which will help power digital services including Google Cloud, Gmail, Search, ongoing artificial intelligence innovations, and more 
DALLAS, TX— Today, Google announced plans to invest $330 million this year in Texas at an event with U.S. Sen. John Cornyn and U.S. Rep. Jake Ellzey at Dallas College Workforce Development Training Center. The investment includes beginning construction on a new data center in Red Oak that will further expand the company's presence in Texas, and adds to the $1.1 billion Google has already invested in the state.
Google's continued investment in technical infrastructure, including its data centers, plays a critical role in supporting the company's AI innovations and growing Google Cloud business. Google's data centers help power popular digital services—like Google Cloud, Workspace (which includes Gmail, Docs, Sheets and more), Search and Maps—for people and organizations worldwide.
"Texas continues to lead the nation in job growth and workforce development, including in the tech sector," said Sen. Cornyn. "Google's expanded data center in Midlothian and the new one in Red Oak will build on those successes, and I look forward to seeing the positive impact these investments will have in North Texas and beyond."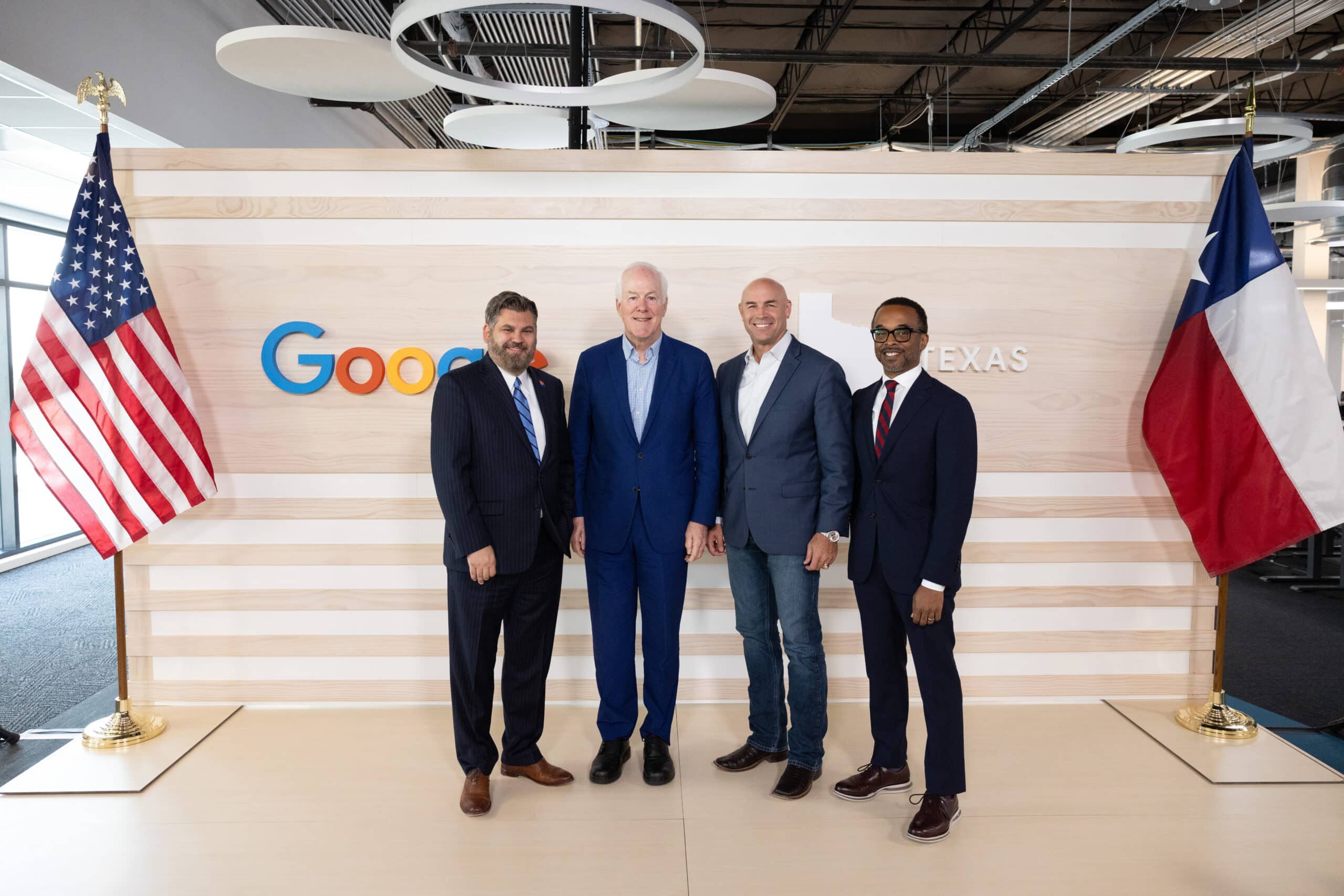 "Texas has quickly become the go-to State for businesses to invest in, and I can't think of a better place than right here in District 6." said Ellzey, "Texans are some of the hardest working folks in our nation, and I know the expansion will bring good, well-paying jobs to our communities. Google has been a trusted partner in Midlothian and Red Oak, and this expansion will further that partnership."
Google plans to invest at least $600 million to build out its new data center site in Red Oak over multiple years, which will be the company's second site in Texas, complementing its existing Midlothian data center and Dallas cloud region. The new Red Oak data center is expected to create nearly 1,200 construction jobs as well as 30 new full-time operational jobs
"We are proud to say that Red Oak will be the home of the newest Google data center here in Texas," said Red Oak Mayor Mark Stanfill. "Texas is well on its way to becoming a leading hub for technology, and the City of Red Oak is proud to be a part of the technological advancements that will surely stem from this new data center."
Google also announced a $150,000 grant to the Red Oak School District. This is building on Google's longstanding commitment to expanding STEM education in the state. Last year, the company announced a partnership with two of Texas's expansive higher education systems — the University of Texas and Texas State University Systems — to offer the Google Career Certificates with the potential to reach tens of thousands of students across the state. Students now have access to training courses that will help them develop skills required in high-demand fields including  Data Analytics, Cybersecurity, Digital Marketing & E-commerce, IT Support, Project Management and UX Design.
"Google's data centers provide the infrastructure for digital services and AI innovations for people around the world," said Cris Turner, VP of Government Affairs and Public Policy, Knowledge & Information Products, Google. "As a proud Texan, I'm thrilled that Google calls Texas home. Our continued investment in the state is a testament to the resources and talent found in Midlothian, Red Oak, and beyond."
"Collaborating with Google on this next level project is yet another example of our mission in action," said Dallas College Chancellor Dr. Justin Lonon. "Working together, we have a real opportunity to guide our students toward a path to high wage, life-changing careers in a field that will continue to play a pivotal role in society's evolution. Dallas College shares Google's commitment and enthusiasm for strengthening the education pipeline that will lead to a strong tech workforce in North Texas."
As a pioneer in computing infrastructure, Google's data centers are some of the most efficient in the world. Google was the first major company to set an ambitious 2030 goal to run its business on carbon-free energy (CFE), every hour of every day, in all of its data centers and campuses worldwide. Over the past year, Google has signed power purchase agreements (PPAs) with Ørsted and SB Energy to add new wind and solar power to the electricity grid and help bring additional clean energy jobs to Texas.
Google has been committed to Texas since it first called the state home in 2007. In addition to its Midlothian data center, Google also has an office presence across the state in Austin, Dallas and Houston. Last year, Google helped provide $46.48 billion of economic activity for tens of thousands of Texas businesses, publishers, nonprofits, creators and developers, creating economic opportunities across the state.
Learn more about Google in Texas at: https://economicimpact.google/state/tx/.